Returning to Work Safely in Michigan and across the US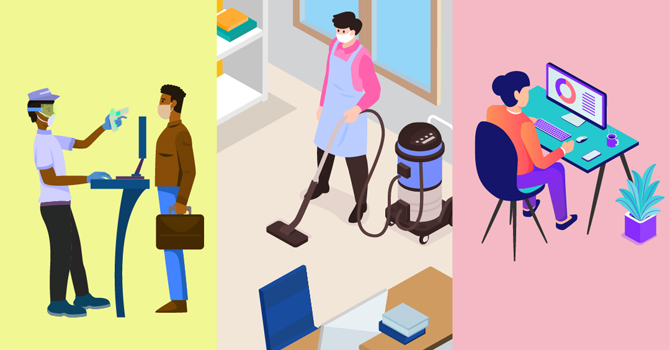 Q&A with Aurora Le
Assistant Professor of Environmental Health Sciences
As the United States slowly reopens the economy, we will see a variety of new safety measures nearly everywhere we look. Some we might have seen already, such as transparent barriers between you and the cashier at a grocery store.
We recently connected with Aurora Le, assistant professor of Environmental Health Sciences at the University of Michigan School of Public Health. Le's research areas include highly infectious diseases and occupational safety and health. She works with the Biosafety and Infectious Disease Training Initiative (BIDTI) and supported the research efforts of the Nebraska Biocontainment Unit after the treatment of three Ebola patients there in 2014–2015.
Le has been working closely with other public health researchers to understand how occupational health practices can help protect us from exposure to the coronavirus as we return to work. As our industries and services begin to reopen, we asked her what protective methods we can expect to see and how they work.
As the US economy slowly opens back up, what protective methods can we expect to see and how do they work?
As we begin returning waves of industries back to the workplace, we can expect to see a variety of protective measures—temperature checks for employees, visitors, and patrons; increased testing; more physical separation, newly installed physical barriers; and more training and education on sanitation, decontamination, and personal protective equipment.
Any safety measures, including infection-control measures, work better when they are "stacked," meaning each worker has layers of protection.
These control measures reinforce the Hierarchy of Controls—the field of industrial hygiene's system to minimize or eliminate exposure to hazards—to ensure worker safety through elimination, substitution, engineering controls, and administrative interventions down to adding personal protective equipment as the last line of defense.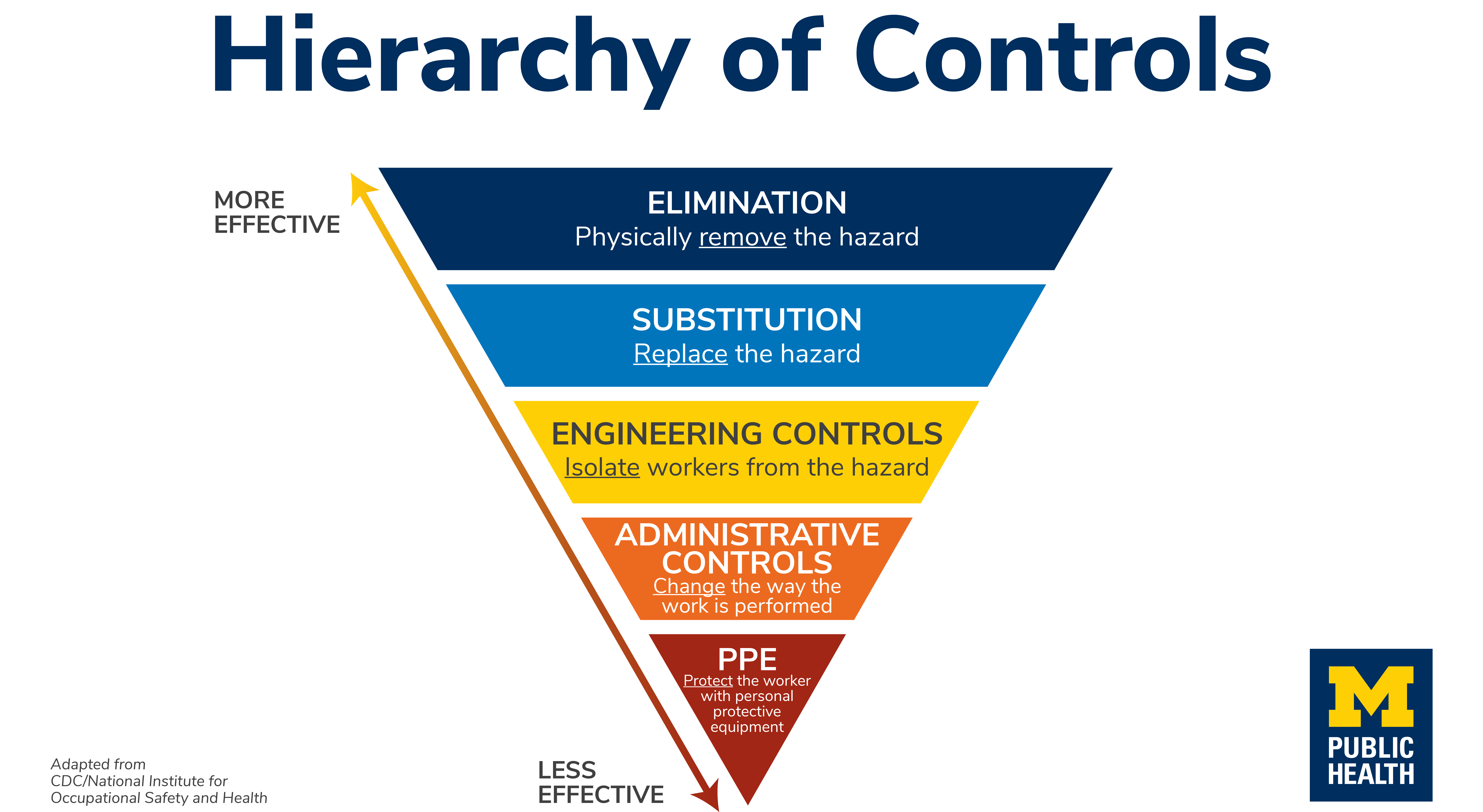 Any safety measures, including infection-control measures, work better when they are "stacked," meaning each worker has layers of protection, from personal equipment to how many coworkers are around them to making sure coworkers are staying home if they are sick.
For workers in high-risk workplaces—whether that means high-risk of injury, exposure to toxic materials, or exposure to a virus at work—we need to stack more layers of defense for each worker to make sure they can return to work safely and with minimal risk of infection.
Recommended health and safety measures are not intended to be unnecessarily strict or to hinder economic recovery. In fact, we are trying to ensure these measures are in place so that when we have flare ups of COVID-19 or other disease outbreaks, workplaces are more prepared. People often see infectious disease control as a matter of emergency preparedness, which it certainly can be. However, we can all use primary prevention measures to reduce the incidence and prevalence of infectious disease in the workplace and elsewhere.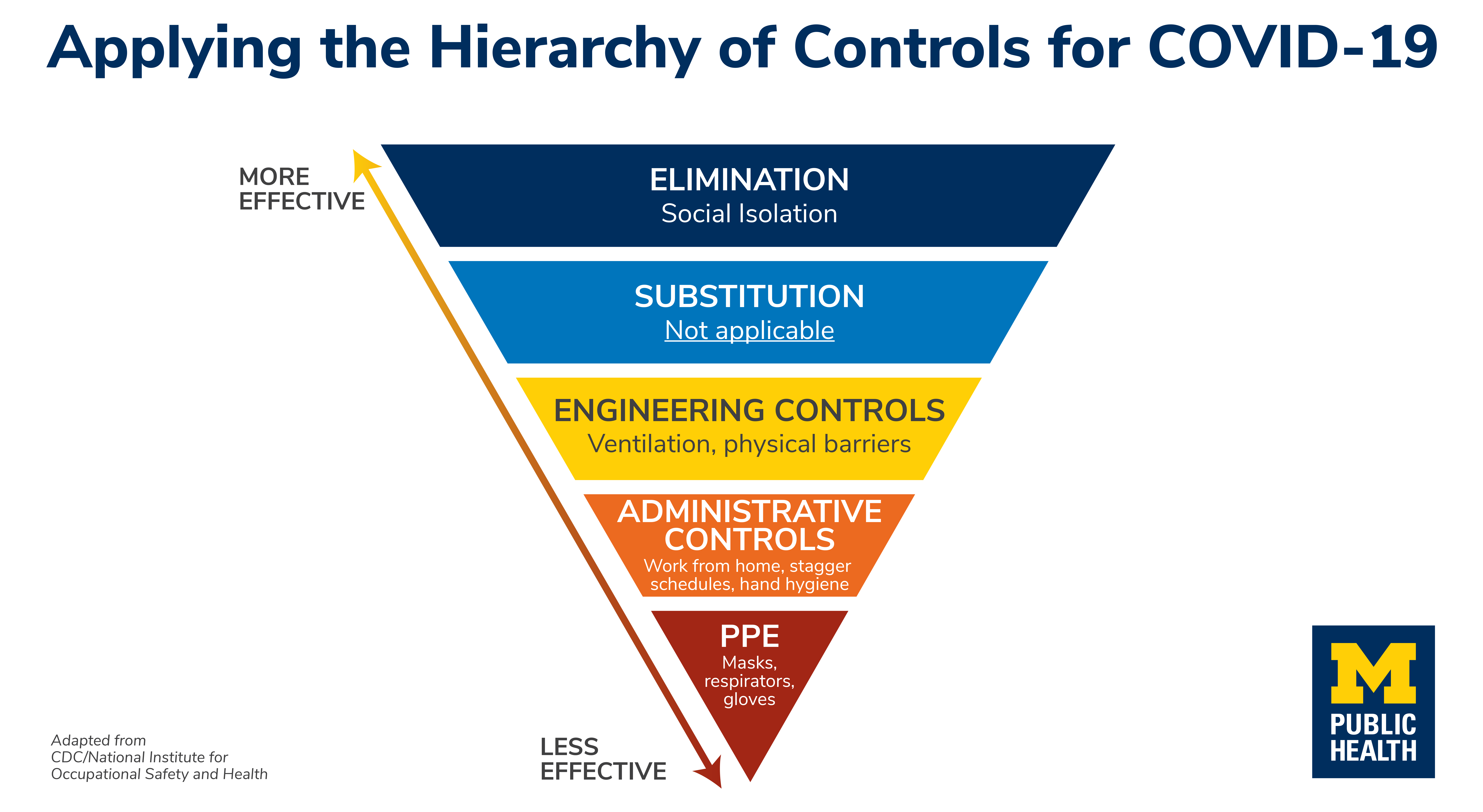 How important is training and communication in controlling infection exposures in the workplace?
Infection control measures work best when everyone who works at a specific workplace—from frontline workers to high-level management—understands the purpose, benefits, limitations, and potential problems of these measures. Management and safety professionals at each location must understand the purpose of each control, what can be feasibly implemented in their worksite, how each control works, and how to train employees.
We will see varying combinations of control measures. Each one must be chosen based on scientific evidence that it will work.
Each workplace is unique in what it needs to protect workers. Even industrial factory settings have multiple types of protection needs, so we should not expect a broad control measure to be a perfect fit in every setting. What a large meat-packing factory does may not be comparable to a car-parts manufacturer.
We will see varying combinations of control measures. Each one must be chosen based on scientific evidence that it will work and then implemented in a way that maximizes worker safety while also allowing workers to go about the fundamental tasks of their job unimpeded.
How do we know these measures will work?
Many of the new protections we are seeing are common practices for protection in other industries.
Examples include transparent shields, signage reinforcing personal protection and personal hygiene, removing communal furniture to encourage physical distancing, holding virtual meetings to avoid in-person conferences, and more telecommuting in general.
Some of the things we see will not be new but improvements on or upgrades to existing innovations. Your workplace might upgrade bathroom faucets and soap/towel dispensers to the type with automatic sensors to reduce surface contact. Toe-pulls can be added to doors so you do not have to touch the handle to open the door. Hand air-dryers should be replaced—the amount of paper saved is not worth the amount of germs those air currents can aerosolize and spread around the bathroom.
Many work settings are used to these types of interventions to create a basic level of safety for workers and visitors. Many office settings and some service and hospitality settings will have to think more about things they already have and how they can improve upon them to maximize worker protection.
---