Healthy Cities: A Powerful Trio of Urban Planning, Public Health, and Public Policy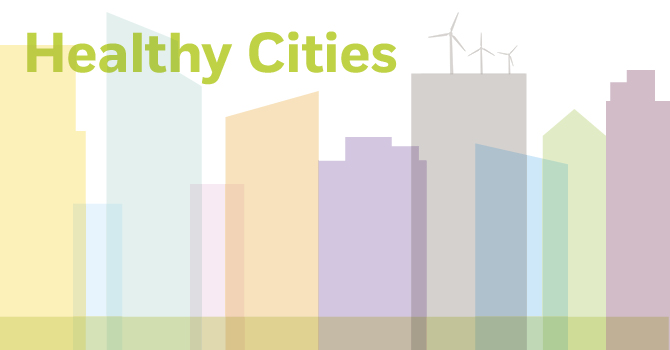 Roshanak Mehdipanah, Kimberley Kinder, and Philippa Clarke
Michigan Public Health, the Taubman College of Architecture and Urban Planning, and the Ford School of Public Policy have teamed up to create the Graduate Certificate in Healthy Cities, a new program that gives U-M graduate students the professional skills and competencies to promote human health in urban contexts. The cross-disciplinary certificate brings together students of public health, public policy, and urban planning and architecture.
"Where you live certainly matters," says Roshanak Mehdipanah, assistant professor of health behavior and health education at Michigan Public Health and faculty mentor of the Healthy Cities Graduate Certificate. "But we also need to ask why we live in this particular location in the first place." That means looking at the social and political influences on housing that result in the isolation of certain communities and in negative effects on their health, Mehdipanah explains.
Students in this fall's first cohort for the certificate are learning how the socioeconomic functioning of land use, infrastructure, and built environments contribute to health and health inequities. They are also learning how to affect change by organizing stakeholders, developing agendas, and mobilizing resources relevant to a range of urban health topics.
Building Spaces for People
Mehdipanah has led studies on the relationship between public health and the built environment in Detroit, Toronto, and Barcelona. And she has seen the disconnect between public health and urban planning. "We are slowly creating more partnerships with urban planners as we realize that we need to make city plans for people and not just for buildings," she says.
In studying urban health equity, Mehdipanah wants students to master the basics of what makes a city run and then use that foundation for critical assessments of all human elements in urban planning. This includes any and all public health concerns. "We think it makes sense for public health researchers to be involved and engaged with urban decisions from the earliest stages of planning, as early as the initial evaluations and conversations," she says. "And we want to prepare our public health students to step right into those processes."
Kimberley Kinder, assistant professor of urban and regional planning at the Taubman College, is the faculty advisor for the Healthy Cities program. She explains how this collaboration takes everyone involved back to the historical roots of their disciplines. "Urban planning and public health, a century ago, were basically synonymous," Kinder says, "because urban planning was a way to promote the health and safety of urban residents. Once infectious disease was largely brought under control, city planning moved toward other forms of economic development and public health moved toward education and social determinants of illness. But we're realizing now we need to get back together!"
Urban planners are still looking closely at disease, but of a different nature. "We now have chronic disease associated with the built environment, for example the relationship between obesity and suburban infrastructures," says Kinder. "And education alone cannot fix the problem, nor can medicine."
Assessing Health Impacts
Since the 1970s, urban planners have often been required to do environmental impact assessments. Today, they often are asked to do a health impact assessment as well. Architects and other urban planners are well aware of the problems certain built environments can create, "but we have limited expertise in addressing them," Kinder says. "But public health is really good at measuring interventions."
Kinder believes this powerful trio of urban planning, public health, and public policy can develop new, effective urban planning guidelines that improve a host of public health concerns. "Public health has tremendous opportunities to impact underprivileged populations—the elderly, low-SES groups, women and children, those with disabilities. And the impact can be augmented through thoughtful urban planning partnerships that improve the quality of assessments, the designs we create, and the policy decisions that surround all of it," Kinder says.
Effective assessments often come down to the quality of our assessment tools. Philippa Clarke, professor of epidemiology at Michigan Public Health and a faculty mentor of the Healthy Cities program, integrates web-based built and social environment data with large-scale population data sets. She uses social media and Google Street View to link up the physical reality of an individual's neighborhood with public health survey data to understand how the local environment shapes a person's health.
In Detroit, Clarke and her team worked with data from the Michigan Choice Program, which supports people eligible to go into a nursing home but who choose to receive home care. They used Google Street View to measure the accessibility of each participant's environment: Do they have sidewalks on each side of the street? Is the sidewalk uneven? Are there places like public benches to rest on the way to the store? Are there curb cutouts for wheelchairs (which increases mobility) and do the cutouts create pooling and winter ice (which increases risk)?
Once they quantify each person's physical reality, they look at survey data that's already been collected from the same pool of participants. "It's very rich data because they are required to complete an assessment every 90 days and because we have basic information about their location, their physical environment, and also their socioeconomic status," says Clarke. This gives them an overall picture of the lived experience in a particular neighborhood and allows them to make very specific recommendations about what kinds of improvements would be the best use of public resources for improving quality of life.
"Our students are excited about using these methodologies," Clarke says, "because the technology, the data sharing, the focus on results are inherent to them generationally."
Precision Urban Planning
With the Detroit study and similar research Clarke has done, she quickly points out that the combination of data on the physical environment with survey data cannot alone establish causality. "How do we know it's the physical environment causing a participant to stay at home? It could be something else—noise pollution, persistent odors in the neighborhood, lack of familial support, mental health, social and cultural fears like graffiti on the wall, condoms in the gutter, local crime reports. There are a lot of things we can't see using Google Street View."
So Clarke took the additional step of using mobile wearable sensors with study participants to establish exactly how difficult it is to walk in certain environments, how much effort actually went into lifting their feet over uneven spots in the sidewalk, and so on. "We needed to prove the relationship between the physical data we collected and the survey data where participants self-reported on their mobility difficulties. With this third step of using mobile sensors, we were able to show that many of the physical challenges they were describing do cause mobility difficulty in real time for these vulnerable people."
Given the level of detail each of these data sets provides, Clarke says that the process could eventually result in customized assessments for individuals living in particular neighborhoods. "Yes, there is sort of a precision health aspect to this work," she says. "And for those living with impairments, that specificity would not only be part of a holistic prognosis for an individual to keep them fit enough to stay in their home rather than moving them to an assisted care facility. It would also help us make the case for improving the entire neighborhood's physical structures, which would keep the physical surroundings accessible for individuals but would also improve the lived experience for everyone."
Mehdipanah, Kinder, and Clarke believe this type of highly interdisciplinary approach—combining physical-environmental data, population survey data, quantified ergonomic data, and socio-demographic data—is a promising new frontier for making our cities healthier. "And Michigan is a great place to work on such an interdisciplinary project, with our strengths in public health, public policy, and urban planning along with our commitment to collaborative research and teaching," says Kinder.
This article first appeared in the fall 2017 issue of Findings, the magazine of the University of Michigan School of Public Health.
Support innovative collaborations at Michigan Public Health.
About the Authors
Roshanak Mehdipanah is Assistant Professor of Health Behavior and Health Education in the School of Public Health. She specializes in innovative research methods including realist evaluations and concept mapping to develop conceptual frameworks linking complex interventions to health. Philippa J. Clarke is Professor of Epidemiology in the School of Public Health. Her current work examines effects of the built environment on human health, effects of the urban environment on disability trajectories over time, factors influencing the use of assistive devices in later life, and cross-national disparities in disability and psychosocial resources. Kimberley Kinder is Assistant Professor of Urban Planning in the A. Alfred Taubman College of Architecture and Urban Planning. Her research focuses on the social, cultural, and political aspects of urban landscapes.