Behind the Research: Modeling the Impact of COVID-19 in India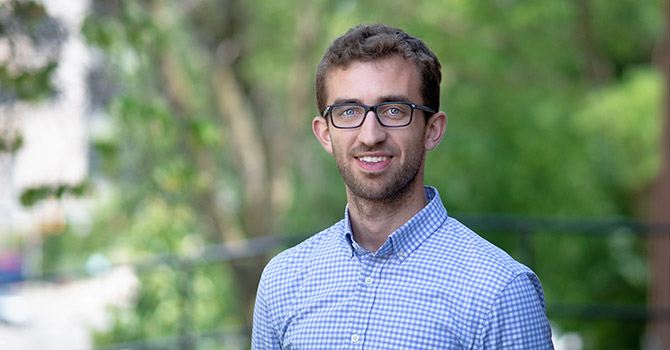 Max Salvatore, MPH '17
Research Area Specialist in the Department of Biostatistics at the University of Michigan School of Public Health
I have always had an interest in numbers. While learning pre-calculus in high school, my cousin and I used math to improve our paper airplane tricks. Once, we manipulated basic functions on a graphic calculator to map the trajectory needed for a paper airplane to hit a plate of doughnuts way across the room. We were successful. As much fun as that was, I also knew I wanted to grow up and do something where I could help others.
These interests led me to study economics and statistics in undergrad before earning a Master of Public Health (MPH) degree in Epidemiology here at the University of Michigan School of Public Health in 2017.
During the first half of my MPH program, I studied a lot of classic infectious disease epidemiology thanks to the modeling courses offered by Marisa Eisenberg and Joe Eisenberg. The second half of my MPH program shifted focus toward cancer epidemiology, where Rafael Meza served as my academic advisor and then my capstone advisor.
After graduation I joined Bhramar Mukherjee in a research staff position, where I have since been exposed to incredible new areas of public health research—namely genetics and electronic health record-linked biobank research. I've been working closely with Dr. Mukherjee—as well as Lars Fritsche and Lauren Beesley—for a little over two years and largely focused on cancer risk prediction research using data from the Michigan Genomics Initiative. I also helped put together a broad-based epidemiological questionnaire that will be sent to all Michigan Genomics Initiative participants, which recently passed the 100 participant mark in the pilot phase. While this cancer research has mostly been my focus, the spread of the coronavirus brought on new research and opportunities that many were not expecting.
COV-IND-19: Modeling in India
Most recently I have been a part of a group of researchers that is analyzing the epidemiologic data from India to make predictions and recommendations as it relates to the continued spread of COVID-19 across the country. This work was informed both by Peter Song and Lili Wang's work modeling COVID-19 in Wuhan and by what was happening in the US. The models developed help to provide a sense of the magnitude of the outbreak and describe the relative reduction in case counts under hypothetical intervention scenarios.
My involvement in the project came shortly after much of the school started working remotely in mid-March due to the spread of COVID-19 in Michigan. Dr. Mukherjee asked if I could join a phone call related to infectious disease modeling. I recall there being many people from the school on the call, including Mousumi Banerjee and Veera Baladandayuthapani, who had already outlined research questions about a forthcoming COVID-19 outbreak in India, which had just announced its first cases.
Past Travels to India
The summer before high school, my brother and I had the opportunity to travel to India with my dad. India was perhaps the most memorable part of the two-week trip to several countries. I think what struck me most was the density of the people in the city and the crowded markets in New Delhi. During that trip, India was also where I spent the most time outside of a large city when we eventually made the 4-hour drive to Agra to see the Taj Mahal. Not having traveled much outside of my suburban communities in Ohio and Michigan before, this trip was eye-opening and had a profound impact on how I perceived the world and humanity. It really introduced me to new environments and climates and I began considering how urbanicity/population density and poverty impact people's health and wellbeing.
There was a real sense that something could be done before the outbreak got out of hand, which differs greatly from most of our research where we are analyzing retrospective data.
Having traveled to India and working with faculty in the department who are from India and have family and friends there, the situation in India felt much more urgent, real, and personal. There was a real sense that something could be done before the outbreak got out of hand, which differs greatly from most of our research where we are analyzing retrospective data.
COV-IND-19 Outcomes
There has been an incredible sense of urgency to produce analyses and forecasts/predictions in real-time and to provide rigorous, reliable information to inform action. Within 72 hours of our late night call, the COV-IND-19 Study Group and I authored a Medium article and accompanying report modeling the impact of a potential lockdown period. We followed this up with two more articles: one examining the effectiveness of the lockdown and another looking at what COVID-19 would look like post-lockdown. All the while, the team and I worked through weekends and sleepless nights to prepare our COVIND19.org online application that would update daily. There was an unspoken understanding about the need and usefulness of our work, and not once do I remember anyone complaining.
I'm very proud of what we've been able to accomplish. Looking just at media coverage, our research has been published in over 500 media outlets and we've heard from researchers, policymakers and the general public about the work. We've been invited to present our work in online webinars from groups in India, China, Connecticut, and Chicago.
Personally, I've increased my knowledge in infectious disease methods, programming, and data visualization skills. I've also gained a new appreciation for communicating research through forums outside of academic manuscripts through interviews with journalists. Dr. Mukherjee was generous enough to invite me to appear with her on Cheddar TV about our work.
We wouldn't have been able to accomplish what we've done without the incredible work of Lili Wang, Peter Song, and his lab. They essentially developed a method for accounting for interventions aimed at stemming an infectious disease outbreak in real-time and produced a publicly-available codebase to allow others, like ourselves, to be able to implement it in other settings. Additionally, we're fortunate that publicly-available data sources like Johns Hopkins and covid19india.org exist. Covid19india.org has been an incredible resource where volunteers review government released documents and reports and provide up-to-date data at the state and national level, which has made our work possible.
Additional COVID-19 Work
In addition to the modeling work, another team led by Dr. Mukherjee is also collecting data to predict high-risk individuals for COVID-19. Using data and records from Michigan Medicine, the goal has been to identify factors that are associated with testing and prognosis. The three outcomes of interest this work looks at are hospitalization, intensive care unit (ICU) admission, and mortality. Additionally, we have stratified these analyses by race.
Based on our findings, it is evident that racially diverse and vulnerable communities—particularly communities that employ the majority of what have been called "essential workers"— have been disproportionately affected by COVID-19 in Michigan. While the general public are publicly thankful for their work, there has been a serious lack of substantive support in protecting these communities in the way we claim to value them.
Overall, the COVID-19 research that I have contributed to has further motivated me to continue down this path of helping others through public health. It's likely that COVID-19 isn't going away anytime soon and will be a topic that needs academic and clinical research for the foreseeable future. While I still see the bulk of my future research focusing on cancer, COVID-19 has brought me back to my first year of my MPH program. I find infectious diseases fascinating—and absolutely terrifying—and it's certainly possible that another novel outbreak could occur in my lifetime. Once we are able to look back at this moment in time, I hope that we, the public health community, can take the research and data compiled from the pandemic to be better prepared to respond to novel viruses and problems that may face our future.
---