"The Best Possible Parent"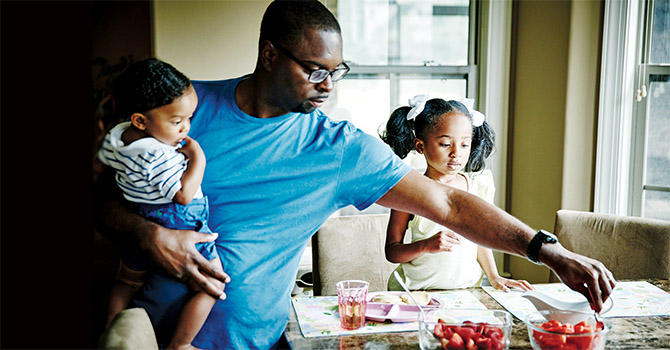 Research in Focus with Alison Miller
Even under the best circumstances, parenting can be stressful and challenging. For parents facing significant obstacles such as poverty, incarceration, or mental health issues, those stresses multiply and, when passed along to young children, can impact the child's health for years to come.
"When conducting interventions with children and families, it's critical to support parents and provide them with stress reduction tools they can use to optimize the possibility of being the best parent they can be to their child," says Alison Miller, associate professor of Health Behavior and Health Education at Michigan Public Health who studies risk and resilience in children and families. "Ultimately, supporting parents in developing warm, caring relationships with their child and engaging in effective parenting leads to better health outcomes for the child."
In addition to working with parents, Miller often works directly with children as part of her research. But child development can be difficult to measure. "You can't just give the child a survey," Miller says. "Sometimes, you can't only survey the parents either—it's often difficult for parents to answer accurately and objectively. So, we think about creative ways to measure meaningful constructs. We do self-regulation challenge tasks, such as asking a child to complete a puzzle with missing pieces and watching how they manage that situation. We do a lot of videotaping and we code behavior to look at individual differences in child and parent responses to challenging situations."
Empowering Parents to Raise Healthier Children
For almost a decade, Miller has been working with Motherly Intercession, a community-based organization in Flint, Michigan, that provides academic and social-emotional programs for children of incarcerated parents and for their parents and caregivers. Through the Strengthening Families Program, an intervention program Miller runs in partnership with Motherly Intercession, Miller and her collaborators have developed behavioral supports for caregivers of children whose mothers or fathers are incarcerated. Miller has also led a version of that program with incarcerated mothers to help prepare them for returning home and reconnecting with their families.
"Our focus is always on strengthening the relationship between parent and child," Miller says. "We focus on the positive—what the parent can do to be the best possible parent for their child—instead of focusing on things like what they did to end up in jail."
"One of our goals is to send a message to parents: 'You are your child's first and best teacher. You want to protect your child, and we want to give you tools to help you.'"
–Alison Miller
This summer, as the community outreach director for the University of Michigan Children's Environmental Health Center and in partnership with the Healthy Homes Coalition—a nonprofit focused on providing safe and healthy housing for low-income families in Grand Rapids, Michigan—Miller led the development of an educational curriculum for lead exposure prevention and mitigation focused on the needs of parents of young children.
"Grand Rapids is having an affordable housing crisis, so families with young children are living in places with high risk for lead exposure," Miller says. "One of our goals is to send a message to parents: 'You are your child's first and best teacher. You want to protect your child, and we want to give you tools to help you.'"
The curriculum identifies common child behaviors that pose a risk for lead exposure—such as playing in soil or touching window sills or dusty areas in the home—and educates parents on observing these behaviors and on the risks of lead exposure for young children. With the help of community educators, the curriculum will be delivered to parents this fall. Miller hopes to develop a version of the curriculum for Head Start teachers to train them on what to look for during home visits and how best to educate and empower parents.
Understanding Triggers to Combat Childhood Obesity
According to the CDC, 18.5 percent of American children ages 2 to 19 currently live with obesity. And children growing up in low-income households have an increased risk for obesity compared to children in higher income households.
Miller has found that, among children in low-income households, those who experience higher psychosocial stress—such as family conflict, violence exposure, or maternal depression—are more likely to eat more in the absence of hunger, which is an eating behavior that may promote childhood obesity, even several years after experiencing early life stress.
In another study, she found that toddlers who were able to delay gratification for a tasty snack had lower weight later on than their peers who ate the snack immediately.
"The fact that we found these intriguing associations early on speaks to stress as a mechanism that links negative life events to poor health later on," Miller says. "It's not possible to stop all negative early life events, but if we can identify when such associations emerge, we can create developmentally sensitive interventions for young children and promote more positive health outcomes. For example, if we see a child who is eating more when he's stressed, that could signal that he is at higher risk for obesity. We could intervene to reduce stress and promote adaptive coping strategies for that child."
Bringing Researchers Together to Help Children Thrive
Miller is not the only researcher at the university doing work in early childhood development. In fact, together with colleagues from Michigan Medicine, she is launching a research network that will bring together researchers from across campus.
The Zero to Thrive Translational Research Network, led by Miller along with Katherine Rosenblum, PhD, and Maria Muzik, MD, in the Department of Psychiatry at Michigan
Medicine, harnesses the strength of multidisciplinary faculty across the university to transform the lives of young, vulnerable children in Michigan and their families through research, training, and service.
"We are in the beginning stages, but I am excited about the potential for this network," Miller says. "Our focus has been reaching out to people across the university to bring them together to focus on finding real-world solutions to address the needs of young children and families facing adversity. In addition to the School of Public Health and Michigan Medicine, we have people conducting research in this area in Social Work, Education, Public Policy, Pediatrics, Nursing, and the Law School. There is so much opportunity for collaboration."
Through these efforts, Miller and colleagues seek to develop support mechanisms for parents and other caregivers to mitigate parenting stress, build relational health, and positively impact children's health outcomes for years to come.