New Faculty Spotlight: William Lopez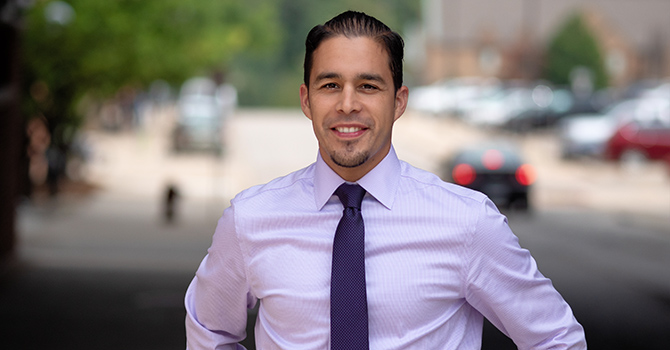 We are excited to welcome William Lopez as a new clinical assistant professor in Health Behavior and Health Education. We recently interviewed him to learn more about his work and what brought him to the University of Michigan School of Public Health.
What is your educational background? Have you always been in public health or did you start in another field?
I received my undergraduate degree from the University of Notre Dame, where I studied psychology. Like many public health folks, I went in and out of being a pre-med student. I think a lot of us wanted to make the world a better place. I often still call it that, but now think of it as making the world a healthier place. I wanted to work toward health equity, but I didn't want to do it in the way that doctors do, which is one-on-one. I wanted to work with the system.
What inspired you to go into public health?
When I graduated, I moved to Houston, Texas, and worked in a homeless shelter. There, I was exposed to many of the health outcomes we measure in public health and a lot of the structural factors that lead to those outcomes, such as joblessness and poverty. I started to see the way those factors affect people's health and their decisions to use drugs and engage in other unhealthy behaviors. That ended up being a formative time for me. I started to get my MPH at UT Health Science Center in Houston. When I finished, my partner and I came up to Ann Arbor because she was getting her master's degree in Social Work. So, I moved up here and worked for a while doing social research in the medical school, then I applied here to the School of Public Health to get my PhD.
What drew you to the Health Behavior and Health Education department at Michigan Public Health?
My partner and I wanted to make decisions about our careers together. We thought about how to make these as a couple, and how to make these when we had kids, which was always the plan. At the same time, we had to think about what were the best schools and places to work, and Ann Arbor hit all those checkboxes.
I also got involved in a great project at the time—the Detroit Youth Pathways Project—where we worked with community organizations in Detroit and collaborated to address factors that influenced whether youth in marginalized groups would exchange sex for money. It was a needed and innovative project that worked with multiple marginalized communities. We used ethnography, survey work, and other qualitative work. It showed me a lot of public health work at one time.
What courses are you teaching?
I'll be teaching an immigration class called Health Impacts of Immigration Law Enforcement in the US. This comes from the work that I did in my dissertation and the few years that followed, looking at what happens when folks are targeted, arrested, detained, and then deported. We'll look at the individual who experiences the health impacts of being detained and incarcerated in a detention center. Students will think about families and what happens to the family when you remove the breadwinner, for example, or the person who does most of the driving. How does his removal affect how children get care? Lastly, students will think about how the enforcement impacts the community and what it means to have a particular segment of this community always targeted for removal. We see comparisons in other communities, such as mass incarceration in the African American community.
What are you research interests?
If I were to be specific, my research interests are the ways that immigration enforcement affects mixed status communities, especially Latino communities. Thinking more broadly, I'm interested in the ways in which we work toward health equity for particular marginalized communities when policies and laws are in place specifically designed to do things to those communities we know to be unhealthy.
What is your favorite thing about Ann Arbor?
Honestly, it's a good place to raise kids. Both of my children like their schools. There's a lot of parks, a lot of libraries, and they're exposed to so many things that I wasn't exposed to when I was young, so I'm really thankful for that. They've seen plays, musicals, and have visited museums. And, of course, you can have a happy, healthy childhood without those things, but I'm glad to have the ability to expose them to that kind of art.
We've also been able to have a very diverse network of friends, which I really appreciate. I like that the university draws such a range of people. It's just been a good place both for us and for our kids to grow up in.
What do you like to do in your free time?
I'm usually spending my free time with my kids. It's been a lot of fun for my kids to be at the age that they can watch movies now. We also do a lot of advocacy, but that's also the work that I do. I often feel like work and life really blend together, and I think for folks who are researchers and advocates, that line is often blurry. Something that I do for my community also informs my worldview and the way that I think about my work. It's great to be able to involve your children in political actions that are age-appropriate of course.
Besides that, I like to read. My favorite genre is sci-fi, but I like to read academic books that were written to be enjoyed and are less theoretical. I'm in public health, but my focus when I was here as a student was in anthropology, so similar disciplines. People tell their life stories—and sometimes their saddest life stories—to us. Every once in a while, we have authors who write those up pretty well with the purpose of relaying the power of the story—with, of course, the theoretical and health meaning involved—but with the purpose of drawing in the reader. When you find books like that, it's great.
What advice can you give to students or people interested in exploring a similar career path?
I would say specifically in exploring the career path of public health, it's a fun, engaging, and exciting career in which you get to actually work toward health equity and you get to be innovative and creative.
Public health requires an explanation for folks who aren't familiar with it, so if you choose this career path, it's as much about educating yourself as it is about educating others as to what you do and why it's important. I think I would tell students who are coming here that we're one of the top public health schools. That means you have access to resources and to people, but it also means it's hard. Keep that in mind as you go. There will be challenges, and you will face those challenges because of the resources and the network that you get because of it.
Interview conducted by Asha Freeman, master's student, Health Behavior and Health Education