New Faculty Spotlight: Riana Anderson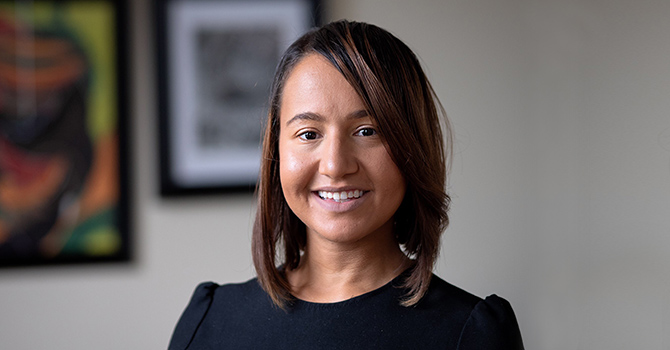 We are excited to welcome Riana Anderson as a new assistant professor in Health Behavior and Health Education. We recently interviewed her to learn more about her work and what brought her to the University of Michigan School of Public Health.
Anderson uses mixed methods in clinical interventions to study racial discrimination and socialization in Black families to reduce racial stress and trauma and improve psychological well-being and family functioning. She investigates how protective familial mechanisms such as parenting and racial socialization operate in the face of risks linked to poverty, discrimination, and residential environment. Anderson is particularly interested in how these factors predict familial functioning and subsequent child psychosocial outcomes, especially when enrolled in family-based interventions.
What is your educational background? Have you always been in public health or did you start in another field?
I was at the University of Michigan for my bachelor's degree in Psychology and Political Science. Then, I got my PhD at the University of Virginia in Clinical and Community Psychology. I also did an internship in clinical psychology at Yale, and then did an applied psychology fellowship at the University of Pennsylvania. Even though these are primarily psychology-based, the field of public health is so diverse, and to me, it's much more about the overall impact that you want to have and some of the methods you want to use, rather than a difference in the type of disciplines.
What inspired you to go into public health?
In particular, with psychology, when you're trying to move the needle on cultural issues, it's more challenging to convince certain scholars that culture matters to the individual. My training didn't have a heavy focus on race. I tried to beat this drum that identity characteristics are impactful to the things that individuals might bring into a therapeutic encounter and that can affect their psychological well-being. It was challenging to convince folks of that sometimes, but when I went into places like the School of Public Health, social justice was really imbedded in the program.
What were you up to before coming to the the University of Michigan and what drew you to the Health Behavior and Health Education department at Michigan Public Health?
Most recently, I was an assistant professor in Preventive Medicine and the Department of Children, Youth and Families in the School of Social Work at the University of Southern California. I found myself frequently looking at the work of Health Behavior and Health Education folks and was still getting mentored across the country from individuals here at Michigan Public Health. I kept wondering why I wasn't here, so I made my way back. It's an incredible group of people here who are making a real impact in the world. I'm very fortunate and blessed to be a member of them now. Within Health Behavior and Health Education in particular, there are so many people representing different disciplines—from sociologists to anthropologists—who all think about addressing the health of the public. For me, being a psychologist—especially for one who wants to think about the community and apply their work—it was a natural fit to join Michigan Public Health.
Prior to my doctoral pursuit, I was a Teach For America Corps Member in Atlanta from 2006 to 2008. I taught fifth grade social studies and then switched to first grade all subjects. You want to talk about real world experience? This was the declarative moment of realizing that the whole family is needed in the work of mental health improvement for youth. Moreover, working with systems, neighborhoods, and communities was an important step in better understanding changing the behaviors of individuals. I learned more in these two years than arguably my entire education.
What courses are you teaching?
I developed a new undergraduate class called Black American Health. It focuses on children, families, and communities.
What are your research interests?
I think about how cultural strengths such as racial socialization and cultural challenges like discrimination impact Black family functioning. I look at how we can intervene on these negative associations and strengthen positive relationships to build happier, healthier Black kids and families. I do community-engaged research but less participatory research at this point in my career.
What is your favorite thing about Ann Arbor?
My favorite part of Ann Arbor is the Big House. It's such a cool feeling when you're in there surrounded by hysterical fans. You wouldn't think that it exists until you get close to it and realize, wow, it's huge.
Who, furry or human, came back with you to Ann Arbor?
I'm going to cheat a bit and say that I was the thing that came back to Ann Arbor and Detroit. I was brought back by a lot of people who have told me that they were praying for me to come back and by people who were interested in some of the ways that I address racism and family life. I'm on the shoulders of so many people who paved my way for so long, so I'm very fortunate to be here.
What do you like to do in your free time?
What's free time? Just kidding! I am very active in community affairs. I love to volunteer my time with families and food services. I love to socialize and congregate with folks, and I also love sports, working out, and dance. I played tennis, volleyball, and softball growing up, but now I do a lot of training and yoga to keep up my athleticism.
What advice can you give to students or people interested in exploring a similar career path?
The thing that I've taken away the most from my years of training is that your route is often never what you think it's going to be. It can twist and turn and look like it's going to take you one way, but you'll end up in a completely different lane, and it's not a problem. Some people are super declarative about what they want to do, and that's great. But you can always meet someone, take a class, or do something that will change the course of your life forever. It's been such a beautiful journey. I don't think I ever saw myself coming back full circle. So being back home at Michigan has been an incredible trip. It's so important to be open to that. No matter what your ultimate destination is—you may end up getting there at some point—the path on which you plan on getting there may look a heck of a lot different than what you originally thought.
Interview conducted by Asha Freeman, master's student, Health Behavior and Health Education