Matthew Boulton Appointed as Pearl L. Kendrick Collegiate Professor of Global Public Health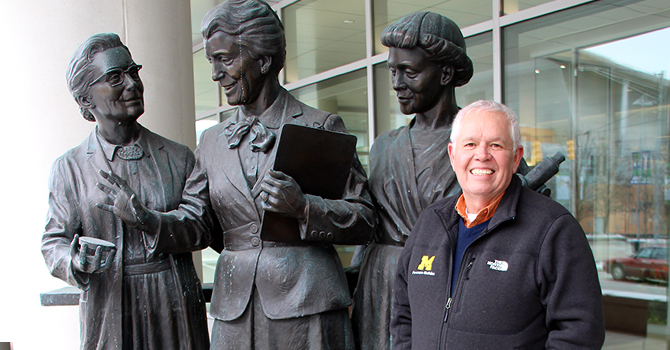 Matthew L Boulton, senior associate dean for Global Public Health and professor of Epidemiology and Preventive Medicine, has been appointed as the Pearl L. Kendrick Collegiate Professor of Global Public Health by the University of Michigan Office of Research. The renewable five-year appointment was approved by the Board of Regents in February.
From his time as State Epidemiologist and Director of the Bureau of Epidemiology at the Michigan Department of Community Health to his global public health work in academia, Boulton demonstrates an expansive knowledge and passion for public health.
"Dr. Boulton's unique career has taken him from public health practice and public service at the county, state, and national levels to multifaceted leadership roles here at the School of Public Health in practice, teaching, global public health, and other capacities," says Michigan Public Health Dean DuBois Bowman. "Perhaps most importantly, he is a champion of scientific and medical capacity building around the country and the world. With the designation of collegiate professor, the university has acknowledged Dr. Boulton's far-reaching impact on the public's health."
Faculty honored with a collegiate professor designation are invited to choose the name of mentor or other scholar who influenced their work. Boulton chose Pearl L. Kendrick, in part, because the work of women scientists, especially from the pre-WWII era, "have often been discounted or underappreciated, and this is certainly true of Kendrick," he observes. "She was a pioneer in vaccine development and in the conduct of vaccine field trials and is grossly under-recognized for her contributions. In fact, Kendrick helped establish the first international standards for vaccine production. And given that she was on the faculty in the Department of Epidemiology in the 1950's at the time of the Salk polio vaccine trials, it's likely her extensive experience in conducting a successful and novel vaccine field trial with the pertussis vaccine at least in part informed the massive polio field trial headed up by Dr. Thomas Francis."
In general, Boulton notes, there are far fewer professorships named after women. "I hope keeping Kendrick's name and legacy in mind is a step toward honoring the many women scientists who have changed our world and contributed importantly to public health."
In addition to his work at Michigan Public Health, Boulton is also the editor-in-chief of the American Journal of Preventive Medicine.
Photo. Matt Boulton stands with the new sculpture of Pearl Kendrick—and collaborators Grace Eldering and Loney Gordon—in Grand Rapids. The work stands on the former site of the regional state public health lab, which Kendrick directed and where she, Eldering, and Gordon conducted most of their work on the pertussis vaccine. Kendrick is in the middle with Eldering on her right and Gordon on her left and is intended to depict them in 1944.
---