Shooting at Oxford High School Highlights Need for Increased Firearm Injury Prevention Strategies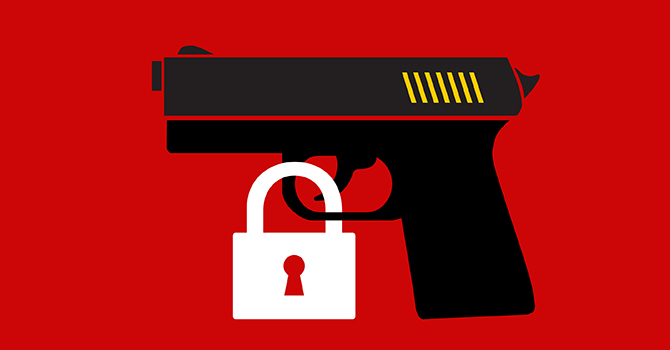 Q&A with Justin Heinze
Assistant Professor of Health Behavior and Health Education
The mass shooting at Oxford High School in Michigan is the deadliest in the state's history. Justin Heinze is an assistant professor in the Department of Health Behavior and Health Education at the University of Michigan School of Public Health. He discusses the importance of preparation and mitigation strategies for such events, as well as how the larger community might help survivors of this shooting.
Heinze's research involves the study of adolescent and young adult development, with a particular emphasis on youth violence and long-term ramifications of violence exposure. He also serves as the faculty lead of the School of Public Health's IDEAS Initiative for preventing firearm injuries, which promotes data-driven and evidence-based solutions to firearm injury and death.
Based on what we know so far, is there anything about the shooting at Oxford High School that stands out to you?
One piece of information I've seen that is consistent with other active school shooting events—but stands out nonetheless—is just how quickly the shooter was able to injure and kill his victims. Reports I've seen indicate that police responded within minutes and the shooter was disarmed in under 5 minutes from when he first opened fire. This underscores the importance of mitigation strategies at the time of the shooting; for example, sheltering in place and coordination with law enforcement—both of which appeared to happen in this case—in order to limit the number of injuries and fatalities. But it also shows how critical the upstream or prevention strategies are to intervene before an event escalates to a realized plan of action because even in just 5 minutes, we've lost at least four youth to firearm violence and many, many more will be affected by the shooter's actions.
We know schools have been conducting active shooter drills for several years. Is that preparation effective in saving lives in these types of situations?
The intent behind active shooter or 'lockdown' drills is to provide clear, immediate guidance in an emergency situation to find cover and create impediments in order to reduce the number of potential victims for a perpetrator. The preliminary reports I've seen suggest that students and teachers did, in fact, follow similar procedures. It seems people in the building sought shelter in classrooms and locked doors while waiting for emergency personnel to respond. Because the event happened so quickly, even small delays due to locked doors or an inability of the shooter to see people in the rooms, may have reduced the number of victims.
What impact, if any, has the pandemic had on violence within schools?
Some of the most perplexing data I've seen since the beginning of the pandemic is that there was not a precipitous drop in school-related violence. WIth the exception of perhaps the initial stay-at-home period, I have not seen major changes in rates of school violence in the 2020-2021 and now the 2021-2022 school years relative to before the pandemic.
In fact, 2021 has continued a disturbing upward trend in firearm violence in schools. It's hard to attribute that to the pandemic, although there is almost certainly increased stress and trauma in student populations across the country. My concern is that the pandemic could be exacerbating what was already a scary trend in firearm violence over the last 7-10 years.
What strategies have been shown to be effective in preventing school shootings?
Unfortunately, no one strategy is a panacea for school shootings. I think of comprehensive school safety strategies that incorporate multiple efforts designed to help school populations before, during and after a shooting event. On the prevention side, though, there is increasing evidence that anonymous or confidential reporting systems are an effective method for identifying individuals who might be at risk for harming themselves or others. A majority of school shooters tell someone or share their plans to harm. Whole-school interventions that address bullying and/or mental health have been shown to reduce violence. Threat assessment teams have been shown to identify students who may be at risk for violence or retaliation, and can be successful in preventing violence. Finally, safe firearm storage can limit the access of youth to deadly agents that resulted in the highest injury burdens in school shootings.
What strategies have been shown to be effective in mitigating risk for death/injury in an active shooter situation in a school-based setting?
Coordination with law enforcement and first responders prior to an active shooter situation shortens the response time in the event of an emergency and helps shooting victims get medical attention as soon as possible. Imagine entering a school for the very first time in the middle of an emergency; important seconds can be saved by having response strategies communicated prior to the event, clear signage at the school, and risk mitigation strategies in place. For example, keeping students sheltered in place until paramedics can clear wounded individuals from the hallways. Shelter in place or lockdown procedures can also limit exposure of students and staff to perpetrators, creating access barriers and buying time until law enforcement can arrive.
We know that surviving a mass shooting can be incredibly traumatic for students. What steps can be taken to support their mental health during this difficult time?
I think about concentric circles in these situations since the repercussions of a school shooting event can have community, state and even national implications. For those immediately affected by the shooting, recognizing the range of emotions—from fear and grief to anger and guilt—is important. Members of the Oxford community will be trying to understand why this happened and how to move forward. We can point to trauma-informed care as a model for mental health professionals, social workers, and school officials to engage with students and their families as they process and eventually return to school.
Unfortunately, it's not possible to put a timeframe on these feelings. It's not as though we can say this will happen in the next 48 hours, two weeks, two months, etc. But ensuring access to services and resources should be a priority for families experiencing this trauma.
How do we prevent this from happening in the future?
Firearm violence—including when it happens at schools—is a multifaceted problem and needs multifaceted solutions. There are opportunities at every level of our social ecology to intervene so that another shooting event doesn't happen. We can concentrate on the perpetrator and think about what was happening in their life that precipitated the event or ways to interject as plans turned into action. We can think about the social and physical environments at the school that can contribute to or mitigate the potential harm. We can think about the weapon itself; how it was acquired, stored, and used in an event. We can think about broader systemic or policy factors that influence firearm injury burden.
As researchers, our role is to collect systematic evidence to support which efforts are effective in reducing violence. How can we combine approaches to maximize their impact? For whom are these efforts most effective and which populations are we missing? That's the strength of an interdisciplinary approach where scientists are working on this societal problem from multiple perspectives.
Public Health IDEAS for Preventing Firearm Injuries
Firearm injury and death—as a result of interpersonal violence, suicide, and unintentional shootings—has become a persistent and pressing public health crisis in the US. The causes are complex, involving factors across the ecological spectrum from individual behavior to policy-related issues. Through our collective efforts, we will help understand, respond to, and prevent firearm injury and death.
Contact

Destiny Cook

Public Relations Specialist

University of Michigan School of Public Health

734-647-8650
---