Minorities saw steeper drop in access to opioid use disorder meds during pandemic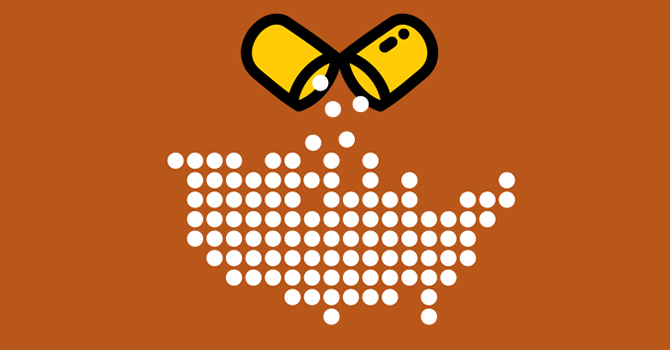 New research from Thuy Nguyen
Research Assistant Professor, Health Management and Policy
Relative to white patients, racial and ethnic groups saw a sharper decline in access to medicines to treat opioid use disorder during the early stages of the COVID-19 pandemic—intensifying pre-pandemic disparities, says a University of Michigan researcher.
"We found that COVID-19 was associated with widened racial and ethnic disparities in buprenorphine, the most common medication to treat opioid use disorder," said Thuy Nguyen, research assistant professor at the University of Michigan School of Public Health and first author of the study published in JAMA Network Open.
"It's really important to target efforts to minimize the consequences of the opioid crisis, especially for patients of color because there's evidence indicating that many Black and other patients of color suffer from opioid-related illness and deaths."
Nguyen and colleagues analyzed retail pharmacy claims from May 2019 to June 2021 using the Symphony Health database, which records medication data for more than 280 million patients and 1.8 million prescribers, and categorizes them by payment source and combined race and ethnicity group.
The researchers categorized patients in five categories: Asian, Black, Hispanic, white and unknown.For their sample, they included more than 1.5 million individuals who filled buprenorphine and more than 127,000 who filled extended-release naltrexone prescriptions between May 2019 and June 2021.
Nguyen and colleagues found that:
Buprenorphine fills saw an immediate decline of 2.5% for Black patients and 4% for Hispanic and Asian patients after the onset of the pandemic, as well as complete flattening of the pre-pandemic upward trend.
Buprenorphine fills decreased more for Black Medicare patients (10%) and for Black cash-paying patients (20%) than white patients (3.5% and 15%, respectively).
No immediate decreases were found among Medicaid patients.
Unlike buprenorphine, extended-release naltrexone had decreases in prescription fills that were similar across patient race and ethnic groups—around 13% to 17% immediate decreases in levels and 10-16 percentage point decreases in trends over one year, researchers said.
"While this study did not look at the reasons behind this trend, one of the potential explanations is that minority groups were more affected by the loss of employment early in the pandemic," Nguyen said. "For patients who buy their own prescriptions or need help getting to the pharmacy, this could explain part of that."
---