Michigan Public Health launches new Master of Public Health Core Curriculum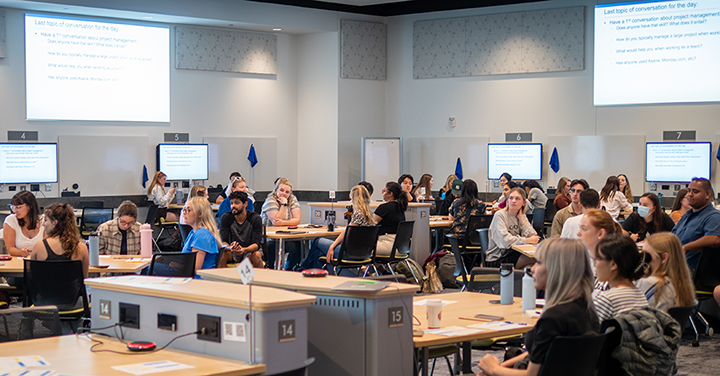 New curriculum to prepare students to meet the needs of the public health workforce by providing hands-on, experiential learning
The University of Michigan School of Public Health launched its new core curriculum Aug. 28 to begin the 2023 Fall semester with new coursework for nearly 200 first-year Master of Public Health (MPH) students.
Michigan Public Health made this transition for several reasons, all of which are anchored in a commitment to give students the best possible preparation for their future career in public health.
The launch of the MPH Core Curriculum follows a multi-year planning and building process, spearheaded by Senior Associate Dean for Education Sharon Kardia that was also informed by a heightened focus on health equity and anti-racist practices following the COVID-19 pandemic.
"One of the foundations of this new core curriculum is the belief that every student has their own piece of the puzzle to add to public health and its major goal of making the world a better place for everyone," said Kardia, who also serves as the Millicent W. Higgins Collegiate Professor of Epidemiology. "This project-based curriculum allows students to build public health products that could be of use to other public health professionals or within the community through city councils, local departments of health or healthcare systems.
"It also represents what the students see as key areas of need, where more attention, more energy or more resources should be put to improve the health of that community."
The MPH Core Curriculum consists of two six-credit courses that all incoming and future residential MPH students will complete in the Fall and Winter terms of their first year. These courses have been meticulously designed to address contemporary public health challenges, enabling students to delve into real-world issues and devise solutions.
Students will have the opportunity to work in interdisciplinary teams and draw on the expertise of various departments, fostering a holistic understanding of public health challenges and encouraging innovative problem-solving. Students will build interpersonal skills central to health equity: leadership, anti-racist practices and wellness.
This project-based curriculum allows students to build public health products that could be of use to other public health professionals or within the community through city councils, local departments of health or healthcare systems."
— Sharon Kardia
The process for designing the new curriculum was led by Kardia, the school's instructional design experts and leadership from each of the participating departments. Input on the MPH Core Curriculum redesign was gathered from employers, community partners, faculty, students and alumni.
"I am grateful for my colleague Dr. Sharon Kardia's leadership in launching the new MPH Core and commend our instructional team and designers for their hard work to advance the educational experience for our students," said F. DuBois Bowman, dean of the School of Public Health. "We're proud to launch a curriculum that is unique to the University of Michigan and that sharpens the training we provide. Our ultimate objective remains enriching the public health workforce to improve the health in communities around the world, and this curriculum will provide the training to do just that."
The core curriculum will build community in the incoming cohort and create a more solid, shared foundation for all MPH students at Michigan Public Health. It also will create more space for department electives, allowing students the ability to customize their education to their specific interests and career goals. It will better prepare students to meet the needs of the public health workforce by providing hands-on, experiential learning centered around addressing the world's most pressing public health issues.
All first-year MPH students will have a shared experience by taking "Investigating Public Health Issues" in the Fall semester and "Developing Solutions to Public Health Issues" in the Winter semester. Courses will be taught by a team of 4-6 faculty across the school's highly ranked departments.
MPH Core Curriculum coursework will focus on teamwork. Students will get to share their interests in designated project areas such as climate change, structural racism, mental health and more. Interdisciplinary teams will be formed based on areas of interest and assignments will be designed around real-world public health challenges and approaches that public health professionals use in practice to create solutions.
"Public health is an integrated field," said Bill Lopez, clinical assistant professor of Health Behavior and Health Education who is teaching the first semester. "It makes sense that our classes should also be integrated, and that we should tackle public health problems holistically, not piece-meal. Will there be challenges to this type of program? Of course. But nothing this new, visionary and paradigm-shifting is ever without challenges. Public health professionals train to work in a team, and that's exactly what we plan to do in service of our students, the school and the program."
The core curriculum will enable students to develop the skills to address emerging, real-world issues in public health today such as structural racism, historic and present day; pandemic threats; politicization of public health issues; widening disparities in health outcomes; environmental threats; and water sanitation and hygiene.
"We believe in teaching not just the content but also the people skills—how do we work best in teams, how to be a good leader and how to put that together to make progress on really difficult world issues," Kardia said. "This happens when we bring people together and give them the best learning environment and the right tools to make a difference."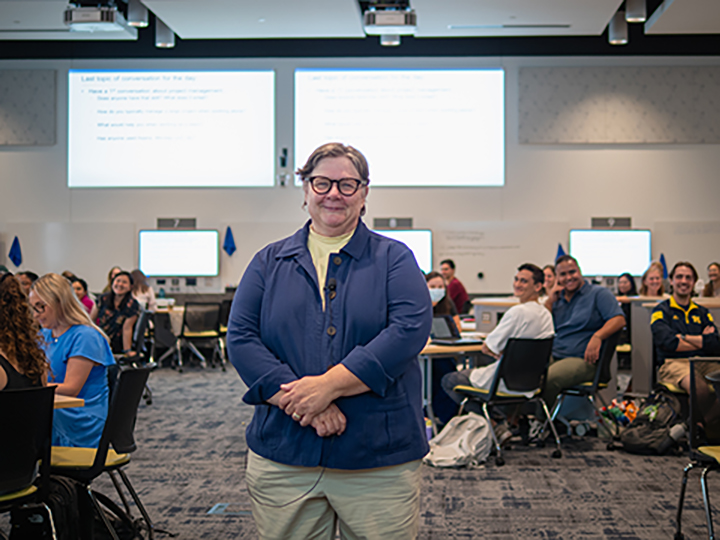 ---
Tags