Michigan Public Health reaffirms partnerships with Pan-Asia institutions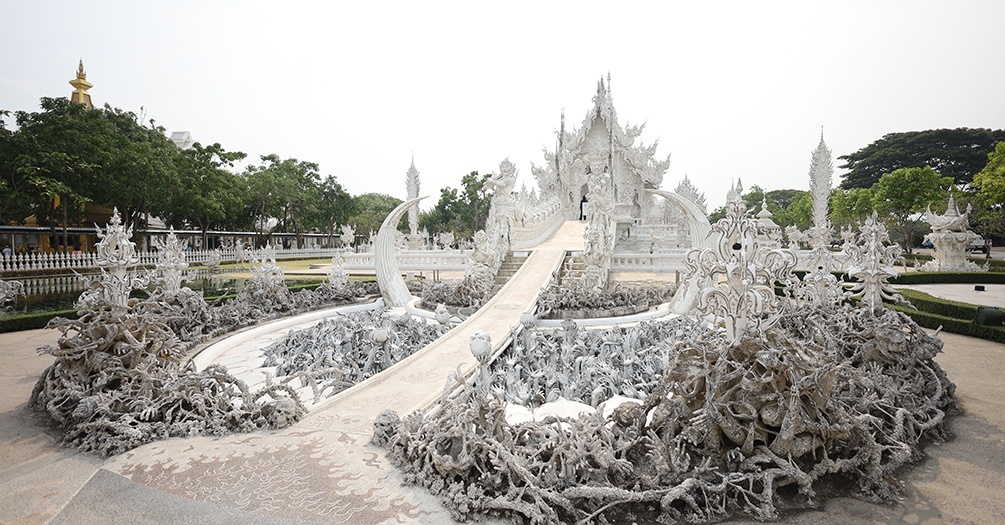 Representatives from the University of Michigan School of Public Health visited southeast Asia in May 2023, for the first time since the beginning of the COVID-19 pandemic, to reconnect with collaborators, reaffirm partnerships and connect with alumni living abroad.
Dean F. DuBois Bowman; Matthew Boulton, senior associate dean for Global Public Health; Rick Neitzel, associate director for Global Public Health; Abram Wagner, research assistant professor in the Department of Epidemiology; Tony Wagener, chief development officer; and Amy Sarigiannis, director of International Relations and Scholar Exchange Program, traveled to Thailand, Indonesia and Singapore to build on existing collaborations with international partners in the region.
"I had the honor of meeting with several leaders and collaborators from Thailand, Indonesia and Singapore to discuss many public health challenges facing this region," Bowman said. "I appreciated the opportunity to learn more about some of the top institutions in southeast Asia and the school's existing and potential future collaborations there."
In Chiang Rai, Thailand, they met with research collaborators from the Mae Fah Luang University School of Health Science, followed by a visit to the Chiang Saen District Public Health Office and the Golden Triangle region, where Thailand borders Myanmar and Laos.
Next, the delegation traveled to Yogyakarta, Indonesia to meet with officials from Universitas Gadjah Mada. They also attended the University of Michigan's Pan-Asia Alumni Reunion in Singapore, where they had the opportunity to connect with Michigan Public Health alumni as well as some incoming students.
"Our collaboration with Mae Fah Luang University in Thailand has been going on for more than a decade," Neitzel said. "This partnership, in terms of research, student engagement and learning and service opportunities, has been incredibly fruitful, and our Thai collaborators have been simply amazing to work with."
One of the collaborations Neitzel has worked on with Mae Fah Luang University is a multiyear study of informal e-waste recycling workers in northeastern Thailand that involved assessments of occupational and environmental health impacts and culminated in a tool-based intervention.
Neitzel has participated in several studies of cadmium exposures and associated health impacts among communities in northern Thailand, as well as studies of pesticide exposures among farmworkers and Hill Tribe farmers. Other studies assessed silica exposures among stone processing workers in northern Thailand and COVID-19-related health behaviors and impacts in multiple countries, including Thailand.
"This was my first trip to Thailand to visit my research partners since before the pandemic," Neitzel said. "It was an important trip from my perspective to physically re-establish those relationships. Of course, like everybody, I've been continuing the collaboration via Zoom, but it's not as effective as in-person, especially given the 12-hour time difference. Plus, it was a tremendous opportunity to be joined by Dean Bowman to meet with leaders and collaborators from our partner institution and to engage in discussions about the work that we've been doing there for the past 11 years or so."
In addition to being research collaboration sites for Michigan Public Health faculty, the partner universities are also training sites for the Minority Health and Health Disparities International Research Training Program that the school leads.
"The dean of Health Sciences at Gadjah Mada—the largest single university in Indonesia—met with us during our visit, which validates and reinforces the existing training and research that we have in place," Boulton said. "It also affords an opportunity for us to meet with their leadership and their faculty and explore other potential areas of common interest where we might have an opportunity to collaborate."
About 20 Michigan Public Health master's students across five departments—Environmental Health Sciences; Epidemiology; Nutritional Sciences; Health Behavior and Health Education; and Health Management and Policy—have participated in joint research projects between the University of Michigan and MFU or have had internships working with faculty.
Starting June 4, Christian Pacheco, who is working toward a Master of Public Health in Global Health Epidemiology, will visit Indonesia, while Sailing Tang, a Master of Public Health student in the Occupational and Environmental Epidemiology Program, and Ang Le, an Environmental and Occupational Health MPH student at the University of Pittsburgh, will visit Thailand.
Research collaborations have resulted in 13 joint Michigan-MFU peer-reviewed publications in a range of journals.
Four Michigan Public Health faculty—Neitzel, Laura Rozek, Olivier Jolliet, Justin Colacino, all from the Department of Environmental Health Sciences—as well as Ach Advaryu from the University of Michigan Ross School of Business and Jesse Austin-Breneman from the College of Engineering have played key roles in the Michigan-MFU collaborations.
Four now-graduated doctoral students from Michigan Public Health—Aubrey Arain, Kathryn Demanelis, Shama Virani and Chanese Forte—and two from the College of Engineering—Suzanne Chou and Marianna Coulientos—have done their doctoral research on projects in collaboration with MFU.
"This trip was a terrific opportunity to connect with collaborators and alumni throughout southeast Asia," Bowman said. "I am grateful for the opportunity to connect with them and look forward to continued collaborations."
---