Analyst by Day, Anthropologist by Heart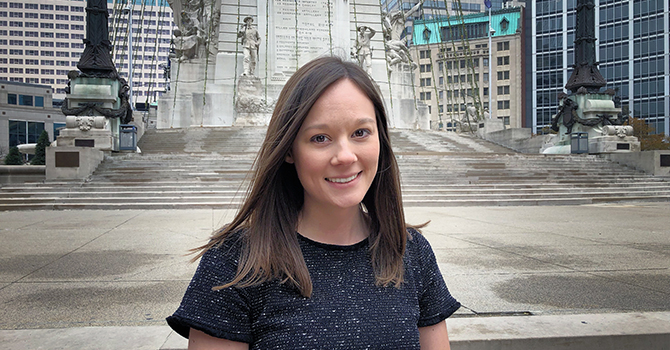 Hollie Kicinski, MPH '17
Epidemiology Analyst, Indiana State Department of Health
I didn't realize I was actually interested in public health from a young age, but looking back I can trace my interest to middle school. Around that time, I got very interested in physical activity and nutrition. I became aware of decisions about food and exercise and how that impacted my body—not just how I looked but, more importantly, how I felt. For my Girl Scout Gold Award project, I worked on educating other kids about health and nutrition. It was an intervention that I didn't know was an intervention!
How does evolution frame how we behave and how do we end up here, today, with our modern health issues? Those are public health questions.
As an undergraduate at the University of Michigan, I chose biological anthropology to gain a holistic view of human health and behavior. I was considering medical school but wanted to avoid studying in a science silo. I was most interested in how the human body works in its environment. The human body doesn't operate in a vacuum—we've adapted to the world around us over millions of years. So how does evolution frame how we act and behave now and how do we end up here, today, with our modern health issues? In many ways, those are public health questions.
Throughout my undergraduate study, I conducted research with the Physical Activity Lab, facilitating weight management programs for children and adults. As in my biological anthropology studies, I saw in my research that success in weight loss and management is influenced by our biology and physiology, our behaviors and environments. No single factor alone drives our health and well-being. When I took Ken Warner's Public Health 200 class, I realized the questions I was asking were public health questions, and I came to realize public health would be my path.
I realized I was most engaged when I was collecting and evaluating evidence.
Before diving into my MPH, I spent a year with AmeriCorps Volunteers in Service to America (VISTA), a program working mostly with small nonprofits to build volunteer capacity and augment programming. I served with the Indy Hunger Network in Indianapolis, Indiana, an organization working with the central Indiana community to improve healthy food access. During my time with the Indy Hunger Network, I realized I was most engaged when I was collecting and evaluating evidence. I really enjoyed research, building capacity, and supporting informed decision making, especially decisions around the best intervention choices for particular communities.
I studied in the Nutritional Sciences department at Michigan Public Health and really enjoyed the hard science aspects of the degree. Because of the department's and the entire school's commitment to cross-training, I gained skills in statistics and data application. I became good at using data to translate biostatistics, epidemiology, and nutritional sciences into potential improvements to cultural phenomena like food insecurity, social structures, and how the built environment affect human mobility and health.
A big part of my ongoing development as an interdisciplinary thinker in public health was Sue Cole, a Nutritional Sciences lecturer. Dr. Cole is a core part of the nutritional sciences department, in no small part because she teaches four of the core courses most Nutritional Sciences students take. I learned a great deal from her interdisciplinary approach to nutrition. She taught the core science of vitamins and minerals as well as community nutrition—and she always brought it together, connecting the science to what happens in the community. Because she had a broad perspective on nutrition, she was extremely helpful to me as I discerned whether or not to pursue the RD credentials. She supported me when I decided not to and cheered me on in the job search process.
Data-based storytelling is how I frame experiences for the public so we have a better chance of creating effective public health interventions.
As I developed into a public health professional, I remained an anthropologist, discovering new ways to use data in approaching the problems I'm most passionate about solving—health disparities and community outreach. After completing my MPH, I joined the Research and Evaluation team at the Indiana Department of Child Services, serving field offices across the state on their data-related requests. My main job was to evaluate the START Program, which helps parents battling addiction get into substance abuse treatment quickly and with the support of a peer mentor, to minimize the impact of addiction on children. Seeing my skills and efforts directly impact public policy and child health was extremely rewarding.
I recently took a position as an epidemiology data analyst at the Indiana State Department of Health. Most of my job is to analyze data for our epidemiologists and program staff. But we also provide data to the media so they can communicate it accurately to the public. Using data to tell the story of what's happening around us is truly exciting. I work specifically with hospital records, analyzing the burden and economic costs of chronic disease and creating visualizations that help the public understand the state of health in Indiana.
Our work touches the opioid epidemic, communicable diseases, chronic diseases, hospital care quality, and a host of other concerns that affect every citizen in the state of Indiana. We help peers see where they can be most efficient in their work by developing a program a particular way or supporting a particular policy with robust evidence. Nonprofits can use our information to inform the work they're doing. Lawmakers can use our information in their deliberations.
I never thought I'd end up here with a nutritional sciences background, but as a Michigan Public Health alum, it makes sense. The school's curriculum is broadly interdisciplinary, and the intellectual culture there fosters collaboration.
It also makes sense to me as a lifelong anthropologist. With our human bodies moving through social and physical environments, we can collect data to describe just about every detail of the human experience. Data-based storytelling is how I can frame some of those experiences for the public so we have a better chance of creating effective public health interventions.