A National Hotspot: The Coronavirus in Detroit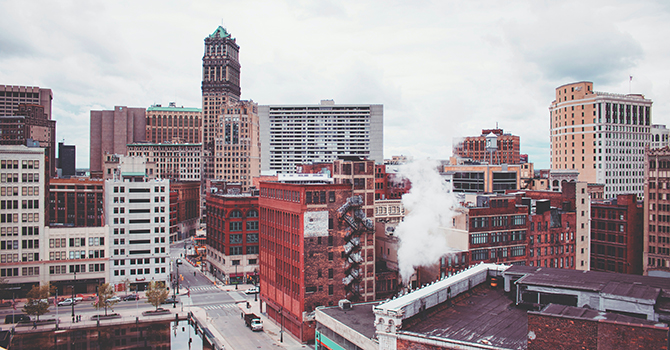 Q&A with Paul Fleming
Assistant Professor, Health Behavior and Health Education
Just 40 miles east of the University of Michigan in Ann Arbor, sits the city of Detroit: Michigan's largest city and the cultural epicenter of the Great Lakes State. By population, Michigan is the tenth largest state, but since the arrival of COVID-19 in the United States, Michigan has had some of the highest rates of confirmed coronavirus cases and deaths. A quarter of those cases and a quarter of deaths from coronavirus are in the city of Detroit alone—and nearly half of the cases and deaths in Michigan occured in Wayne County, where Detroit sits. It's a staggering situation that has the nation's attention.
To better understand all this, we talked with Paul Fleming, an assistant professor of Health Behavior and Health Education at the University of Michigan School of Public Health. His research focuses on the social determinants of health and health behaviors, with a focus on developing and evaluating interventions in poor and marginalized communities in Michigan and abroad. In Detroit and Wayne County, he uses a community-based participatory approach with Latinx immigrants to examine how policies and discrimination contribute to poor health outcomes. Fleming uses this expertise to explain the social and structural policies that have led to increased health disparities for vulnerable populations—specifically as this applies to coronavirus disproportionately affecting the city of Detroit.
What are some of the factors that have caused Detroit to become a national hotspot and area of concern for coronavirus?
When we think about this pandemic, it's important to look beyond just the statistics and think more about the social and structural factors that can help us explain those statistics. So, in the case of Detroit, we should think about things historically and also look at the policies that have been in place in the city and region.
Over the last several decades, Detroit has been subject to environmental injustices, which has led to its residents being more vulnerable to coronavirus complications. For example, Southwest Detroit residents have higher exposure to environmental pollution caused by truck traffic on the Ambassador Bridge. This is one reason residents of Detroit have much higher prevalence of asthma than the national average—and asthma is just one health condition that can cause complications if someone contracts coronavirus. These increased risk levels stem from the public policies that have placed those types of pollutants in Detroit. Even though the policies were established decades ago, they have shown huge impact on health issues in Detroit for many years, and especially now during the coronavirus pandemic.
In addition, Detroiters have also been impacted by unfair housing policies that can leave many homeless or with substandard housing, which increases their risk of getting sick. And of course, Detroiters have been impacted, just like many others across the country, by an economic system that provides very little safety net for the working poor. These are factors that a virus like the coronavirus can really take advantage of.
What does this mean for cities across the US that are similar to Detroit?
As we see this pandemic unfold across the country, we're going to see a lot of these coronavirus hotspots emerge. They will oftentimes be in places where we have seen previous health inequities, places where people are deprived of certain resources, and places where people have been historically oppressed or marginalized.
An infectious disease like the coronavirus really lays bare how all communities are connected to one another. There is a lot of attention on the city of Detroit right now, but the city of Detroit does not exist on an island—-it's connected to communities across the country. This demonstrates that when a city or population is particularly vulnerable to coronavirus, it is going to have an impact across the country. We are all connected and our health is all connected. That's why it's important to understand who may be more vulnerable and for us to protect everyone.
What's being done in Detroit to help?
We know that in times of crisis, communities pull together. Oftentimes, community-based organizations are the ones leading those efforts and organizing their community to respond.
Many community residents trust their community-based organizations more than state or federal government organizations, and so they look to them for information and resources. So, community-based agencies and public health organizations are really critical for times like these and will continue to play an important role both in this acute time and in the follow-up to the pandemic.
The organizations that I've worked with Detroti have responded quickly and with so much energy and passion to help their communities face this pandemic. It's really encouraging to see how much communities are coming together. And it's really the Detroiters themselves who are coming together to respond and help each other.
The community response among the people of Detroit has been really encouraging to me, and it gives me hope that we will get through this pandemic. We will see the other side, and when we get there, we will be stronger for it.
---