Michigan Public Health Dean F. DuBois Bowman Elected to National Academy of Medicine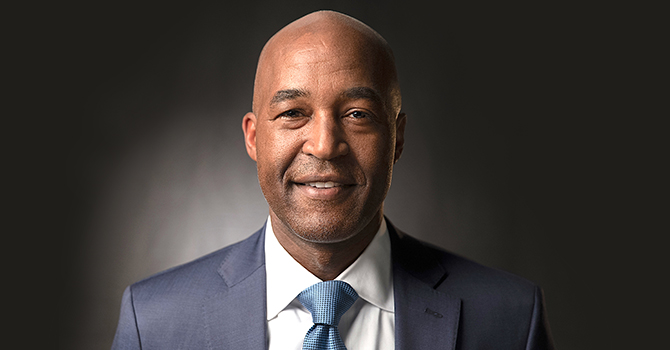 University of Michigan School of Public Health Dean F. DuBois Bowman was elected to the National Academy of Medicine today. Each year, researchers from across the United States are elected to the honorary society for their contributions and research in health and medicine.
A renowned expert in the statistical analysis of brain imaging data, F. DuBois Bowman is dean of the University of Michigan School of Public Health. Bowman's work mines massive data sets and has important implications for mental and neurological disorders such as Parkinson's disease, Alzheimer's disease, depression, schizophrenia, and substance addiction. His research has helped reveal brain patterns that reflect disruption from psychiatric diseases, detect biomarkers for neurological diseases, and determine more individualized therapeutic treatments. Additionally, his work seeks to determine threats to brain health from environmental exposures.
Prior to joining Michigan Public Health in 2018, Bowman was chair and Cynthia and Robert Citrone-Roslyn and Leslie Goldstein Professor in the Department of Biostatistics at the Columbia University Mailman School of Public Health and a tenured professor in the Department of Biostatistics and Bioinformatics at Emory University. Bowman has also been a visiting scholar at Carnegie Mellon University and a visiting assistant professor at Johns Hopkins University, and was the founding director of Emory's Center for Biomedical Imaging Statistics.
As a principal investigator, Bowman has received seven NIH grants, has been a co-investigator on several federally sponsored grants, and has been an integral collaborator on an international research project led by the Michael J. Fox Foundation. Bowman has also served on advisory boards for NIH programs that target underrepresented minority undergraduate students at historically black colleges and universities and has led NIH diversity pipeline training programs.
Bowman is a fellow of both the American Association for the Advancement of Science and the American Statistical Association and previously served as president of the Eastern North American Region (ENAR) of the International Biometric Society.
He earned a bachelor's degree in mathematics from Morehouse College, a master's degree in Biostatistics from the University of Michigan, and a PhD in Biostatistics from the University of North Carolina, Chapel Hill.
Bowman is among five University of Michigan faculty elected to the NAM today, joining a select group of fewer than 60 current and emeritus University of Michigan faculty and living former faculty, in the NAM. Christopher Friese and Justin Dimick also hold secondary appointments in the Department of Health Management and Policy at Michigan Public Health.
---
Tags