On the Field: Getting Michigan's Youth Soccer Back to Play with Michigan Public Health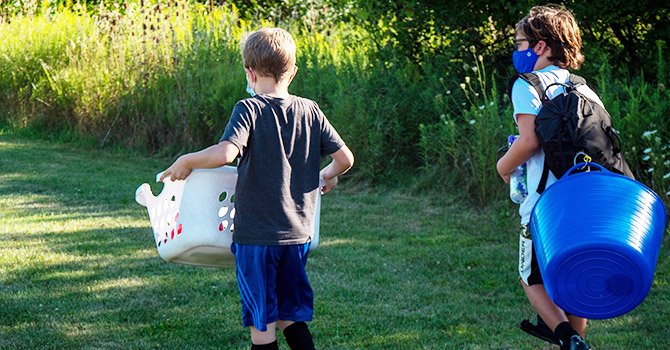 The COVID-19 pandemic came as a shock to Tom Faro. As the executive director of the Michigan State Youth Soccer Association (MSYSA), he's been tasked with balancing his daily work supporting a state-wide organization and finding solutions to playing soccer during the pandemic. The association includes over 90,000 players ranging in age from 3 to 19, 11,000 officials, hundreds of thousands of parents.
"Quite frankly, we're not public health experts so it was important that we reach out to someone to help us develop a plan to safely get back to soccer in a way that follows the various guidelines that sports were under," Faro said.
With this goal in mind, Faro reached out to the University of Michigan School of Public Health for guidance. Eager to help, a group of faculty, staff, and students came together as a team to help MSYSA with the development of their reopening plan and provide a public health perspective to the sport during the COVID-19 pandemic. In order to develop their own reopening plan, MSYSA needed to combine information from various guidelines set forth by the state of Michigan, the CDC, and US Soccer, among others. The team has so far helped MSYSA document processes set by the organization for various soccer-related activities, including avoiding team huddles, goalkeepers having their own sanitized equipment during training sessions, and the wearing of facial coverings during training sessions and competitions.
"The Michigan Public Health team is really focused on providing an epidemiological and medical perspective to the MSYSA leadership," said Laura Power, clinical assistant professor of Epidemiology and director for the Preventive Medicine Residency at Michigan Public Health. Power also tapped Helene Fligiel, a resident in the school's Preventive Medicine program, to help lead the team and work with the students who had expressed interest in the project.
Student Engagement
As many students across the University of Michigan and beyond struggled with changes or the cancellation of internships due to the pandemic, Faro's outreach to Michigan Public Health offered new opportunities for public health students to take their classroom knowledge and apply it to a real-life scenario.
"I saw our internship coordinator, Kate Wilhelmi, share this opportunity and I was immediately interested," said Olivia Yancey, a master's student in the Department of Epidemiology at Michigan Public Health. "I spent most of my life playing soccer, so it was an interesting and exciting opportunity to mesh my two interests."
In particular, Yancey's soccer background helped bridge the gap between epidemiology and soccer. "There were times when we needed to think about specific scenarios that could happen in a practice, scrimmage, or game setting. Having a background in the rules and regulations of the sport proved useful," she said.
Nicholas Dolnicek, also a master of public health student in Epidemiology, said the project has brought a new perspective on the impacts of COVID-19 on the state of Michigan. In his role on the team, he specifically worked on the development of the FAQs to educate the MSYSA's various stakeholders.
All students exemplified gratitude to MSYSA for their willingness to reach out for assistance in order to navigate the unprecedented times. "Working with MSYSA has allowed us to see the clear impact our work has on the response to COVID-19 in the state," said Marcus McKay, Jr., another master of public health student in the Department of Epidemiology working on the team.
A Path to Safe Play
In addition to the FAQs and guideline documents the team created, one of the biggest tasks was to compile all of the available information and create a phased activity chart, which outlines important details on protocols that are in place based on recommendations from the state's reopening plan—the MI Safe Start Plan, the Centers for Disease Control and Prevention guidelines, and US Soccer's Play On resources.
"It's extremely commendable how proactive Tom and MSYSA were to find a solution to their problem. This is a tricky and unusual time and they've demonstrated the importance of getting Michigan's youth back to playing soccer in a mindful way," Power said. "In addition, I'm amazed by the incredible work the Michigan Public Health team has done to achieve MSYSA's goal through their public health knowledge."
"I don't know how to articulate just how thankful I am for the support from Michigan Public Health," Faro said. "MSYSA is trying to ensure that any of the activities that our members are doing are done in a safe manner and following the boundaries of emergency orders, CDC guidelines, and other protocols we need to adhere to. The team has really helped us achieve that."
---
Photo Caption: Two players for MPSA Crush in Ann Arbor head to practice with their equipment.
---