NSF CEO joins Dean's Advisory Board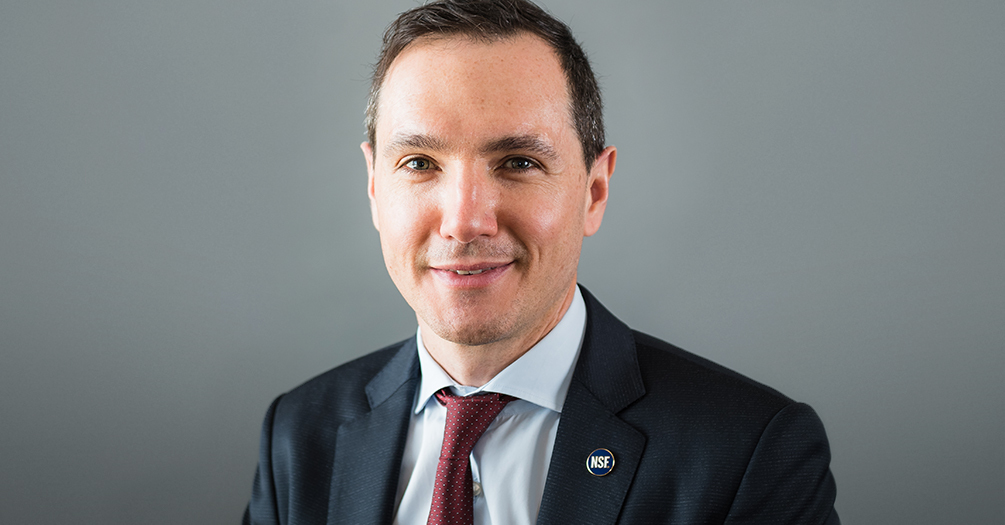 Pedro Sancha, president, CEO and director of NSF, has joined the University of Michigan School of Public Health's Dean's Advisory Board.
The Dean's Advisory Board is made up of Michigan Public Health alumni and other public health and industry leaders who support the school's mission and provide advice and counsel to the dean. Among other things, the volunteer board members serve the school by communicating about and advocating for the school's mission to a broad audience and facilitating connections to individuals, corporations, foundations, and decision makers and policymakers with interest in public health issues.
"It's an honor to join this council of advisors who do such important work," said Pedro Sancha, President, CEO of NSF. "The University of Michigan acted as an incubator for NSF, which is now – almost 80 years later – a thriving global enterprise. We're proud to stay connected to our alma mater as we work together to tackle public health issues impacting our world."
Prior to Sancha joining the board, Stan Hazan, MPH '08, former senior director of science and regulatory affairs for NSF, served on the Dean's Advisory Board for more than seven years.
"We are thrilled to have Pedro join our Dean's Advisory Board and welcome his unique perspectives related to environmental health, global public health, and more," said F. DuBois Bowman, dean of Michigan Public Health. "We are also grateful to Stan for his many years of service to the school. Since NSF's founding at Michigan Public Health nearly 80 years ago, NSF and the school have enjoyed a strong relationship, and I look forward to what we will accomplish together in the future."
Sancha joined NSF in March 2022 from Ecolab, where he was senior vice president and general manager of the Industrial Digital Group and led the Global Light Industries division. Prior to joining Ecolab, Sancha spent 14 years with Shell, where he held senior leadership positions in general management, sales, marketing, supply chain, strategy, and business development. He began his career as a business consultant with Arthur Andersen.
Sancha has extensive international experience, having lived, and worked in Northern Africa, Europe, Asia Pacific, and the US. He earned master's degrees in engineering from the Polytechnic University of Madrid and the Ecole des Ponts Paristech in France, and a master's degree in business administration from Harvard University.
NSF (nsf.org) is an independent, global organization that facilitates standards development, and tests and certifies products for the food, water, health sciences, and consumer goods industries to minimize adverse health effects and protect the environment. Founded in 1944, NSF is committed to protecting human health and safety worldwide. With operations in 180 countries, NSF is a Pan American Health Organization/World Health Organization (WHO) Collaborating Center on Food Safety, Water Quality, and Indoor Environment. NSF's health sciences services include training and education, consulting, clinical research, regulatory guidance, corporate compliance and, separately, auditing, GMP and GLP analytical testing, DNA testing, certification, and R&D for the pharma/biotech, medical device, and dietary supplement industries throughout the product lifecycle. 
The University of Michigan School of Public Health has been pursuing a healthier, more equitable world through education, research and action since 1941. Ranked among the top schools of public health in the country, Michigan Public Health trains more than 1,300 graduate and undergraduate students each year. With more than 190 faculty and researchers across six academic departments and numerous collaborative centers and institutes, the school produces impactful research aimed at finding lasting solutions to pressing public health problems. Compassion, innovation, and inclusion drive Michigan Public Health faculty, staff, students, and more than 18,000 alumni to pursue positive change and improve the health of the world.
Contact

Andrea LaFerle

Director of Public Relations and Marketing

University of Michigan School of Public Health

734-764-8094
---
Tags