Weiser Professional Development Fellow visits Michigan Public Health, reconnects with longtime collaborator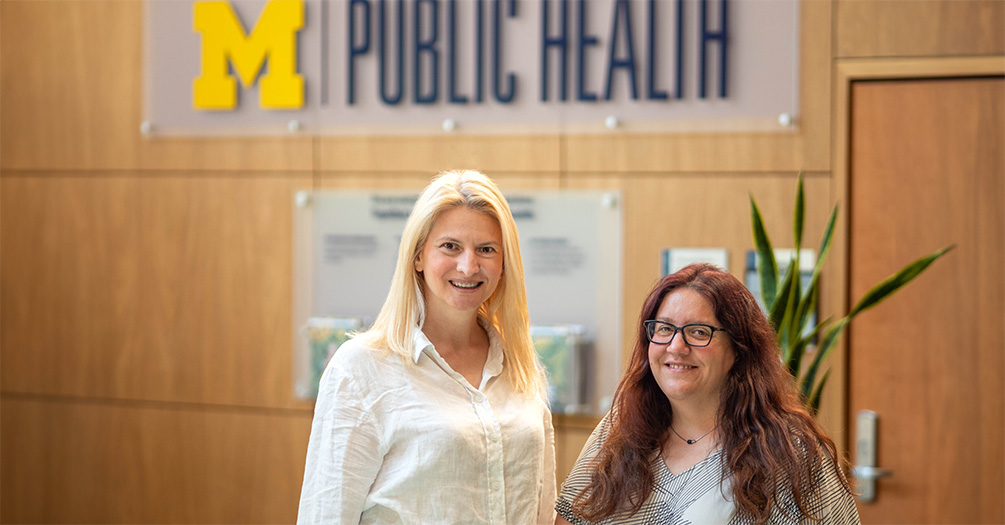 Bosiljka Djikanovic visited as part of Ronald and Eileen Weiser Center for Europe and Eurasia program
Earlier this year, Serbian professor and public health researcher Dr. Bosiljka Djikanovic visited the University of Michigan School of Public Health as part of a faculty development program hosted by the Weiser Center for Europe and Eurasia. Each year, the Weiser Professional Development Fellowship hosts a group of faculty and artists from a select group of countries of Europe and Eurasia at the University of Michigan to enhance a research project of their choosing. Djikanovic was one of nine Weiser Professional Development Fellows for 2023.
As part of the fellowship, Djikanovic, an associate professor in the Institute of Social Medicine at the University of Belgrade, worked with Health Behavior and Health Education associate professor Elizabeth King on the project "Strengthening the Gender Perspective in Public Health Research and Capacities to Apply Gender Equity in Academic Settings."
Djikanovic and King are no strangers to working together on academic research—the two first connected in 2010 at the University of North Carolina at Chapel Hill Gillings School of Global Public Health through a faculty member who saw overlap in their research interests. At the time, Djikanovic was a fellow at the Centre for Slavic, Eurasian & Eastern European Studies, and King had finished her PhD earlier that year.
"We officially met at a conference here in the US and met again at UNC. Then I went to Belgrade for the summer to conduct research, and we collaborated on a publication on gender-based violence using a Serbian national health database," King said.
From there, their connection grew and initiated what would be a handful of collaboration opportunities over the years.
Exploring gender-based violence and gender equity
Djikanovic's research interests include health promotion and disease prevention, health services research, gender-based differences, and examining violence against women. For her fellowship project while visiting the University of Michigan, Djikanovic set out to examine gender through a public health lens and the policies at academic institutions to promote gender equity.
"One of the primary goals of my visit was to find out more about the policies and practices that are being applied at the University of Michigan," she said. "...To expand my horizons and to think about what things could be applicable in my country and in my home institution, particularly around harassment and gender-based violence policies in academic settings."
Djikanovic highlights that there are plenty of important lessons to draw from this work, not just for academia, but also for the wider research community and society as a whole as it relates to gender-based violence and gender equity.
"I'm really using this opportunity to learn as much as possible," she said. Djikanovic has been appointed to develop similar programs at the University of Belgrade Faculty of Medicine.
This research interest in examining gender-based violence from a public health perspective in Eastern Europe is what initially drove their connection all those years ago. "Our first collaboration came from our connection on this topic," King said. "That's one of my long standing areas of research interests, particularly in global health. We then worked together on some data analysis using the National Health Survey of Serbia while I was there in Belgrade. Some of that is what we are continuing to think about in regard to intervention and prevention strategies for gender-based violence."
Experiencing what the area has to offer
Not only did Djikanovic's trip entail academics, but also experiencing what the University of Michigan and the surrounding area has to offer. Djikanovic and King made a trip to Detroit, where they met with one of King's former Master of Public Health students who works in the region. They also made stops around Metro Detroit to explore some Serbian American cultural sites and then to a Serbian Festival held in New Haven, Mich. Here on the U-M campus, Djikanovic was able to visit several museums, experience collegiate-level sports by watching the women's tennis team compete in the NCAA tournament, and discovering the wealth of books both in English and Serbian at the University of Michigan libraries.
Additional areas for future research opportunities
As expected, the pair are brainstorming what their future global public health research opportunities may look like. One topic in particular is COVID-19 vaccine hesitancy in Serbia. Djikanovic and King have both been conducting public health research on COVID-19 and used this visit to work together on this topic.
Djikanovic highlights that the COVID-19 pandemic exacerbated increasing health disparities between socioeconomic groups and access to health care services. And while the World Health Organization estimates that more than 6.7 million doses of COVID-19 vaccines have been administered in Serbia, hesitancy surrounding the vaccines remains.
"A significant proportion of the population was hesitant about COVID-19 vaccination," Djikanovic said. "And we have seen the hesitancy surrounding COVID-19 vaccinations move to other types of vaccines that were traditionally well received in our society.
There have been public health initiatives and interventions recently conducted in Serbia that engaged communities at a large scale with a goal to increase health literacy in targeted population groups and to improve their comprehension of information related to vaccines. So far, that work has been pretty successful, and we will see what else should be done in the long run."
Djikanovic and King worked on a manuscript during the visit that describes some of these initiatives and documents their successes and challenges.
This ability to work collaboratively across a variety of public health topics in this region of the world—notably with an emphasis on health equity— is what has made their long standing partnership work so well, King says.
---