Michigan Public Health Receives NHLBI Grant to Continue Big Data Summer Institute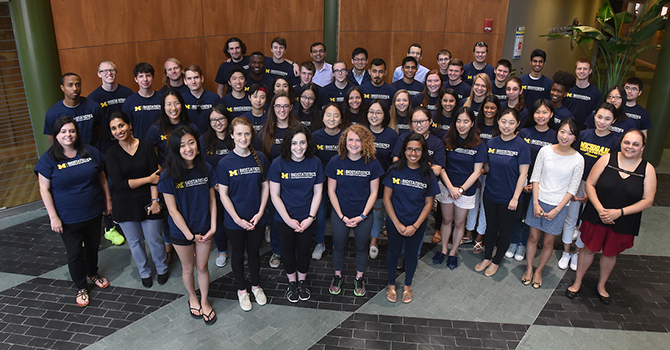 The University of Michigan School of Public Health's Big Data Summer Institute has received a three-year Summer Institute in Biostatistics (SIBS) grant from the National Heart, Lung, and Blood Institute (NHLBI). Launched in 2014, the six-week interdisciplinary training and research program run by the Department of Biostatistics introduces undergraduate students to the intersection of big data and human health.
"Biostatistics is a rapidly growing field that uses quantitative analysis to help solve scientific problems and improve people's lives," said Bhramar Mukherjee, John D. Kalbfleisch Collegiate Professor and Chair of Biostatistics at Michigan Public Health. "This grant allows us to continue to offer this unique program free of charge to a diverse group of undergraduate students from across the country and world who are interested in big data and biostatistics."
The program has trained 164 undergraduate students in the last four years and a cohort of 40 are about to join this summer.
Drawing from the expertise and experience of faculty of several departments at the University of Michigan—including Biostatistics, Statistics, and Electrical Engineering and Computer Science—the institute exposes undergraduate students to interdisciplinary experiences and data science techniques that distinguish it from other undergraduate summer programs in biostatistics.
The primary investigators for the project are Mukherjee; Sebastian Zoellner, professor of Biostatistics; Jian Kang, associate professor of Biostatistics; Matt Zawistowski, clinical assistant professor of Biostatistics; Jenna Wiens, assistant professor of Computer Science and Engineering in the College of Engineering; and Johann Gagnon Bartsch, assistant professor of Statistics in the College of Literature, Science, and the Arts.
The next Big Data Summer Institute will run from June 17 to July 26, 2019.