Study Seeks to Find the Relationship Between COVID-19, Social Isolation, and Mental Health in Older Adults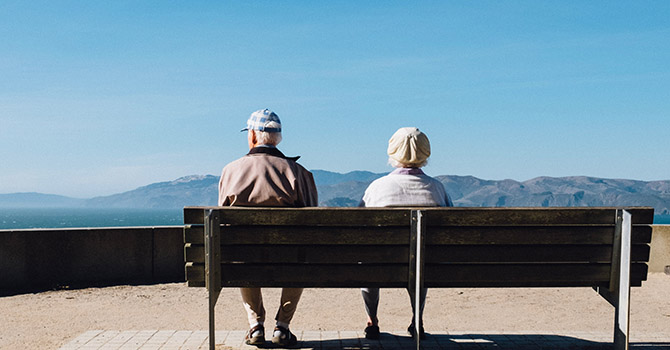 Q&A with Lindsay Kobayashi
Assistant Professor of Epidemiology
Researchers from the University of Michigan are working on a study to determine the mental health impacts and well-being among older adults during the coronavirus pandemic. The COVID-19 Coping Study, an online survey of US adults ages 55 and older, highlights the complexities and layers in which the virus impacts our society—in ways that are more than just contracting the disease.
We spoke to Lindsay Kobayashi, an assistant professor of Epidemiology at the University of Michigan School of Public Health, to learn more about the study she is conducting together with Jessica Finlay, postdoctoral research fellow at the University of Michigan's Institute for Social Research.
What prompted you to want to research this topic?
As the severity and breadth of the COVID-19 outbreak in the United States became apparent, its effects on older adults were at the front of my mind. It became clear early on that social distancing recommendations and shelter-in-place orders were affecting mental health and well-being among older adults, which is the population group that I research. Dr. Finlay and I have previously collaborated on research on social isolation and loneliness in older adults and found these things were highly prevalent and strongly affected mental health and well-being.
I am a social epidemiologist, which means I study how the social determinants of health get 'under the skin' to influence mental and physical health outcomes. With this in mind, I had the feeling that there was some way that I could contribute to public health efforts to help deal with the pandemic. Because I'm not an infectious disease epidemiologist, I don't work on projects like infectious disease modeling, drug discovery, or treatment. However, my epidemiology work focuses on how the social world affects health, which is just one layer of this public health crisis to consider when we're talking about the impact that COVID-19 has had on the world's population.
You've mentioned that there are layers to the COVID-19 pandemic. What does that mean?
Over the last several weeks—and even the last few months—it has started to become clear that there are multiple layers of the COVID-19 pandemic that are unfolding. I think about the public health effects of COVID-19 like an onion.
The outside layer of the onion represents the immediate outcomes of morbidity and mortality due to COVID-19, which is what we as a society are mostly focused on right now. These are two pieces that are extremely urgent and concerning, and demand immediate attention.
However, once you peel away that outer layer of the onion, underneath it are many other layers of public health crises that are emerging. This includes the health effects of social isolation, mental health outcomes, lack of access to healthcare that people may have otherwise been able to access prior to the pandemic, or avoiding the hospital to seek treatment for fear of contracting COVID-19. This is particularly important for older adults who tend to have higher levels of chronic diseases. We are likely to see an increase in mortality due to non-coronavirus related diseases during this time.
After that layer would be the population health effects of the deep economic recession that is happening. We know that economic recessions have a very strong effect on population health, especially for mental health. We almost always see increased rates of suicide during economic recessions.
The COVID-19 Coping Study aims to peel back the outer layer of the onion of the pandemic to try and understand some of the mental health effects of social isolation and economic loss, as well as the anxiety and fear caused by living during a pandemic.
How are you gathering data for the study?
We wanted to be timely, efficient, and resourceful in gathering the data, which is why we decided to conduct an online survey. Through this online survey we will have two sampling frames. The first is the online survey that we created and disseminated through social media, professional organization channels, and assisted living and senior independent living facilities around the country. Because older adults can be harder to reach through social media and the Internet, we used an approach to "snowball" the survey through word-of-mouth distribution.
This "snowball" sampling frame has been active in the field since April 2nd and has had a strong response so far, with over 4,200 responses from all across the country. It's been picked up by some local news media outlets, various professional organizations that we did not directly reach out to, and there has been strong word-of-mouth distribution through social networks. We are so excited that people are willing to talk to us and want to share their experiences with us. We are recruiting new participants to the snowball sampling frame until May 31st, so we are in our final push for recruitment.
The second sampling frame consists of 2,500 participants from an online research panel that matches the US general population of adults ages 55 and over according to demographic characteristics. With this information we will be able to compare what kind of results we get from the first word-of-mouth sampling frame and the formal panel sampling frame.
Our first goal from this data is to investigate the dynamic changes in older adults' experiences, perspectives, coping strategies, mental health and well-being throughout the pandemic. We are already sending out monthly follow-ups to the snowball sampling frame to track how people are doing over time.
The second goal is to identify risk and resilience factors that influence mental health and well-being of older adults during the pandemic. Ultimately, we hope that the evidence that's generated through the COVID-19 Coping Study will help to inform best practices in order to promote and support the mental health and well-being of older adults during public health crises.
We hope to have early results by mid-summer.
---