PHAST administers community assessments in eastern Kentucky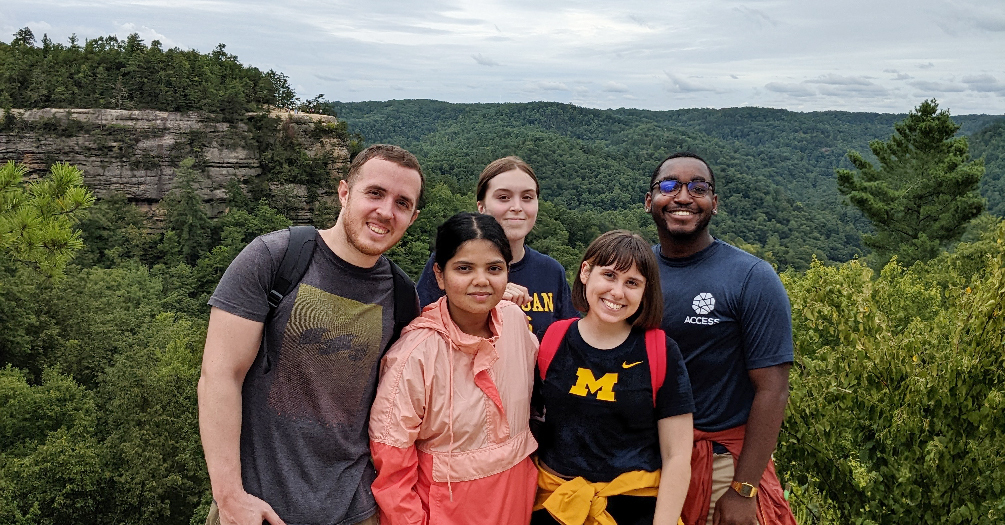 Students gain valuable experience in region devastated by extreme flooding
The University of Michigan School of Public Health's Public Health Action Support Team (PHAST) was deployed Sept. 6-9 to eastern Kentucky after the region endured devastating flooding in July.
PHAST collaborated with the Kentucky Department of Health and the Centers for Disease Control and Prevention in administering two Community Assessments for Public Health Emergency Response (CASPER) to gather household-based information on the needs of the community.
Established in 2005, PHAST deploys graduate students to health organizations and non-profit organizations throughout Michigan, nationally and globally to assist with various public health projects. Using a surge capacity and service-learning model, students deploy for practical experiential learning opportunities that ground and enhance classroom learning while addressing emerging public health challenges.
"I'm incredibly grateful to have had the opportunity to administer community assessments in eastern Kentucky after what has been described as a 'once-in-a-thousand-years-flood,'" said Brandon Bond, a dual MPH/MSW student in Health Behavior and Health Education at Michigan Public Health. "Our focus involved some of the hardest hit areas, including the Kentucky River District and the counties of Breathitt, Clay, Floyd, Letcher and Pike."
Director Laura Power and Manager Sadé Richardson of the Strategic Partnerships and Experiential Learning in the Office for Student Engagement and Practice led a group of seven PHAST students during the trip to Kentucky that included Bond, Ian Smith, Supriya Gupta, Rasmi Davu, Briana Bowen, Mislael Valentin-Cortes, and Maite Zapata. The trip was supported by the Mary Angela DiGiovanni Disaster Preparedness Fund.
They went door-to-door, asking residents a series of questions related to their health and wellbeing.
"With PHAST, we were able to support—on short notice—the CDC and eastern Kentucky in completing two CASPERs," Power said. "These rapid needs assessments are intense and require a lot of people to cover a large geographic region in a systematic way. Our students were well prepared to contribute to the effort. I was impressed with their willingness to serve in the midst of their busy academic schedules. We all learned a lot from this experience and gained a special appreciation for the eastern Kentucky community."
"I think this type of experiential learning is a big part of the Michigan difference," Richardson said. "A lot of universities don't have opportunities like PHAST for their students. It can be eye-opening to be a part of this experience and realize that what you learn in class about public health can be messy when you get in the field and see that it's not cookie-cutter perfect. The students really found that joy in the situation. Every day, they were able to sort of sit and reflect on their experiences and share things that happened throughout the day.
"The students learned how valuable it is to be flexible and adaptable to change. When we're working with community partners, especially when CASPERs are involved, the projects can change all the time."
The CASPERs called for collaborations between local, state and federal governments as well as academic institutions, health departments and local Kentucky residents.
"Our joint effort resulted in the successful completion of both CASPERs ahead of our expected deadline," Bond said. "Together, we gathered a total of 193 household interviews for the Kentucky River District and 195 household interviews for the other counties (Floyd, Breathitt, Pike and Clay).
"The project would have been impossible if it were not for the vital presence and engagement of the local community leaders. It was incredible to see how they were able to connect with each of the households we engaged with. They demonstrated the importance of knowing and caring for those in your community and how the bonds of a community remain just as strong in times of hardship."
While the project can be considered successful and a great experiential learning opportunity for the students, Bond said it is of greater importance that as public health professionals "we not only see the data that was collected, but we remember that these data are a representation of the personal and vulnerable experiences that were shared with us.
"These experiences were life-altering for many of the residents and we need to ensure that the data collection phase is not our last interaction with them. I hope our field continues to make progress in pursuing practice centered around promoting wellness, humanity, and trauma-informed practice."
Contact

Destiny Cook

Public Relations Specialist

University of Michigan School of Public Health

734-647-8650
---