Statewide report explores pandemic's effects on Michigan residents depending on where they live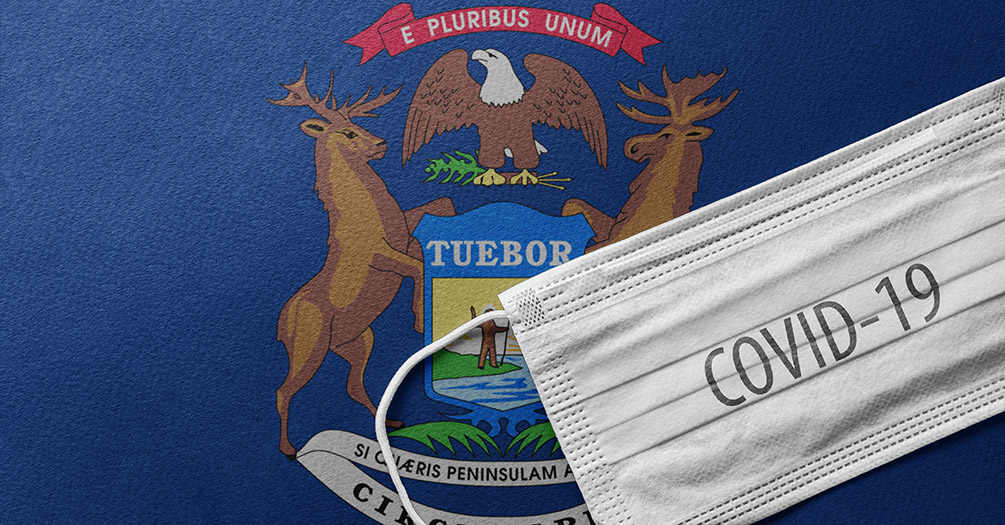 New MI CReSS report
A new report examining the pandemic's impact on Michigan residents previously infected with COVID-19 explores differences between urban and rural communities, finding, for example, that nonmetropolitan residents more often reported long COVID while metropolitan residents more often reported barriers to care or treatment.
The latest report is the seventh in a series from the Michigan COVID-19 Recovery Surveillance Study, or MI CReSS, a collaboration between University of Michigan School of Public Health and the Michigan Department of Health and Human Services.
The data is based on responses of about 5,000 adults 18 and older who had COVID-19 prior to June 1, 2022 and compares experiences between those who live in or near metropolitan areas (population of 50,000 or greater), micropolitan areas (population 10,000-49,999) and small towns or rural areas (population of less than 10,000).
"It's important to understand how COVID-19 affected different communities throughout Michigan," said Colleen MacCallum-Bridges, a postdoctoral research fellow who led the report in the School of Public Health.
"By providing information about the impact of COVID-19 in rural and urban areas, this report can inform public health initiatives to reduce rural-urban disparities in health," she said.
Key findings compiled from responses include:
About 85% of adults with PCR-confirmed COVID-19 lived in a metropolitan area at the time of their COVID-19 diagnosis.
Compared to adults with COVID-19 in metropolitan areas, adults with COVID-19 from micropolitan and small town or rural areas were older, more often non-Hispanic white, had lower income, were unemployed and reported lower educational attainment.
Roughly 9% of adults with COVID-19 were hospitalized across all geographic areas.Long COVID was more often reported in adults from non-metropolitan areas. Nearly 21% of small town or rural respondents and about 20% of micropolitan respondents reported having long COVID, compared to 16.5% of metropolitan respondents. The researchers defined long COVID as persistent symptoms lasting at least 90 days after COVID-19 onset.
In all areas, more than 20% of adults surveyed encountered barriers to care, including cost, lack of transportation, and appointment availability. But 31% of metropolitan respondents reported being affected. By comparison, roughly 25% of small town or rural respondents and more than 23% of micropolitan respondents reported barriers to care.
Nearly half of all respondents reported that they or someone in their family experienced job loss or a reduction in hours worked no matter where they lived. However, the inability to get enough food and difficulty getting around were more common among those from metropolitan and small town or rural areas compared to those from micropolitan areas.
Estimates from the US Census Bureau's American Community Survey suggest that, between 2006 and 2010, roughly 81% of Michiganders 18 and older lived in metropolitan areas, 9.4% lived in micropolitan areas and 9.6% lived in small town or rural areas.
The purpose of the MI CReSS surveillance study and the resulting series of reports is to inform equitable and timely responses to public health crises and events. Prior reports examined COVID-positive patients' experiences with stigma, mental health, and disability, and differences in experiences by race and ethnicity and occupation.
In all, surveyors have contacted nearly 18,000 adults for the baseline surveys since early 2020, and follow-up surveys of residents one to two years after initial infection are currently being collected.
"What we've learned so far from MI CReSS is that there are disparities in COVID-19 recovery and experiences seeking care, whether it is by urban/rural differences, racial and ethnic differences, or employment differences," said study co-author and senior investigator Nancy Fleischer, associate professor of Epidemiology at Michigan Public Health.
"We are continuing to work to understand how the pandemic has affected the Michigan population, so we might be better prepared for the next public health emergency."
This article was first published by Michigan News.
---