Bhramar Mukherjee named Distinguished University Professor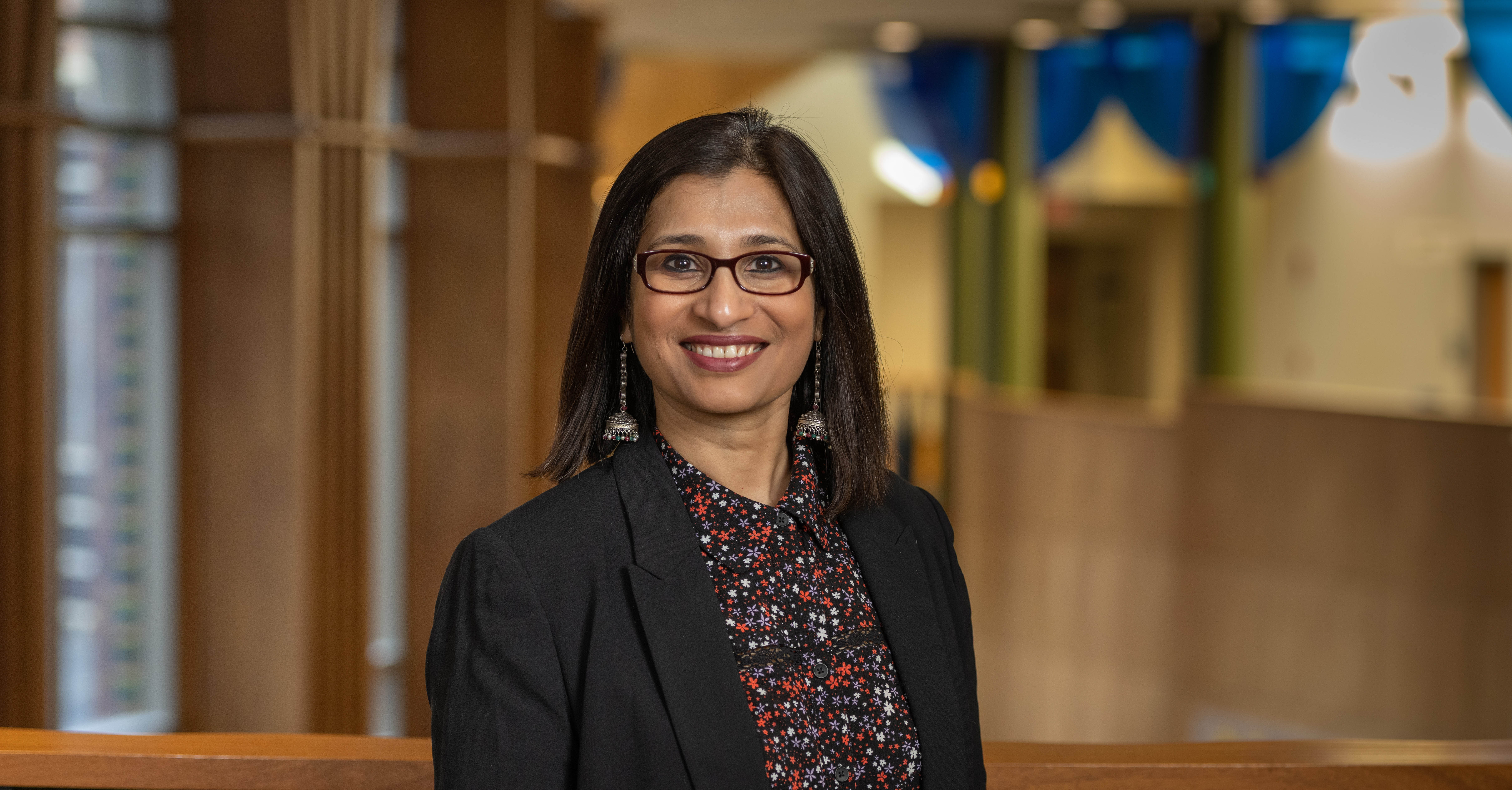 Bhramar Mukherjee, John D. Kalbfleisch Collegiate Professor and chair of Biostatistics at the University of Michigan School of Public Health, has been awarded the university's highest professorship of Distinguished University Professor. Established in 1947, the Distinguished University Professorship recognizes exceptional senior faculty and their contributions to academic excellence.
"I'm thrilled that Bhramar has received this well deserved honor and is being recognized by the university for her significant contributions to the Biostatistics Department, the university and the field of biostatistics more broadly," said Michigan Public Health Dean F. DuBois Bowman. "Among other things, her steadfast leadership, public engagement during the COVID-19 pandemic and beyond, and commitment to increasing diversity in biostatistics have distinguished her as an exceptional scholar and leader."
John D. Kalbfleisch Distinguished University Professor
Each Distinguished University Professorship is named after a person of distinction in the professor's general field of interest, preferably someone formerly associated with the university. Individuals awarded Distinguished University Professorships deliver a lecture during the first year of their appointment.
For her professorship, Mukherjee has selected the John D. Kalbfleisch Distinguished University Professor.
Kalbfleisch was chair of the Michigan Public Health Department of Biostatistics from 2002-2007 and the director of the Kidney Epidemiology and Cost Center from 2007-2012. Mukherjee says that Kalbfleisch was instrumental in her recruitment to the University of Michigan and mentored her as an early career biostatistician. They retain a very close friendship. Mukherjee's current professorship is also named for him: the John D. Kalbfleisch Collegiate Professor of Biostatistics.
Mukherjee notes:
When I joined the university in 2006 as an assistant professor, I could have never imagined that one day I would receive the university's highest professorship. It is truly a dream come true. I would like to thank professor Rod Little, Dean Bowman, and senior associate dean Lynda Lisabeth for their strong nomination. This award recognizes the collective work of my students, support staff and collaborators. I feel grateful to be surrounded by such talent. Finally, my parents taught me what true grit is and without their inspirational presence, I could never achieve this milestone. My journey has not been easy as an immigrant scholar. The young woman who left her family and country behind and came from India to the US at the age of 23 could not expect a better gift right before her 50th birthday. I feel so happy, humbled and honored.
About Mukherjee
In addition to being the first woman to hold the position of chair of the Biostatistics Department since its founding in 1949, Mukherjee is also a professor of Epidemiology and Global Public Health at Michigan Public Health.
Mukherjee has had long-standing collaborations and involvement with groups across the university since joining as an assistant professor of Biostatistics in 2006. She is a faculty affiliate with the Michigan Institute of Data Science (MIDAS) and is associate director for quantitative data sciences at the University of Michigan Rogel Cancer Center. Many of her research collaborations include projects related to cancer, cardiovascular diseases, reproductive health, exposure science and environmental epidemiology. Throughout the COVID-19 pandemic, Mukherjee and colleagues modeled the SARS-CoV-2 virus trajectory in India, which has been covered by major media outlets across the world.
"The work on COVID-19 in India was a result of pure madness—plus a feeling of being lost and restless in the early days of the pandemic when the world came to a standstill. We did the work because we wanted to contribute in some way as public health statisticians, but never anticipated the impact it would have," she said.
Mukherjee is also the founding director of the University of Michigan's Big Data Summer Institute, which introduces undergraduate students to the intersection of big data and human health. The program has trained over 320 undergraduate students since first established in 2015, with the most recent cohort attending the program in June 2023.
Outside the university, Mukherjee has received many illustrious awards and designations from professional organizations across the country and internationally. Among them was election to the National Academy of Medicine in 2022—one of five University of Michigan professors elected into the cohort that year. In 2023, she was awarded the American Statistical Association's Karl E. Peace Award for Outstanding Statistical Contributions for the Betterment of Society, which recognizes those who have made substantial contributions to the statistical profession and to society.
---