Michigan Public Health community welcomes visit from WHO Director-General Tedros Adhanom Ghebreyesus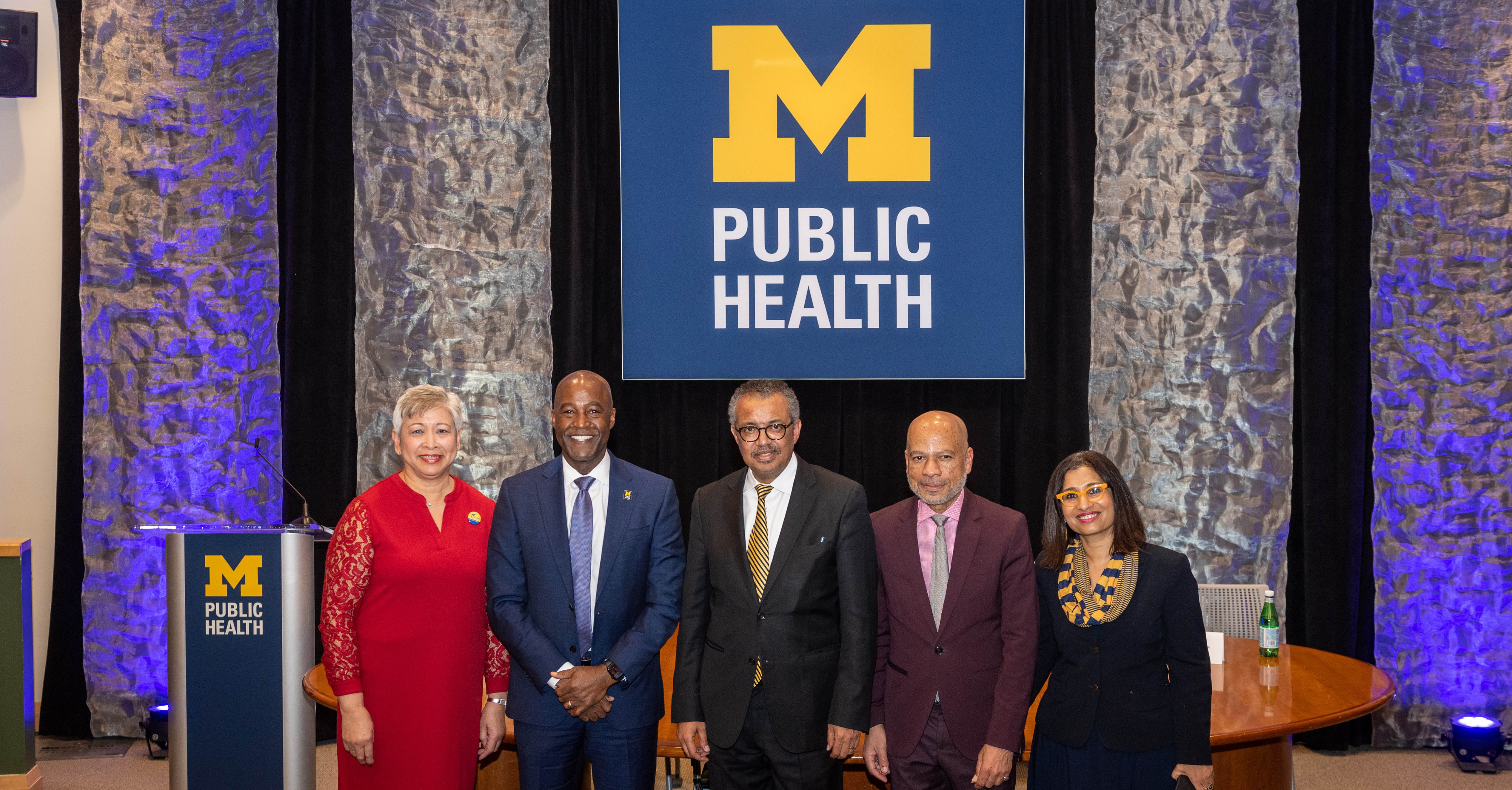 Tedros is the 2022 recipient of the Thomas Francis Jr. Medal in Global Public Health
On March 13, Dr. Tedros Adhanom Ghebreyesus, Director-General of the World Health Organization, visited the University of Michigan to receive the Thomas Francis Jr. Medal in Global Public Health, one of the university's highest honors. As part of the festivities, faculty, staff, and students from the University of Michigan School of Public Health and the broader university community took part in various events around campus.
"In an increasingly interconnected and global society, a global approach to public health is critical to our ability to anticipate threats, prevent disease and improve health and equity across populations," said Michigan Public Health Dean F. DuBois Bowman of Tedros in the award announcement in Oct. 2022. "Tedros exemplifies this approach and his innovation, leadership and fervent commitment to health equity have positively impacted the lives of countless people around the world."
Pressing Issues in Global Public Health Panel Discussion
Michigan Public Health hosted a panel with a group of multi-institutional academic public health leaders to discuss some of the most pressing issues in our field. The panel was moderated by Bowman.
Panelists included:
Moise Desvarieux: Associate Professor of Epidemiology, Columbia University Mailman School of Public Health
Maureen Lichtveld: Dean, University of Pittsburgh School of Public Health
Bhramar Mukherjee: Professor and Chair of Biostatistics, University of Michigan School of Public Health
Public Health Students Present Global Public Health Internships During Poster Session
A dozen students representing Michigan Public Health, the University of Michigan Medical School, and the University of Michigan School of Nursing presented posters to Dr. Tedros highlighting work completed during internships and other global public health research projects. The Office of Global Public Health helped organize the poster session with a focus on international internship presentations. At the session, Dr. Tedros, Bowman and Pearl L. Kendrick Collegiate Professor of Global Public Health Matthew Boulton visited with each session presenter and asked questions about their work.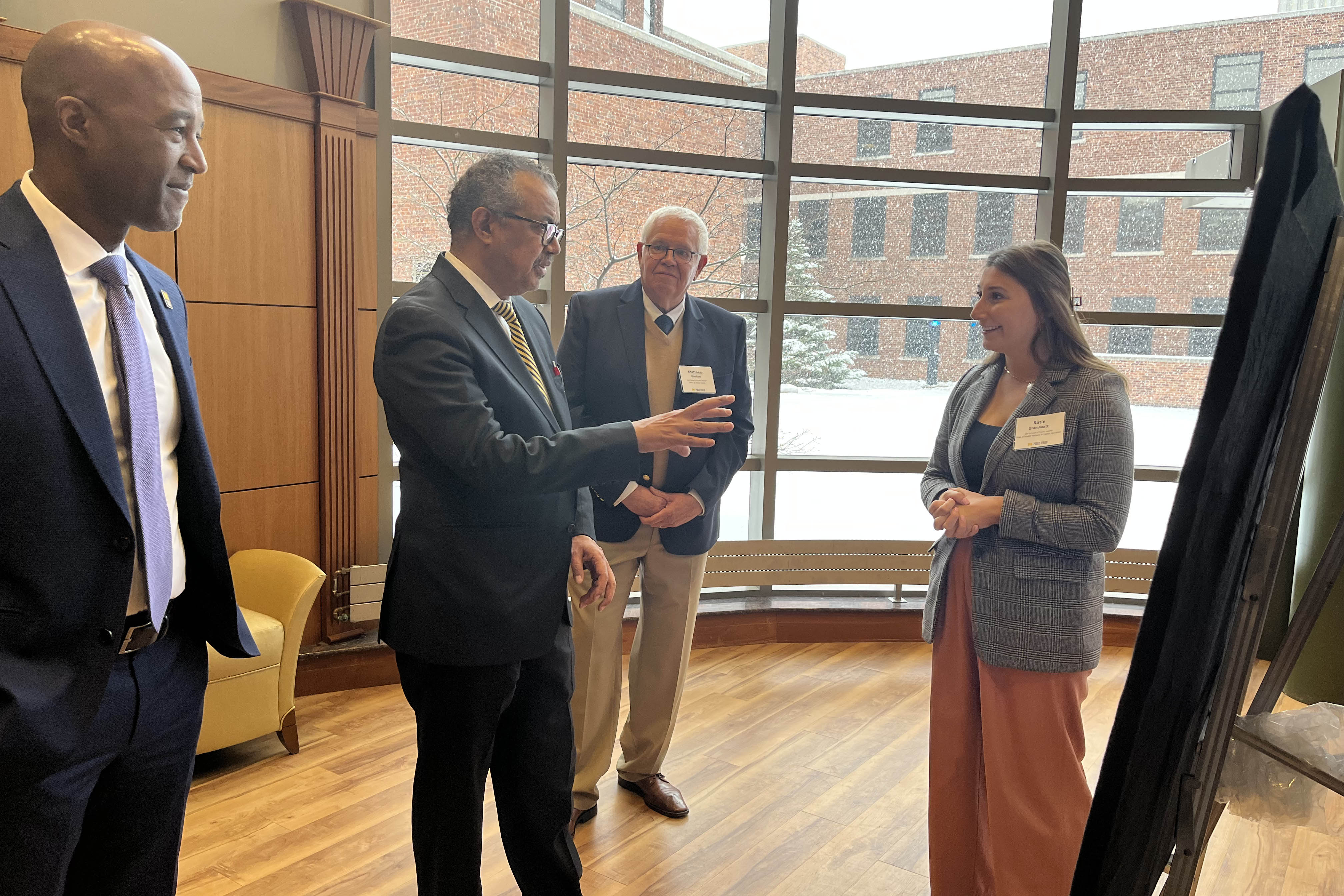 "As a public health professional, culminating my academic journey with this opportunity—and being able to share and chat with him about the importance of community global health work—was truly rewarding," Grandinetti said.
Grandinetti's research involved assisting nonprofit organization Sangath, located in Bhopal, India, in reducing burnout in rural health care workers in India. "The majority of my research work focused on the preliminary phase of understanding mental health concerns of frontline workers," she said. "I conducted a literature view by extracting key information and methods and understanding the successes and challenges of previously existing global interventions."
Collective Actions to Improve Global Public Health
Following the Francis Medal award ceremony, held at the Stephen M. Ross School of Business' Robertson Auditorium, a group of public health and medical professionals convened for a panel to discuss collective actions for improving global public health. The panel was moderated by Boulton, Pearl L. Kendrick Collegiate Professor of Global Public Health.
Panelists included:
Paul Fleming, assistant professor of Health Behavior and Health Education, University of Michigan School of Public Health
Joneigh Khaldun, adjunct professor of Health Management and Policy, University of Michigan School of Public Health; vice president and chief health equity officer for CVS Health; former chief medical executive for the state of Michigan; former member of the White House COVID-19 Health Equity Task Force
Jody Lori, Sarah H. and Robert B. Rothschild Endowed Professor of Global Nursing, professor of Nursing, associate dean of global affairs and community engagement, University of Michigan School of Nursing
---