Seeds for Success: Fruits and Veggies for Schoolkids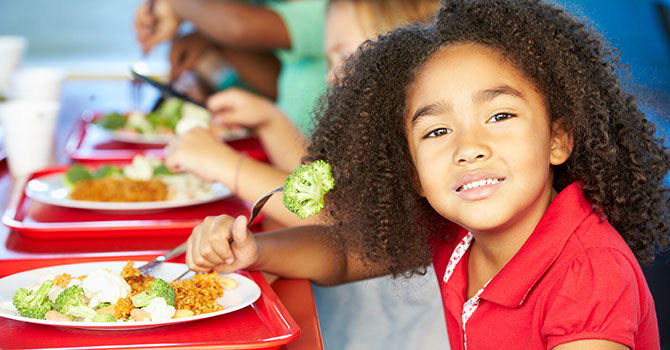 Emily Benedict
Bachelor's Student in Public Health
A top priority for school districts around the country is the overall health of their students, which includes nutrition and school lunches. Yet despite recommendations based on the Dietary Guidelines for Americans, pizza pops up as a menu option every day of the week at schools. Other entrée options include popcorn chicken and cheese-stuffed breadsticks, a far cry from the recommended MyPlate meal contents.1 These menu options lead me—and others concerned for children's nutrition—to ask what exactly schools are feeding children.
Fruits and vegetables are full of nutrients essential for healthy growth and development.2 According to the U.S. Department of Agriculture, children aged 4 to 8 years old should be getting 1 ½ cups of fruits and 1 ½ cups of vegetables every day to support their needs. However, according to the Michigan Department of Education, school lunch programs need only provide half a cup each of fruits and vegetables a day; a third of the daily requirement.3 It is recommended that snacks provide an average of ¾ cups of fruits and vegetables together, which is also insufficient compared to daily requirements.3
Veggies and fruits are important for growing bodies
Eating the recommended amount of fruits and veggies can lead to:
A lower risk of diseases like obesity and iron-deficiency anemia4
Healthier teeth and fewer cavities 4
Better growth and development4
Even beyond fruits and veggies, good childhood nutrition sets kids up for healthy adult lives. Studies demonstrate that nutrition can change growth and development in children and therefore can change how they live in adulthood.4 Knowing this, it is essential that we make sure kids are eating well so they can lead happy, healthy lives.
In 2016, 30.4 million children relied on the National School Lunch Program (NSLP) for their nutritional needs.5 Unfortunately, recent research shows that children may not have access to healthy fruit and vegetable options outside of school.6 In other words, a child's best chance to get enough fruits and veggies is through their schools.
How can we make sure that children are getting enough fruits and vegetables?
Make fruits and vegetables fun for your kids with tips from MyPlate7
Set a good example by eating lots of different kinds of fruits and vegetables2
Read more about school meals and contact the School Nutrition Association with questions, concerns, and suggestions
Support local food delivery efforts like Food Gatherers
Provide nutrition education and training for school staff8
Make fruits and vegetables available any time food is offered at school8
As a USDA representative says, schools are important for exposure to good nutrition and the development of lifelong healthy habits.8 Let's work together to make sure that's what we give our kids.
References:
"What is MyPlate?" ChooseMyPlate.gov.
"Eat More Fruit and Vegies." Healthy Kids Australia.
Michigan Department of Education. Michigan Nutrition Standards: Michigan Department of Education Recommendations for all Foods and Beverages Available in Michigan Schools. Lansing: Michigan Department of Education; 2010.
Bartleman J. Infant and child nutrition. Medicine. 2019; 47(3): 195-198.
"The National School Lunch Program." United States Department of Agriculture.
Fatzinger McShane F, Felter D, Ferguson E, et al. Dietetic interns' exposure to urban food desert corner stores: Are healthy foods available to low-income clients? J Acad Nutr Diet. 2018; 118(9): A33.
"10 Tips: Kid-Friendly Veggies and Fruits." ChooseMyPlate.gov.
"Children eating more fruit, but fruit and vegetable intake still too low." Centers for Disease Control and Prevention.
About the Author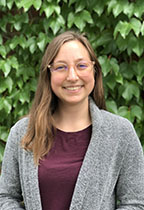 Emily Benedict is an undergraduate student studying Public Health Sciences at the University of Michigan School of Public Health. She spent the first two years of her college education at Washtenaw Community College. Currently, she does research in the Snitkin Lab studying MRSA. She has two young cousins (Charlotte and Katherine) in Ann Arbor, and she wants to ensure they have the best possible start in life, sparking her interest in school nutrition.