Homelessness and Job Security: Challenges and Interventions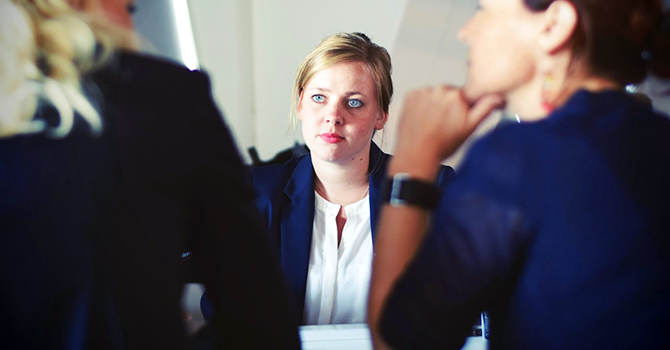 Nisha Bharat, Jenna Cicatello, Emily Guo, and Vennela Vallabhaneni
Over 500,000 people in the United States face homelessness on a given night.1 And in the current coronavirus pandemic, COVID-19 and other infectious diseases threaten to compound the extreme health risks to those without stable housing.
Chances are that you have encountered individuals experiencing homelessness in your life and at some point have wondered why they could not just get a job. While most people are aware of general obstacles people experiencing homelessness face, few are aware of how the many things we take for granted impact their ability to maintain stable employment.
Many people experiencing homelessness face a range of challenges with finding a stable job, including:
Poor credit score: Twenty-nine percent of background checks run by employers include a credit score check.2 Many people experiencing homelessness have bad credit scores because they have not been financially stable, and this could be interpreted as a sign of an unreliable employee to potential employers. Gaps in employment on a resume may also be a red flag for employers.3
Lack of interview skills and poor physical appearance: First impressions are important in the job application process, and people experiencing homelessness may lack the knowledge and background on how to perform well in an interview setting.4 They may not have access to the appropriate attire for an interview. Additionally, without easy access to resources like the internet, they may lack knowledge and experience on how to perform well in an interview setting.
Poor physical and mental health: Cheap, unhealthy, fast food and substance abuse from trying to cope with economic, social, and physical stressors can influence finding and maintaining a job. "An unhealthy mind, body, and spirit" may make it hard to transition to a 40-hour workweek.3
Money management: Many people experiencing homelessness were not taught how to properly manage and sustain (saving/investing) the money they may earn from a job. 3
How can those facing homelessness keep a job without a home, and how can they afford a home without a job?
Organizations that aim to help homeless populations found that it is important to prioritize helping people experiencing homelessness find affordable housing before resolving other issues including mental health issues, addiction, and finding a job. How can those facing homelessness keep a job without a home, and how can they afford a home without a job?
Shelters to Shutters is a national nonprofit organization that pushes for a solution that breaks this cycle. Shelters to Shutters provides critical resources, specifically job training and job matching. Candidates are then referred to potential employment opportunities that, importantly, can also provide housing. Thus, clients live where they work, ensuring both stable housing and employment. The organization is involved throughout the transition to self-sufficiency and remains a resource to the individuals after finding a job to ensure success.
An example of an employer with a creative support structure is Marks & Spencer, where each homeless placement is paired with a "job coach," such as an experienced employee.4 By working together, the employee can build confidence and self esteem during a transition period that can otherwise be difficult and isolating. This long-term support system can help foster sustainable employment.
ProjectHome is another national nonprofit that aims to empower people to break the cycle of homelessness by addressing the underlying causes of poverty. They offer technology literacy classes, career training, job readiness workshops, GED courses, and specific certification training, among other resources. ProjectHome also offers the Supportive Employment Program, which provides career planning, job search advising, interview preparation, and coordination with employers and job-site coaching.
Homelessness is not an isolated issue for most people experiencing it.
In the Ann Arbor area, the Shelter Association of Washtenaw County (SAWC) has a residential program that offers temporary shelter and intensive case management that identifies and combats obstacles unique to each client to find and increase income and save for affordable housing.5 SAWC also addresses physical, mental, and substance health related issues.
Remember that homelessness is not an isolated issue for most people experiencing it. For example, a living wage does not alone solve the problem of homelessness in many cases. A person may have a job but not earn enough to adequately support basic needs. Many people experiencing homelessness are in cities with higher costs of living and lack of affordable housing. The California minimum wage, for example, is $12/hour, $4.75 more than the federal minimum wage.6 But the average housing wage needed to rent a modest home in California is $34.69.6
While many organizations and programs help people experiencing homelessness find stable jobs, ultimately targeting the upstream causes of homelessness is essential. We must invest more into mental health and drug addiction therapy, high-quality, caring education (especially for children), living wages, and affordable housing to prevent homelessness and its consequences.3
References
Shivji, A., Rian Watt, Rosenthal, L., and Henry, M. (2017). The 2017 Annual Homeless Assessment Report (AHAR) to Congress, 100. US Department of Housing and Urban Development Office of Community Planning and Development.
CareerBuilder, "More Than 1 in 4 Employers Do Not Conduct Background Checks of All New Employees, According to Career Builder Survey," November 2016.
Forrest Graeber, phone interview, March 27, 2020.
Keating, Matt, "Getting Homeless People Back into Work." The Guardian. March 11, 2006).
"Programs," Shelter Association of Washtenaw County, 2020.
"Out of Reach: California," National Low Income Housing Coalition, June 2019.
About the Authors
Nisha Bharat is an undergraduate studying Neuroscience and Gender and Health at the University of Michigan. Her academic and research interests include global health and the interaction between environment and physiology in psychopathology. She hopes to further her education in medical school and eventually work with women or rural communities.
Emily Guo is an undergraduate studying Community and Global Public Health at the University of Michigan School of Public Health. She has conducted research on the effects of the FODMAP diet on patients with Crohn's disease and the effect of cardiac rehabilitation on health outcomes of patients with cardiovascular disease. She is interested in preventing and treating disease in vulnerable populations and creating sustainable solutions to health inequities.
Jenna Cicatello is an undergraduate studying Biomedical Engineering and Spanish at the University of Michigan. She is interested in the growing field of regenerative medicine and hopes to eventually work in product design in the healthcare industry.
Vennela Vallabhaneni is an undergraduate studying Biology, Health, and Society at the University of Michigan. She is interested in studying medical inequalities and the relationship between gender and health. Her goal is to continue her education in medical school and use a medical degree to serve underrepresented populations.
The authors are all members of CURIS Public Health Advocacy, a student organization in the School of Public Health that partners with local public health organizations to raise awareness and create solutions for public health problems in the community. This year, CURIS partnered with the Shelter Association of Washtenaw County to address homelessness and has organized the first ever "One Night without a Home" on the Diag, using activities and client speakers to raise awareness about homelessness.