Advocating for Transportation Safety: Solving a Major Public Health Problem Is a 'Winnable Battle'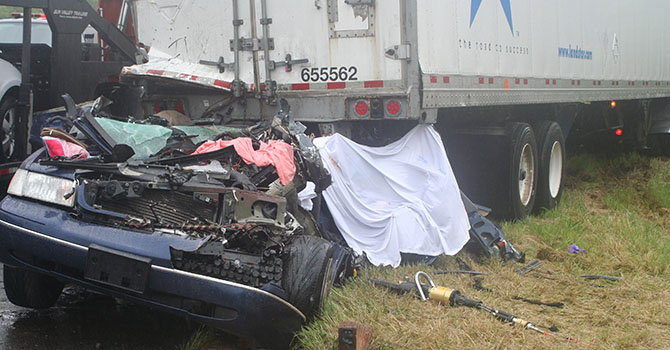 Marianne Karth
MPH '79, Health Behavior and Health Education
As a graduate of the University of Michigan School of Public Health, I have incorporated what I learned there throughout my life in valuable ways. That was especially true when my life was forever changed on May 4, 2013.
I was driving my Crown Vic on I-20 in Georgia with the youngest three of my nine children, headed to four of our kids' college graduations and our oldest daughter's wedding in Texas. We came upon slowed traffic, and, although I slowed down, a truck driver did not. He hit us, spinning us around and sending us backward into the rear of the tractor-trailer ahead of us. The trailer's rear underride guard came off, and the back of our car went under the trailer.
When I learned that hundreds of people die each year from preventable truck underride, I became a mom on a mission to make truck crashes more survivable.
All four of us had to be extricated by the Jaws of Life. Although I was in the hospital for a week, I survived, as did my 15-year-old son, who was in the front seat. However, the lives of my daughters, AnnaLeah, age 17, and Mary, age 13, were abruptly ended. The difference? The backseat of the car, where they were sitting, went under the truck.
A Mom on a Mission
When I learned that hundreds of people die each year from preventable truck underride, I became a mom on a mission to make truck crashes more survivable. I became an expert on a subject that I had never even imagined—the problem of passenger vehicles riding under large trucks because the floor of a truck is higher than the bumper of the smaller vehicle.
Fortunately, I also learned that truck underride is a solvable problem. Engineers can do something about it, given the time and resources. In fact, the trucking industry has known about the problem for decades. But, in my opinion, they have not devoted adequate research and development resources to solving it.
Having discovered that my daughters might be alive today if only this had been adequately addressed, I determined to ensure that comprehensive underride protection—front, side, and rear—was installed on every truck in the country. That's when my journey of public health advocacy began.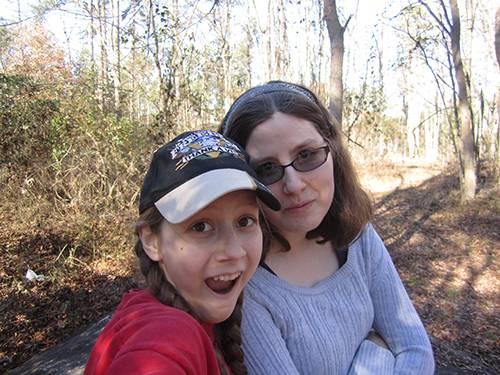 Taking Action to Create Change
In 2013, several months after our crash, our family became involved in getting change at the federal level. We launched an online petition and took 11,000 signatures in 11,000 separate envelopes to the Department of Transportation (DOT) on May 5, 2014, one year after the crash. We asked the Secretary of Transportation to upgrade the 1998 federal standard for rear underride guards on semi-trailers, which was proven by the Insurance Institute for Highway Safety (IIHS) to be weak and ineffective.
The National Highway Traffic Safety Administration (NHTSA) responded to our petition and, in December 2015, issued the first step in the rulemaking process, a Notice of Proposed Rulemaking to upgrade the rear guard standard. However, the proposed rule fell short of requiring what engineers have shown is possible. And they still have not addressed the other underride issues, including enforcement of proper underride protection maintenance.

In February 2017, I met another mom, Lois Durso, at a truck industry conference in Nashville. She had lost her daughter, Roya Sadigh, in 2004 from a side underride crash. Shortly thereafter, we went to DC to a Senate Commerce Committee hearing on updates in truck safety.

Not hearing one word mentioned about side underride, we became two moms sick and tired of waiting for someone else to do something about the problem. We immediately began drafting the Roya, AnnaLeah & Mary Comprehensive Underride Protection Act of 2017 (RAMCUP), based on the groundwork that had been laid through numerous communications with the trucking industry and engineers, including an Underride Roundtable in May 2016 that we helped organize.

Then, we took the first of more than a dozen trips to DC in 2017 to tell our stories and share our drafted underride bill with countless legislative offices. Finally, in July 2017, after yet another underride tragedy occurred in New York, we were contacted by staffers from the office of Sen. Kirsten Gillibrand (D-NY), who told us the senator wanted to work with us to sponsor underride legislation. We were ecstatic!

The work continued as the bill was crafted and other legislators were wooed to jump on board, including Sen. Marco Rubio (R-FL), Rep. Steve Cohen (D-TN), and Rep. Mark DeSaulnier (D-CA). As a result, the bipartisan STOP Underrides! Bill was introduced on December 12, 2017, in both the Senate and the House.

The Crux of the Problem
Unfortunately, a bill goes nowhere fast unless it can gain enough support to be brought to a vote and then passed. For that to occur, the bill is referred to a Committee of Jurisdiction. In this case, that was the Commerce, Science, and Transportation Committee in the Senate and the Transportation and Infrastructure Committee in the House.
This means the underride problem has been categorized as a transportation issue and that the cost-benefit analysis required by the DOT gives the trucking industry the upper hand—especially because underride is poorly-understood and undercounted and thus at a disadvantage in the cost-benefit analysis formula.

And herein lies the crux of the problem. The regulated industry has undue power in how it gets regulated. But is this merely a transportation issue? Isn't this primarily about public health and safety? Is that perhaps why this problem has been so woefully neglected for decades?
Ask yourself what gets your dander up. What public health problem has come to your attention that will not get adequately addressed unless someone speaks up on behalf of the public good?"
Let's reframe how we view these needless tragedies. Truck underride is a public health and safety issue that deserves to be addressed as a collaborative effort—not left to the trucking industry to solve on their own. The STOP Underrides! Bill calls for a Committee on Underride Protection to be composed of diverse stakeholders including people from the trucking industry, public health professionals, and advocates for safety.
The CDC has identified motor vehicle crashes and injuries as a "winnable battle." The Collaborative Sciences Center for Road Safety (CSCRS), funded by the US DOT, is doing just that—bringing together engineering, public health, and other disciplines to address the tragic human toll on our roadways through a systems approach.
Becoming a Vigilant Voice for Others
Well then, let's get the public health community involved in this fight to end preventable truck underride. Let's get on with it because too many people have already paid the price. In fact, the underride issue is just the tip of the iceberg. It is a problem that touched my life. Digging deeper into it has made me even more passionate about it—for the sake of others.
But there are countless other issues which likewise need advocates.
Ask yourself what gets your dander up. What public health problem has come to your attention that will not get adequately addressed unless someone speaks up on behalf of the public good?
If you don't act boldly and deliberately to bring about needed change, who will? Be a vigilant voice for vulnerable victims. Together, we'll create a safer, healthier world.
About the Author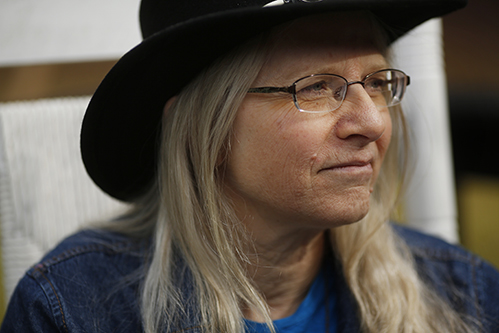 Marianne Karth graduated from the University of Michigan School of Public Health with an MPH in Health Behavior and Health Education in 1979. She worked for a variety of nonprofit organizations in program administration before raising and teaching her nine children at home. After losing two of her daughters in a car crash in 2013, Karth and her husband, Jerry Karth, became involved in advocacy for safer trucks and changes to truck underride regulations. Learn more about the Karths.