National Nutrition Month Recipes: Healthy Mac and Cheese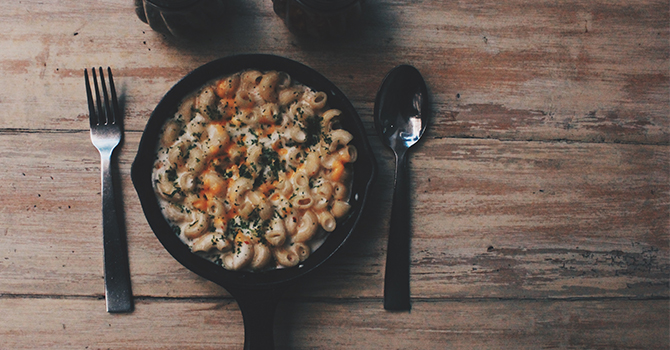 Monica Babcock
Master's Student in Nutritional Sciences; Nutritional Sciences Student Association
March is National Nutrition Month! To celebrate, this month we're sharing nutritious recipes created by students from the Michigan Public Health Nutritional Sciences Student Organization (NSSA). This week enjoy a delicious, healthy, and easy Mac and Cheese recipe from Nutritional Sciences master's student Monica Babcock.
About nutrition, public health and this recipe, Monica says "Nutrition is an important part of public health because everyone has to eat! If we don't pay attention to our nutrition, we may find our health and well-being is harmed before we know it. Nutrition is an aspect of public health that's part of our lives every day, so it's worth investing at least a little bit of time in each day if it will help most aspects of our lives. This vegan mac and cheese is a great example of something nutritious that's easy to make and also tastes great. It's lower in saturated fat and has a nice texture and color contrast with the nutrient-rich broccoli!"
Healthy Mac and Cheese
Ingredients
12 oz fusilli or elbow pasta
1 1/2 tbsp buttery spread
1/4 cup minced onion
4 cup flour
2 cups milk of choice
1 cup vegetable broth
2 cups shredded cheddar (Photographed recipe was made with Daiya vegan cheddar)
12 oz fresh broccoli florets
2 tbsp Parmesan-type grated topping (K note: nutritional yeast also works)
1/4 cup seasoned bread crumbs
Cooking spray
Salt and pepper (to taste)
Instructions
In a large pot of salted water, cook the pasta and broccoli together, according to package directions for al dente.
Spray a baking dish with cooking spray, and set aside. Preheat oven to 375 F.
In a large. heavy skillet, melt the buttery spread, then add the onion and cook over low heat for 2 minutes.
Add the flour and cook 1 minute or until flour is golden and well-combined.
Whisk in milk and broth, raise heat to medium-high until it comes to a boil, then cook an additional 5 minutes or until smooth and thick. Season with salt and pepper if desired.
Remove from heat, add cheese, and stir until melted.
Stir in the cooked pasta and broccoli, then pour into the prepared baking dish. Top with the breadcrumbs and Parmesan or nutritional yeast. Spray a little more cooking spray on top.
Bake 15-20 minutes, then broil a few minutes until the breadcrumbs are golden.
Enjoy!
Check back next week for another nutritious recipe submitted by Michigan Public Health student Brittany Durant - Roasted Salmon with Wilted Brussel Sprouts Salad
About the Author
Monica Babcock is a second-year master's student in the Michigan Public Health Department of Nutritional Sciences. This July, she'll be starting her dietetic internship to become a registered dietitian. She has been a vegetarian for 10 years. She is a member of the Nutritional Sciences Student Association (NSSA) at Michigan Public Health.