National Nutrition Month Recipes: Roasted Salmon with Wilted Brussel Sprouts Salad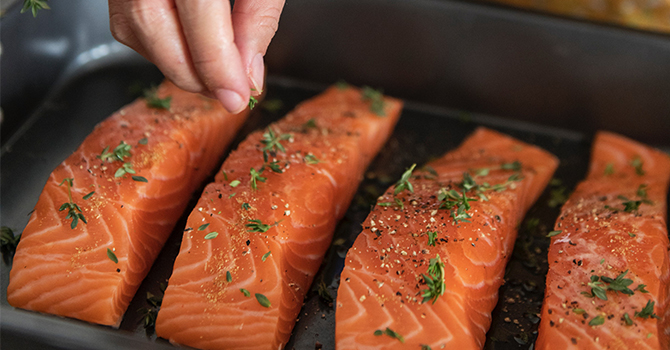 Brittany Durant
Master's Student in Nutritional Sciences; Nutritional Sciences Student Association
March is National Nutrition Month! To celebrate, this month we're sharing nutritious recipes created by students from the Michigan Public Health Nutritional Sciences Student Organization (NSSA). This week enjoy this tasty Roasted Salmon and Wilted Brussel Sprouts Salad recipe created by master's student Brittany Durant.
On nutrition, public health, and her inspiration for the recipe, Brittany says "I am passionate about nutrition because of the variety of aspects of health it can affect. I find the connection between the gut microbiome and mental health especially fascinating. It is exciting to learn about all of the ways a healthy, nutritious diet correlates with positive effects in the body and mind. I discovered this recipe when I first began limiting my processed food consumption. I love that the main ingredients are fish and vegetables! The flavors are delicious and it is fairly simple to prepare. The salmon provides a healthy serving of omega-3 fatty acids which aid in promoting brain health...I think any student can appreciate that!"
Roasted Salmon and Wilted Brussel Sprouts Salad
Roasted Salmon
Ingredients
1 lb salmon
1/2 lemon
1 tbsp olive oil
1 tsp dill
1/2 tsp sea salt or pink himalayan salt
1/4 tsp crushed black pepper
Instructions
Preheat oven to 400.
Lay salmon on a parchment-lined baking sheet.
Season salmon with a drizzle of olive oil, salt, pepper, and dill.
Lay a few slices of lemon on top.
Cook for ~20 minutes until cooked through and flakey.
Brussel Sprouts Salad
Ingredients
2 cups of brussel sprouts
1 tbsp coconut oil
4 pieces of bacon (optional)
1 orange, sliced
zest from 1 orange
1/3 cup dried cranberries
1/3 cup raw chopped almonds
2 tbsp raw sunflower seeds
1/2 tsp salt
1/2 tsp pepper
1/4 tsp garlic powder
Instructions
Wash and pat dry brussel sprouts. Slice each brussel sprout in half from top to bottom.
Lay the halves face down and roughly chop. In a medium pan, cook bacon until crispy.
Remove the bacon from the pan, leaving the grease. (Sub 1-2 tbsp coconut oil if you are opting out of using bacon).
Add chopped sprouts to pan and cook, stirring occasionally for about 5 minutes.
Slice the orange and chop the almonds.
Once sprouts are a rich, dark green color, remove from heat and add orange zest, cranberries, nuts and seeds.
Toss together and add seasoning to taste.
Serve with salmon on top, or by itself. Enjoy!
Thank you to the Nutritional Sciences Student Association for their delicious (and nutritious) contributions during National Nutrition Month! If you missed it, be sure to check out Monica Babcock's Healthy Mac and Cheese recipe from earlier in the month!
About the Author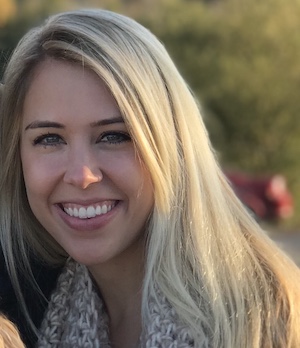 Brittany Durant is a first-year master's student in the Nutritional Sciences department at the University of Michigan School of Public Health. She is an aspiring registered dietitian that is passionate about promoting a holistic approach to health. In her spare time, she enjoys hiking, running, finding live music to listen to, and exploring Ann Arbor restaurants and coffee shops. She is a member of the Nutritional Sciences Student Association (NSSA) at Michigan Public Health.