Driven by the Health of the Entire Public: Ruth Thomas at the 2019 Michigan Public Health Scholarship and Awards Dinner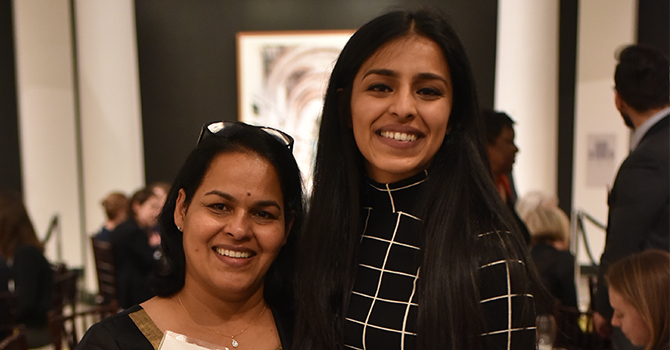 Ruth Thomas, MPH '19
Gelman Global Scholar, Fedor and Mechthild Medzihradsky Global Intern
At this year's Michigan Public Health Scholarship and Awards Dinner, 2019 MPH graduate Ruth Thomas (pictured above at the event with mother) traced her path to public health and reflected with gratitude on the many ways support from the Michigan Public Health community has helped make her dream—of bringing tangible change to global communities—a reality. Her full remarks are included below.
Public health is special because at its very essence it recognizes the burden of the community as a whole. Public health strives to bring equitable and holistic health to every member of every community.
————————
Thank you, Dean Bowman, for giving me this opportunity to share my story. Thank you, donors, for giving me the chance to explore my story. And thank you, fellow students and faculty members, for being my teammates and guides throughout my story.
Good evening and welcome to a night of reflection and gratitude.
Before I go any further, I would like to take some time to voice a special note of thanks to my parents. My mom, who is seated in the audience tonight, and my dad have been a source of inspiration to me for as long as I can remember. Being an international student for the past seven years has caused me to sacrifice many precious moments with my family. That being said, my parents have unconditionally showered me with love and support. Mom, I am standing here tonight because of your love for me and your belief in my dreams. Thank you for always thinking that I was good enough and for never allowing me to think that I was alone. You were always with me. And for that, I am so thankful.
I've always been a thinker. I've always enjoyed delving into the complexities of a matter. There's always more than one side to a story, and always more than just what meets the eye. I've always known that this world was full of opportunities and avenues for impact; there was just so much to explore. This made answering the classic childhood question, "So Ruth, what do you want to be when you grow up?" very difficult to answer. Even as a young child, I knew that the world was too big and too full for me to distill all of its complexity into one career. But I'd put this innocent awareness to the side and would answer with, "I want to be a doctor"—because I was a good Indian kid.
As time progressed, I started becoming more and more aware of the injustices of this world. My family and I moved a lot, and with each new move around the world I became more aware of the cruelty of poverty, discrimination, and corruption. During my bachelor's degree, I began to recognize how precious my education was, especially as a young Indian woman. Not many individuals were given the opportunities that I was. This birthed a revelation within me. The idea of fighting for those who aren't yet equipped to fight for themselves became a steady theme in my thoughts. But, how could I make this passion a tangible asset?
After graduating with my bachelor's degree in Biomedical Sciences from the University of South Florida, I worked for two years as a research assistant at a clinical research coordinating center in Tampa and was introduced, for the first time, to the realm of public health. My supervisor, at the time, had received her master's in public health in epidemiology, a term that I had never heard of before. Through her mentorship, I was able to realize my calling in public health. I had waited eagerly since the eight-grade to finally be able to answer that dreaded question of what I wanted to be with an honest answer. This made my acceptance to the University of Michigan's School of Public Health one of the best days of my life.
As a member of the Global Health Epidemiology cohort, I have been immersed in a curriculum that has equipped me to truly understand the needs of those in low resource settings. Not only has my cohort been made aware of the stark realities of the majority of our world, but we have been given the assets needed to be vehicles of impact. This was particularly felt through my summer internship last year. I spent two and a half months working with Israeli Arab Bedouin communities in the Negev desert of Israel and with Palestinian farmers in an agricultural community in Wadi Fukin, West Bank.
During my time in Israel and the West Bank, I was able to realize a lifelong goal of bringing about tangible change to individuals who need it the most. While in Wadi Fukin, I worked with one farmer in particular to sample the natural springs that serve as water sources for drinking and irrigation. I was able to see first-hand the impacts of discrimination against that farming community and how their livelihoods were undermined. That reality was hard to come to terms with, but this is global health. It is equipping individuals with the skillsets needed to join communities around the world and understand their everyday needs. It is not a one-stop, one-time fix but a continuous engagement that is established in trust and sustained action. My time this summer gave me the opportunity to be a part of that engagement and relationship building for the first time.
For this experience, I have to express my sincere gratitude to the late Mr. Chuck Gelman, his wife Mrs. Rita Gelman, and Dr. Medzihradsky and Ms. Feldman. Because of your generous donations to the School of Public Health, students like me, who have never been able to afford endeavors like this, are given the opportunity to fulfill dreams. Although I had realized my passion for global advocacy at a young age, financial circumstances always stood as a tall barrier to a course of action. I still remember having to turn down applications for international service trips because I knew it would not be feasible for me to fund the trip. I didn't let those hurdles stand in my way for too long, and for my experiences as a global scholar at the University of Michigan School of Public Health, I am extremely appreciative of your donations.
I know that I do not stand alone in my appreciation tonight. Every student seated at this dinner has been able to realize a dream through the scholarships that have been given throughout the School of Public Health. And the best part is, that this is just the beginning of your impact as donors.
Public health is special because at its very essence it recognizes the burden of the community as a whole. Public health strives to bring equitable and holistic health to every member of every community. It is the health of the entire public that drives us epidemiologists, nutritionist, healthy policy makers, educators, and researchers to do what we do. And through your support, as donors, you encompass public health completely. Your support to our student body at the University of Michigan School of Public Health is a premier example of what it means to care for a community. Thank you for all of your support.
Lastly, to my fellow students, we made it! Our journeys were hard-fought and unique in their own ways, but in exactly one week we'll be walking across that stage knowing that we have been trained at one of the best schools of public health in this nation, fully equipped to bring about the change we are all absolutely capable of.
Never stop dreaming. Never stop climbing. We've all made it this far, and I can't wait to see where we go next.
Go Blue!