Leaps of Faith: A Week in the Life of Master's Student Alex Fox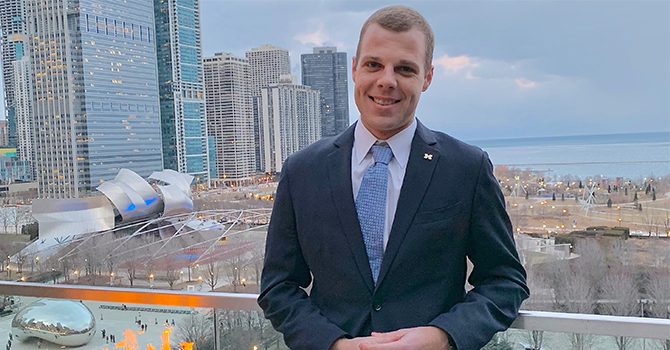 Alexander D. Fox
Master's Student in Health Management and Policy
I took a leap of faith this year. Actually, multiple.
First off, I left a comfortable job to go to grad school. Student loans replaced a steady income. Professors replaced bosses.
This seems at once fairly typical of someone my age until I tell you that I am a classically trained musician now working in healthcare management. There is no straight line from Beethoven to Boston Children's.
Ironically, there was once a time where operating rooms were called built like theatres, complete with balcony seating and minimal leg room (people were pretty short back then). You could literally buy a ticket to someone's open heart surgery. Now, we just call that medical school.
Truth be told, I never had any intentions of becoming a professional musician. I went to music school because I loved my craft -- and I got a really big scholarship. Music took me where I wanted to go, not the other way around.
There comes a time when you heed a certain call, sings Lionel Richie in "We Are the World". My call -- my passion -- is improving the lives of others. I became a fundraiser because my Michigan scholarship forever changed my life. As Stewardship Officer, I wanted to give to others what had been so generously given to me.
Some years later, I turned to healthcare for many of the same reasons. At age 23, I was diagnosed with Major Depressive Disorder. Given a new hope through my treatment, I have made it my life's work to empower the same type of high quality, cost-effective health care that forever changed my life.
---
I'm an introvert. That's no mystery. Left to my own devices, I would probably spend 90% of my hours strategizing, analyzing, or any other -zing you might think of (besides socializing).
So shipping myself off to the American College of Healthcare Executives (ACHE) Congress on Healthcare Leadership -- the nation's largest conference of healthcare executives -- seems a really odd choice for a spring break. Also, it's Chicago in March. Not exactly tropical, Mr. Florida Boy.
Leap of Faith Two: The Introvert Goes Networking. On the surface, this doesn't exactly have the making of a blockbuster hit. But if I may say so myself, I think Netflix and Hulu might want to give it a look based on plot alone.
"You will want to journal about this."
Sage advice from a seasoned professional, and one bit of many that I would digest over the coming days. The commenter was a man who has been going to Congress longer than I have been alive. A physician by training, he now leads one of the nation's most well-respected physician groups. Well, here we are, very happily journaling away.
Let me tell you about the kinds of people you meet at a healthcare conference. 98% of them are absolutely fantastic. Kind, generous souls armed with astronomical ambition, just like my journaling friend. The other 2% are grouches. We won't talk about them.
Also, prepare to be intimidated. These people are the cream of the crop. As one academic was accepting his thoroughly-deserved award, I thought I recognized his name. Ken White is a fairly common name if we're being honest. But I do know him, or at least his name. He -- along with a now-emeritus faculty member at Michigan -- cowrote the definitive text on healthcare management, now in its tenth edition. I'd been learning from Ken White the whole time!
Congress is like the All-Star Game of healthcare. Heck, they even have a Hall of Fame and a Gold Medal award. I guess what I'm saying is that if you're like me and you got cut from tee-ball, maybe Cooperstown isn't as far off as you think. They have hospitals there too, you know.
Awards and rewards aside, conferences are a place to be inspired. On more than one occasion I walked out of a session thinking "I would totally trust [presenter] with my -- or better yet, my loved ones' -- lives." If these are our healthcare leaders, I think the future is a little less dim than we might be projecting. We're in safe hands.
Speaking of safe hands, let me tell you something about our nation's military. They came out in force this week (pun totally intended). Full military dress, representing each of the armed services. They care deeply for all the present issues in healthcare. And we care deeply for them. My sincere thanks for all military, active and retired.
At one point, during a session on military health of all things, I looked around the room. It was no less than 85% service members. I thought out loud: "there isn't a safer room in America than this one." The Army nurse next to me nodded and smiled: "You're in good company."
So then what exactly can I take away from this week? A few things.
Firstly, I've never felt more at home in a professional setting. I still feel like a bit of an imposter from time to time. My music performance degree and fundraising experience do not exactly scream Competent Healthcare Administrator, after all.
But then I look around the room. For every MD there's someone with an equally circuitous path as my own. For every generational talent, a young body whose journey has just begun. Healthcare is full of people like me. People who care deeply about the challenges our patients face every day. And the skillset to take them on.
I learned this week about the Chief Patient Experience Officer. The CXO is equal parts analyst, relationship manager, and problem solver. It's the Stewardship Officer of hospital administration. I am right where I am meant to be.
Next, I am as motivated as ever. I realized this week just how big my opportunities are. There is so much work to do in healthcare. No one person has all the answers. The professionals? They're asking themselves the same questions we students ask of our professors and our peers.
What happens next in healthcare is largely uncertain. We suspect that value-based models will drive reimbursement. We project that artificial intelligence and technology will play increasing roles in care delivery. We imagine a world without opioid addiction. But we have no idea whether or not any of these things are possible, or if they are, at what scale.
If there's one thing I'm taking away from Congress this year, it's this: we have a ton of work to do. And I'm going to keep journaling.
About the Author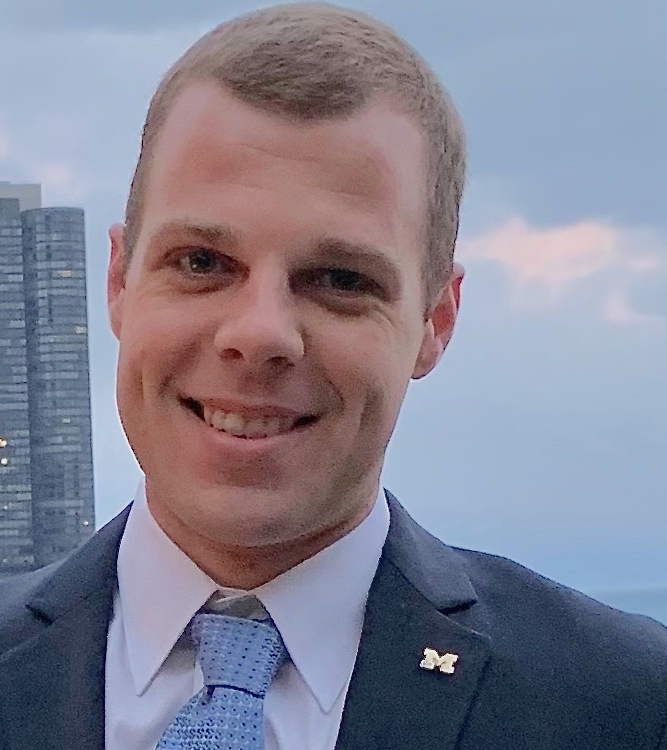 Alex Fox is a first-year student in the Masters of Health Services Administration program, part of the Department of Health Management & Policy at the University of Michigan School of Public Health. His studies focus on the interplay of financial operations and patient experience in clinical settings. A passionate mental health advocate, Alex is a volunteer advisor with the Patient & Family Advisory Council for the Michigan Medicine Department of Psychiatry. Prior to his studies at Michigan Public Health, Alex spent three years in institutional advancement at U-M, most recently as Stewardship Officer in the School of Music, Theatre & Dance. Alex received his Bachelors of Music in Viola Performance from the University of Michigan School of Music, Theatre & Dance in 2015.