Advocacy Makes an Impact in Michigan: Research on Prescription Practices Informs Policy Deliberations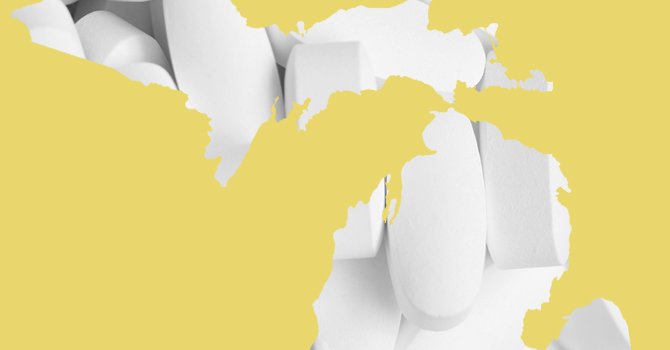 Jenifer Martin
JD, Director of Government Relations, Michigan Public Health
Connecting the research produced at the School of Public Health to the policy decisions made every day in Michigan and around the country is an important way public health knowledge can have immediate, positive impacts for affected populations.
Government relations staff at Michigan Public Health work with faculty to share relevant research findings with policymakers in Lansing and in Washington, D.C., and to participate in health policy debates.
As part of our effort to address the national opioid crisis, Rebecca Cunningham, professor of health behavior and health education and director of the U-M Injury Prevention Center, recently provided testimony to the Michigan House of Representatives Health Policy Committee in support of legislation to strengthen Michigan's prescription drug monitoring program—the Michigan Automated Prescription System—known as MAPS.
The crisis has reached epidemic levels in Michigan, with opioid-related incidents causing more deaths than motor vehicle crashes. Much of the Injury Prevention Center's recent work has been focused on opioid overuse and overdose prevention efforts. Cunningham's testimony provided details of our research related to the MAPS program to help lawmakers deliberate on two bills currently before the legislature.
Senate Bill 166 would require licensed physicians to obtain and review a MAPS report before prescribing opioids to patients in order to reduce the practice of "doctor shopping"—when patients visit multiple physicians to obtain prescriptions for opioid medications. Citing research findings from health management and policy professor Rebecca Haffajee, Cunningham showed that other states have seen significant progress in reducing doctor shopping after adopting similar registration and use mandates for prescribers. She added that a requirement to check MAPS reports for all patients would inform safer prescribing practices in Michigan. Addictive behavior itself, Cunningham noted, does not discriminate.
Senate Bill 167 would impose penalties on providers for not checking the MAPS system and would establish a graduated fee scale for violations of the new mandate. Cunningham stated that the penalties were reasonable and necessary to change physician practice patterns to address this epidemic. Citing Injury Prevention Center research, she told members of the Health Policy Committee that the penalties included in the pending proposal are comparably stringent to those that have been effective in achieving results in other states.
Cunningham later shared Injury Prevention Center research findings as part of a panel discussion convened by the Wolverine Caucus in Lansing—a broader audience including stakeholder organizations, legislators and staff, and officials from the Michigan Department of Health and Human Services and other state agencies. The goal of these outreach efforts is to create a safer prescribing system for all Michiganders.
This article first appeared in the fall 2017 issue of Findings, the magazine of the University of Michigan School of Public Health.
Support policy-related research at Michigan Public Health.
About the Author
Jenifer J. Martin, JD, is Director of Government Relations at Michigan Public Health, co-director of the Center for Law, Ethics, and Health, and adjunct research investigator in the Department of Health Management and Policy. She teaches legal principles relevant during a public health emergency to governmental public health workers in Michigan. Prior to joining Michigan Public Health, Martin practiced legislative and policy law in Washington, D.C., where she worked on a variety of health policy issues. She has held positions on Capitol Hill and in the White House.