Fatherhood and Public Health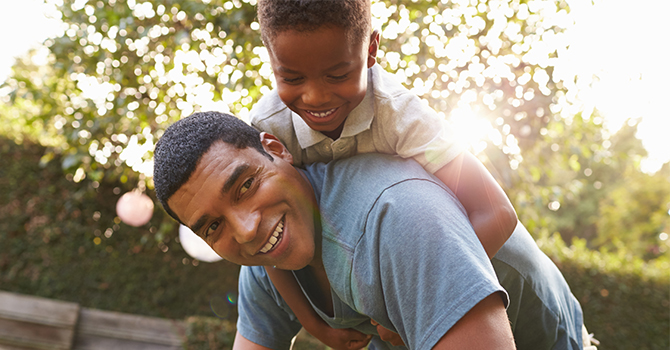 A Father's Day Q&A with Professor Cleopatra Caldwell
Growing evidence suggests that engaged fatherhood improves the health and mental health of men and their children. As we celebrate dads of all kinds this Father's Day, Cleopatra Howard Caldwell, PhD — Professor and Chair of Health Behavior and Health Education, and Director of the Center for Research on Ethnicity, Culture and Health — explores the connections between fatherhood and public health, her latest work on the Fathers and Sons Project, and the ways bringing fathers and the sons together impacts health for all.
Read more about Professor Caldwell's work, the Fathers and Sons Project, and her path to public health.
---
How do you see fatherhood and parenthood connecting to public health?
Our understanding of fatherhood has changed substantially over the past three decades with greater emphasis placed on the nurturing role of fathers than in previous generations. More men are defining their identity as prioritizing their involvement in father-related activities, such as nurturing and providing for their children. Research has examined the benefits of fatherhood for men's health. Our own work examines fatherhood among nonresident African American fathers as a critical social context for promoting men's health across generations. This perspective is consistent with growing evidence suggesting that engaged fatherhood improves the health and mental health of men and their children. Findings from our research advocate for policies and programs that improve parenting engagement and parenting behaviors among fathers as a sustainable and cost effective strategies for health promotion for men and their children.
What happens in a community generally when fathers and sons have better connections to one another?
Children and adolescents with more limited positive involvement with their father show an increased risk for depression, delinquency, and adverse health behaviors (e.g., smoking, alcohol use, and early sexual initiation) than those with more positive father involvement. Our approach to father engagement with their preadolescent sons is designed to strengthen families rather than individuals alone. The benefit of this approach includes seeing families as part of communities in which they live. The strengths and challenges of living in specific communities in Chicago, for example, offer opportunities to support family involvement in community activities, including advocacy for change.
You've recently taken the Fathers & Sons Project to new urban areas. What's the latest and what new insights are you getting?
Chicago is frequently regarded as one of the deadliest cities in the US. Our work on the South Side of Chicago allows us to consider the role of family and community influences on the health and mental health of our study participants. We have learned about challenges in recruiting African American fathers who do not live with their sons into intervention research in a large urban city. Interestingly, two of the biggest challenges are violence and severe weather. When planning for the intervention program, we must be mindful of the specific neighborhood for implementation because families have shared with us that they don't feel comfortable crossing 65th street, for example, because of the potential for gang violence. Families are comfortable in and know the strengths of their own neighborhoods. Crossing specific boundaries into unknown territory is a reality of the lives of our families that we must be responsive to in doing this work. Comments like this reinforce the need for our community partnerships that allow us to offer the Fathers and Sons Program in different locations. Our relationship with ACTS of Faith provides opportunities for working with 17 churches and 14 Federally Qualified Health Centers on the South Side of Chicago. We also partner with other community organizations such as the KLEO Family Life Center and Social Service Agencies. Even with better coverage for program implementation sites, severe weather (40 degrees below 0 or critical snow accumulation) can influence program participation. Nevertheless, we have found that fathers and sons continue to enjoy and benefit from the intervention programming we offer specifically for families living in risky neighborhood environments. We are finding that parenting guidance, role modeling and the significance of culture remain critical to protect against negative environmental influences on health and well-being.
About Professor Caldwell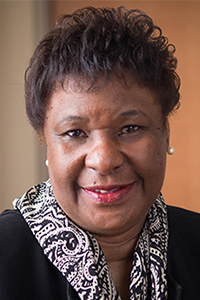 Dr. Cleopatra Howard Caldwell is Professor and Chair of the Department of Health Behavior and Health Education and Director of the Center for Research on Ethnicity, Culture, and Health (CRECH) at the School of Public Health, University of Michigan. She is also a Faculty Associate with the Program for Research on Black Americans (PRBA) at the Institute for Social Research and an Adjunct Professor in the Department of Psychology at the University of Michigan. As a social psychologist with expertise in psychosocial and environmental factors influencing the health and well-being of Black populations, her research includes both intervention and basic research involving survey research techniques with adults, adolescents and families. She also has expertise in conducting community-based participatory research (CBPR), developing academic-community partnerships to design and evaluate health interventions for Black youth and their family. Specific examples include the NICHD/NIH funded Parenting and Men's Health Study, the CDC funded Fathers and Sons Evaluation Project, and the Ruth Mott Foundation funded Fathers and Sons Physical Activity and Nutrition Program. She has published in a number of areas including the influence of social relationships and social identities on the health and well-being of Black adolescents, the role of paternal support, racial discrimination, and racial identity attitudes as risk or protective factors for adolescent risky behaviors and fatherhood as a context for understanding men's health. Further, Dr. Caldwell has extensive experience conducting research to understand health risk behaviors and mental health of ethnically diverse adolescents, including African American and Caribbean Black youth.