LISTEN: Kate Bauer Talks Kids and Food for National Nutrition Month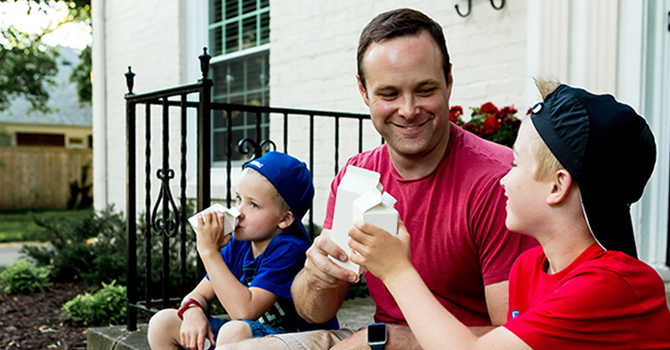 From a population health perspective, understanding kids' eating behavior is more important than ever. Today, nearly one in five school-aged children in the US is affected by obesity, and childhood obesity disproportionately affects children living in low-income households. But it's not just about preventing obesity—it's about helping kids establish lifelong healthy relationships with food and with their bodies.
In this special preview of the University of Michigan School of Public Health's upcoming podcast, "Population Healthy," Assistant Professor of Nutritional Sciences Katherine Bauer sits down to talk about ways parents can manage effective nutrition for their kids, the day-to-day factors that impact it, and strategies for setting the home environment up for success.
Listen now!
Listen to "Kate Bauer for 'Population Healthy'" on Spreaker.
00:00 Kate Bauer: I'm Kate Bauer, I'm an assistant professor in the Department of Nutritional Sciences at the University of Michigan School of Public Health. Family meals and healthy eating does not need to be complicated. No one is advocating that parents are making fully from scratch four-course dinners. With my kids, some nights we just have turkey sandwiches and apple slices. Super easy, five, 10 minutes.
00:23 KB: There are a lot of factors in our day-to-day life that get in the way of effective nutrition for our kids, right? We can think about setting up the home environment for success and really for any child, but particularly a child who may gravitate more towards some of the less healthy food. So some of the things in setting our environment up for success are having healthier foods more accessible and available to our kids, things like having a great fruit bowl on the counter. Some parents have a healthy snack drawer in their fridge, and it's somewhere that the kids can themselves go, grab a cheese stick, grab baby carrots, something like that.
00:57 KB: It's important to allow kids to have some independence in their food choices but constrain it. Only have the foods you want your child to eat available for them to eat. And then that will limit what's available to kids and you won't be having these conflicts as often where they say, "I want candy," and you're like, "No, not now." If it's not even in your house, then it's not an argument anymore.
01:20 KB: We also know there are a lot of parent level factors that make feeding our families more difficult. Things like being tired, what parent isn't tired? [chuckle] Things like difficult work schedules. We've done some research in the past on different work routines and schedules, and looking at parents who don't work, or work part-time, or full-time, and we know that those parents who work full-time are less likely to have family meals, are more reliant on fast food because they're running all the time. You know one great suggestion for keeping family meal routines is having the same type of meal every Monday, every Tuesday. So Taco Tuesdays is a great option, you don't even need to think about it. You don't need to reinvent the wheel every week. You know what you're gonna make, you make it simple.
02:06 KB: There have been a lot of questions in the research world about restriction and restrictive feeding. There has been a sort of a traditional belief grounded in research that's been going on for 20, 30 years that says that we shouldn't restrict our children, because there was early evidence that girls whose mothers reported restricting their eating gained more weight over time. And that has led to a lot of feeding philosophies that kids should be able to have control over when they eat, what they eat, how much they eat. And I think for most kids, that is a really good strategy; again, provide healthy options to your child with balance. If you are working two, three jobs, uncommon schedules, you're driving your kids around, drive past McDonald's and your kids are screaming, of course you're gonna bring your children to McDonald's. It's a dollar menu, it makes your kids happy. That is the most obvious, rational parenting decision someone could make at that moment. [laughter] So I am completely empathetic to that.
03:08 KB: Even in the context of fast food, you can make healthier decisions. We do occasionally go to McDonald's when we're traveling or busy. We get the white milk, they can get a hamburger and the apple slices, that is a totally fine, well-balanced meal, and it keeps the peace within the family. My daughter loves Chinese take-out. If we ever ask her, "What do you want for dinner tonight?" it's, "Can we have Chinese?" Something I do is I ask for no sauce, I just get chicken and broccoli, no sauce, right? And I think with a little soy sauce it's just as good if not better than having a gloppy, sweet sauce. So I've just gotten Chinese take-out, but had a ton of vegetables, and my son eats all the broccoli from that. It takes a little forethinking and a little control on the front end of things, but I don't think you need to have home-cooked meals every night to have some sort of perfect diet. We can make small changes in different contexts and give our kids a variety of diet.
About the Expert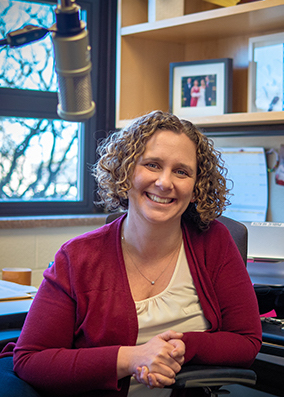 Katherine Bauer is an assistant professor of Nutritional Sciences at the University of Michigan School of Public Health and research faculty with the university's Center for Human Growth and Development. Trained as a behavioral epidemiologist, Bauer's research focuses on understanding social and behavioral influences on children's healthy eating, activity, and weight, and translating these findings into innovative, effective obesity prevention programs.