Career Prospects for Public Health Graduates Remain Strong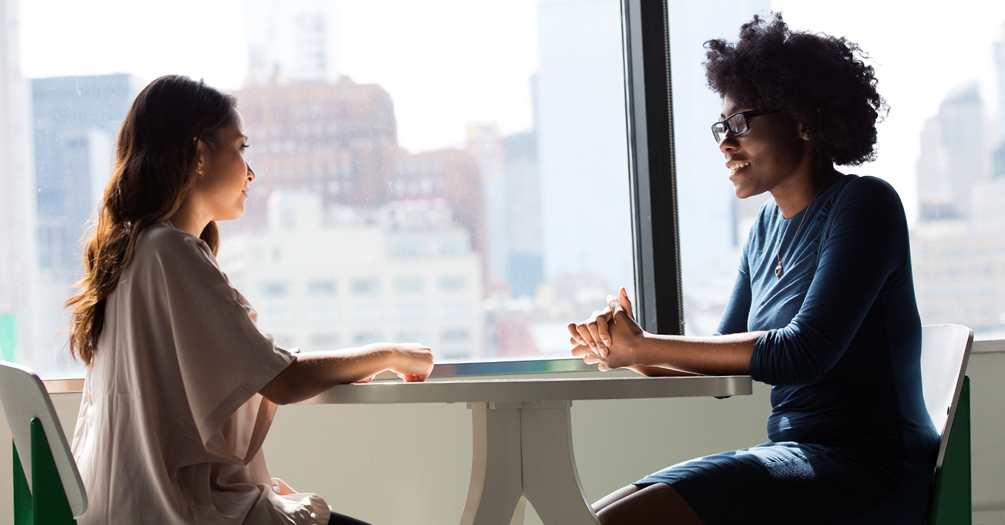 Krystle Forbes
Career Services Coordinator
Many applicants to public health degree programs wonder about their job prospects. Will a graduate degree in public health provide them with the credentials and training they need for specific careers?
The coronavirus pandemic complicated employment in every sector. But while hiring in many fields—including some areas of public health—was frozen at times during the pandemic, public health was and is widely regarded as an essential and necessary service.
As a career services coordinator at the University of Michigan School of Public Health, I can confidently say that career prospects within all fields of public health remain strong. While we have seen small impacts, career opportunities and outcomes for students graduating from Michigan Public Health have not been significantly impacted by the pandemic. For example, in some cases it now takes 4-5 months, rather than 2-3 months, to find a position, and a larger proportion of students took on contract positions than in previous years.
Considering the pandemic's impact on employment in the US—with the unemployment rate reaching 14.8% during the pandemic—the ongoing strength of a public health degree is an encouraging trend. Public health graduates continue to be in demand.
Beyond facilitating the immediate and emergent response to COVID-19, public health has received a great deal of new public attention during the pandemic. Public health careers are found in every sector of society—from infectious and chronic disease to health equity and healthcare policy to nutrition and mental health.
This means every public health graduate has opportunities to help solve pressing problems and shape the future of community health.
Using data from the US Bureau of Labor Statistics, each of the primary fields of study Michigan Public Health is expected to have a "bright future" (indicated by the sun icon)—meaning expected industry growth and job opportunities.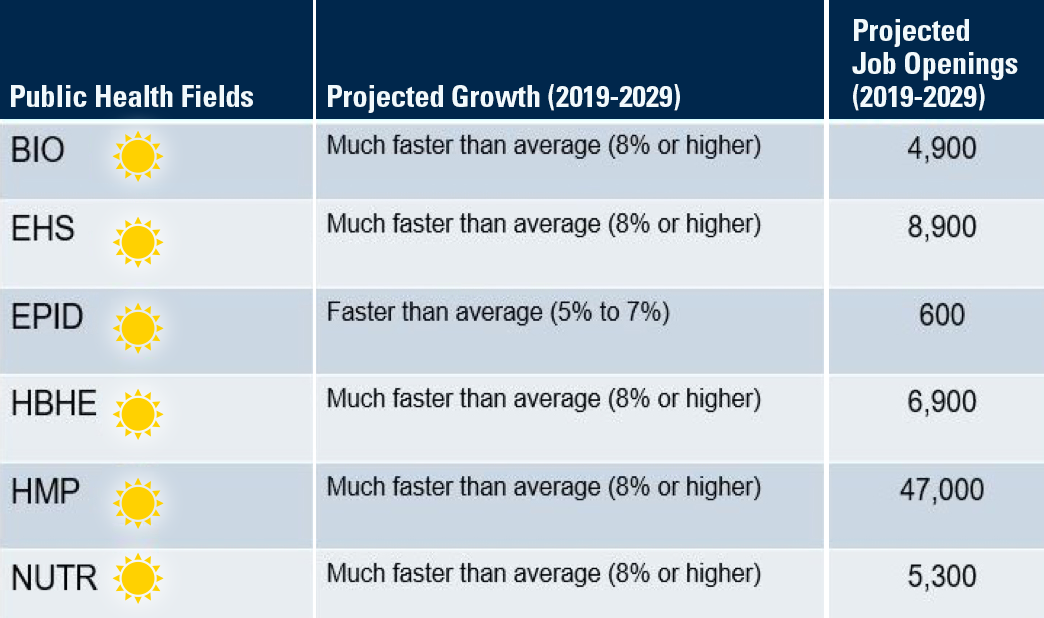 These projections were analyzed before the start of the pandemic, and we continue to see new funding and growth across these fields.
In 2019, 97% of our graduates reported employment or continuing education, and in 2020 we saw 98% being employed or continuing education within one year of graduation.
Will the pandemic hurt hiring for students graduating with public degrees? In short, no. The pandemic might have disrupted the flow of services in some areas of public health, but it has also clarified our deep, ongoing need for those services. Public health degrees remain in demand.
Questions and Answers
Do I need a master's degree to get a job in public health?
An increasing number of positions are available to individuals with undergraduate degrees focused on or supporting the work of public health. However, many organizations do require a master's degree. This often has to do with the data and analytic skills associated with graduate-level level training.
What is the average salary for someone with a master's degree from Michigan Public Health?
Average salary depends on a number of factors, including the individual's previous experience and training, their desired industry, and job location. For salary ranges by department, check out our employment outcome reports.
Do I need to have prior work experience to get a job after a master's program?
Our graduates have a variety of previous work experience, and many begin a master's degree directly after completing an undergraduate degree. Prior work experience can be helpful for securing higher level positions but is not required.
All of our graduate degree programs include some kind of experiential learning—applying and practicing classroom training—as part of the degree requirements. MPH and MHSA students complete an internship. MPH students also complete project-based work (Applied Practice Experience, or APEx). MS students complete research projects and written reports. These experiences are designed to augment classroom training and provide tangible items to include on a resume and support your qualifications to succeed with your future job search.
Where do individuals get jobs?
The majority of our graduates tend to find jobs in the Midwest (48% in Michigan, 62% overall in the Midwest). We think this has more to do with our student demographics than with available positions. Other popular regions include the West (14%) and the Northeast (13%) regions of the US. And some of our graduates (~2%) also choose to pursue work in international settings. Read more about what you can do with a public health degree.
Does Michigan Public Health offer support to students looking for jobs?
Absolutely! Support looks different from student to student depending on your individual needs, goals, and style. However, we offer as much as we can to meet diverse needs. The Careers team at Michigan Public Health provides individual counseling, small group advising, workshops, and a range of resources on professional development topics. We host employer engagement events to help students make connections and advertise thousands of position openings annually.
While not necessarily providing direct support in finding positions the below resources assist with providing resources, connecting students, and preparing them for a successful search:
I recommend starting with self-reflection and identifying what you need. We provide a host of resources and tools to graduate students and encourage each student to take advantage of them in ways that best support their professional, academic, and personal goals.
---