A Teenager's Guide to Coping with the Pandemic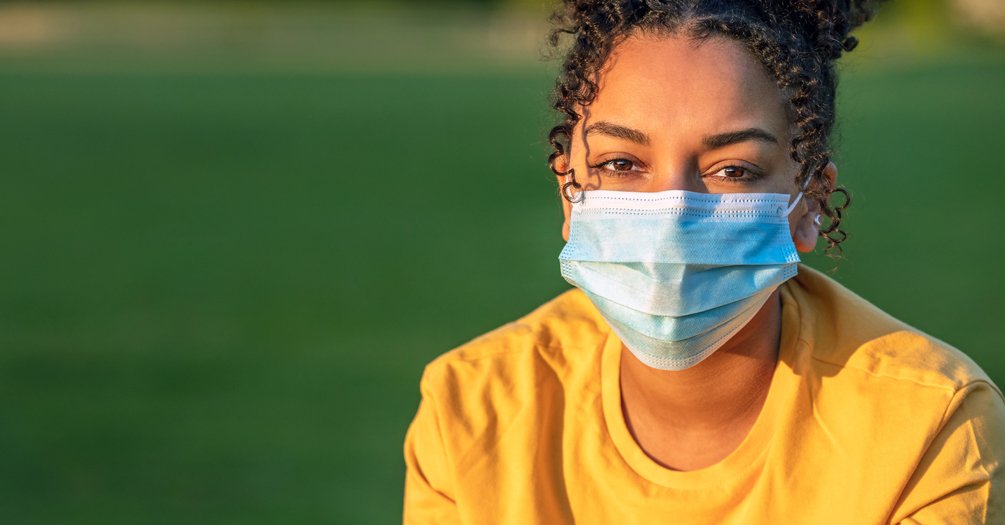 Q&A with Alison Miller
Associate Professor of Health Behavior and Health Education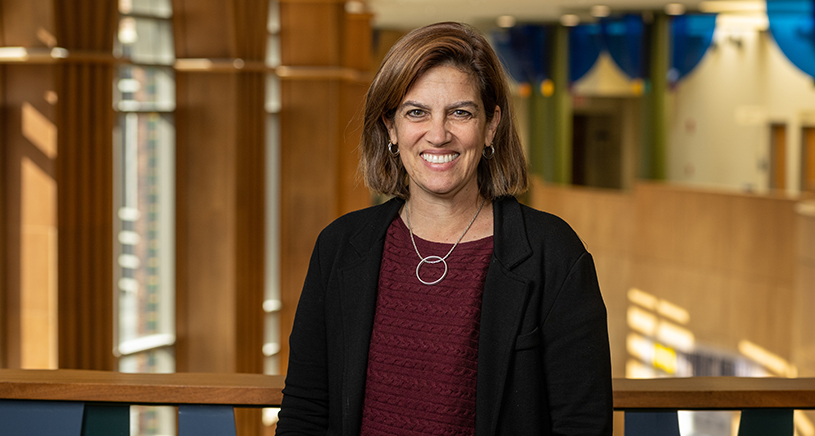 You've heard about the coronavirus for well over a year now and might be having trouble keeping up with the conversations or even finding the energy to engage. You also might be tired of what the pandemic is doing to the everyday flow of our lives, from school to work to extracurricular activities.
While things are starting to return to normal with many people—including teenagers—getting vaccinated, the pandemic isn't over yet. We wanted to know more about how you can approach the pandemic in ways that help keep you and your family safe from the disease while still going about your daily life. So we asked developmental psychologist Alison Miller, associate professor of Health Behavior and Health Education at the University of Michigan School of Public Health, what tips she and her students had to share.
Life was already pretty complicated as a teenager. Why does the pandemic seem so hard?
You're at a time of life when you're supposed to focus on building social connections with your peers and learn how to do some things separately from your family. The pandemic and virtual school have made it harder for you to interact with your peers. You're probably spending a lot more time inside with your family members. This can take a toll emotionally on the whole family, including all the young people in your family.
Any change in routine is difficult for a person, especially when it means distancing from friends and maybe missing out on significant life events like graduation, homecoming, vacations, theater productions, and sporting events. Using social media has helped us stay connected during the pandemic, but too much time on social media can have negative effects on all of us, especially young people. It is normal to feel sad, stressed, confused, scared, or angry during any crisis. Remind yourself it is okay to feel those feelings, and find healthy ways of managing those feelings, including talking to people you trust.
How else can I cope with the pandemic and its effect on everything else in my life?
Coping is an important thing to plan for, and it's also important to remember that everyone is struggling with the pandemic.
Even as we start to emerge out of the pandemic, most of us still feel stress. Routines can help us feel more grounded and reduce stress. So try keeping to a schedule for doing school work, connecting with friends, and relaxing. Try to get outside of the house, even if it's for a short amount of time. Meditation and exercise can help you relax, lift your mood, and work through stress in positive ways.
And get creative. Find new and safe ways to connect with others. Take on a long-term project that you never thought you'd do and create something new.
Some people have blamed youth for spreading the virus because we "don't care." Why do some people think this is true?
This is not a fair assessment of young people's attitudes toward others. Youth care deeply about other people. In fact, you are "biologically wired" to crave being with friends and other peers. And an important and primary developmental task for youth is to connect with friends outside of their family. Pandemics are stressful for all kinds of reasons, and friends can help you cope with stress.
Guidelines are constantly changing because the virus itself and our understanding of it changes. Some pandemic rules where you live will be different from other places. The Washtenaw County Health Department website has more information about guidelines for Washtenaw County. Get involved in your community by volunteering, donating blood, and donating other resources. Get vaccinated when you can. And if you feel comfortable, step up in your social circles and your community to share good information about science and disease mitigation.
Some of my friends don't think it's worth following all the guidelines or don't think it actually helps. How can I persuade them to do the right thing?
It is hard to have conversations like this, especially with friends and other peers. It's good to listen carefully to your friends' concerns and also to be prepared with responses that you feel comfortable sharing with them. Here are a few ideas you might rephrase in your own words:
When diseases spread, they can harm or take away things that are important to you: socializing with friends, being with and taking care of your family, being away at college and being at school in person, playing sports, volunteering in the community.
Young people play a big part in stopping the pandemic. While older people are more vulnerable to severe disease, young people are more mobile and interact more with others. We play a role in how the disease spreads, even if we don't get as sick as others. That's why it's important for us to get vaccinated too.
Be good to your future self, and do your part to stop the spread.
Let's talk about the good news: We have several safe, effective vaccines against COVID-19 and they are helping infections, hospitalizations, and deaths go down. Youth as young as age 12 years can be vaccinated with the Pfizer vaccine. The end may be in sight. However, even with vaccines, the virus will be with us for a while and might circulate regularly, like the flu. So let's follow the effective safety measures and get vaccinated as soon as you can!
Are lots of young people really getting COVID-19 and should I pay attention to how the disease is spreading in my community?
This coronavirus started out mostly attacking the elderly and those with underlying conditions such as immune problems. But today, hospitals are seeing many young adults and teenagers admitted with COVID-19. Although vaccines are now available for teens and children as young as age 12 years old, new variants could change how susceptible we are—even those of us who have received a vaccination. While most young people will recover from this disease, it does still cause severe illness and death for many people, including some young people. And there are risks of long-term health problems, including heart damage.
How can we protect ourselves from COVID-19 and help protect family, friends, and our community?
The most effective way to protect yourself and those around you is by getting a COVID-19 vaccine when it is available to you.
In addition to getting the vaccine, practicing preventative measures can really decrease your chances of spreading COVID-19 when you are with friends, family, and in crowded spaces.
Most young people who get COVID-19 are asymptomatic—you don't feel ill and might not feel any symptoms at all. So you might go about your usual business and can easily spread the disease without knowing it. If you are not fully vaccinated and you are around others who are not in your household for school, work, and in other settings, getting tested on a regular basis is a good idea. If you have flu-like symptoms at any point down the road, you might consider getting tested then too. We are still learning a lot about how this virus spreads and how the vaccines provide protection.
Then, for now, follow as many of the recommended disease mitigation measures as possible. Even as some of the state and national restrictions loosen up, we can still prevent the spread of this and other infectious diseases. The more of these activities you combine, the more you are doing to stop the spread of a pandemic that isn't yet over.
All of these things work and can help us all reduce the effects of the pandemic.
Shrink your in-person social circle (keep up on Snapchat; plans for larger groups to hang out once everyone is fully vaccinated)
Continue to wear a mask when you're indoors around people not in your household
Gather virtually (shared Xbox, group games, group Facetimes)
Gather outside or in large, well-ventilated indoor spaces if you can
Stay 6 feet apart if you and others in your group are not yet vaccinated
When you do decide to be with friends in person, if not everyone is fully vaccinated yet, make a plan before you get together so everyone is prepared to participate in that safe environment. Stick an extra mask in your purse or pocket in case a friend forgets theirs. Dress for outdoor weather so it's easier to stay outside. Then, help each other stick to the plan and encourage each other going forward. Your entire group of friends can be a big part of helping your community move more quickly out of the pandemic.
Thanks to the following for their contributions to this article:
Hurley Riley, MPH '19, Research Area Specialist, School of Public Health, University of Michigan
Phoebe Trout, Master's Student in Health Behavior and Health Education and Public Policy, , University of Michigan
Sara F. Stein, MS, MSW, LMSW, PhD student in the Joint Program in Social Work and Social Science, University of Michigan
Julia Ammer, Undergraduate Student in Social Policy at Northwestern University, Research Assistant in the Child Health and Development Lab
---