Donors open world of opportunities for Environmental Health Sciences student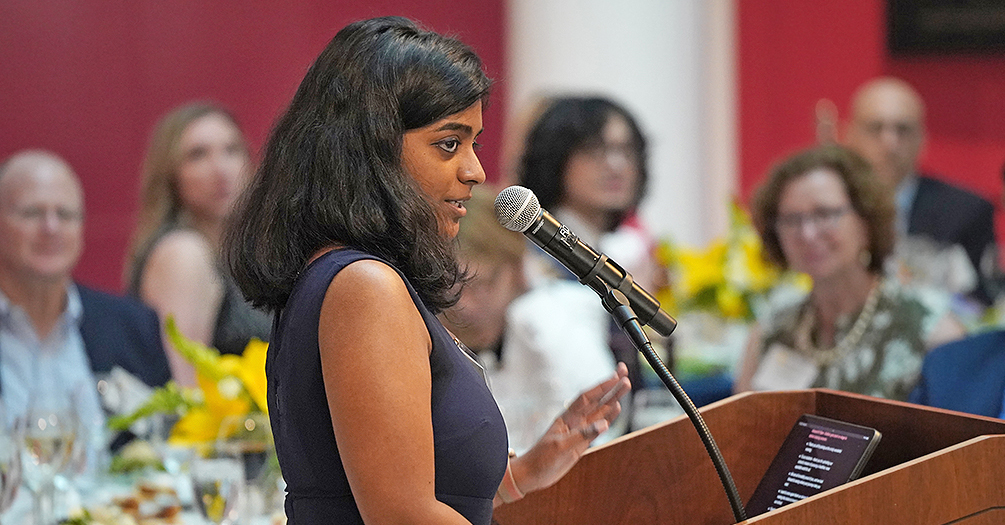 Swati Sriram
NSF International Global Scholar
Swati Sriram was the student speaker for the Michigan Public Health Scholarship and Awards Dinner on April 13 at the University of Michigan Museum of Art.
Sriram is graduating on April 27 with a Master of Public Health in Environmental Health Sciences from the University of Michigan School of Public Health. She is a recipient of the NSF International Global Scholarship and is a graduate intern with ICF. Sriram has been involved in several leadership activities, including international student representative for the Public Health Student Association, Student Admissions Ambassador, co-chair of the EHS MPH Peer Mentor Program, and member of the EHS DEI Committee.
The following is her speech from the event with an audience that included Michigan Public Health Dean F. DuBois Bowman, Provost and Executive Vice President of Academic Affairs Laurie McCauley, faculty, staff, other scholarship recipients and many alumni and donors:
Thank you, Dean Bowman, for giving me the opportunity to share my story. Thank you, donors, for planting the seedling that helped grow a tree of vast opportunities and endless knowledge in my life. And, finally, thank you to all the faculty and fellow students, who helped nurture me throughout my journey and cheered alongside me for the past two years.
A very good evening to everyone present here. It is with great honor that I have the opportunity to speak with you today, and an even greater privilege to be a part of the University of Michigan School of Public Health graduating Class of 2023.
Before I proceed any further, I would like to take a moment to first thank my parents and brother for their unconditional support and encouragement throughout my life.
My journey with Public Health started as early as I can remember, even before understanding the meaning of the term. I grew up being surrounded by people who always believed in giving back to the people. My grandfather helped start a hospital in my town, with the sole intention of providing affordable healthcare to everyone around him. He had no background in science; in fact, he was an accountant by profession, but all it took was his willingness to serve the people, and make sure no one is deprived of something as basic as proper healthcare. What started as a small evening clinic in my elementary school building, now proudly stands as a three-building hospital, with reputed physicians and healthcare workers, working day and night to serve the people.
My grandmother, who was by far the most generous person I have ever met, had only one goal in life, to never let anyone around her go hungry. So, she kept doing what she was best at, and cooked all her life for her loved ones, the people working at the hospital and a majority of the underprivileged in my neighborhood. I grew up constantly looking up to these two individuals, who despite being privileged in many ways, somehow always knew to use it in the right way and contribute to creating an environment of equitable solutions to human health and well-being. I knew I possessed the same quality within me and wanted to project it in my own terms by pursuing what I was most passionate about.
As a member of the small, yet mighty cohort of Environmental Health Sciences, I was introduced to various aspects of the curriculum that helped prepare me to address any situation of environmental health concerns in the real world."
Growing up, I was always interested in biological sciences and understanding the evolution and development of the human body. The inquisitive nature in me always wanted to dig deeper into the mechanisms that govern the basic functions of the human body and further translate the results of these biological processes to use in an academic and industrial setting. That is when I decided to pursue my undergraduate degree in biotechnology at SRM University in India . The program was vast and interdisciplinary and had taught me a great deal about microbiology, immunology, molecular sciences and bioprocess engineering. However, it was my stint in toxicology that got me gripped to the world of Environmental Health Sciences, and eventually the world of public health.
Learning about ways in which exposure to substances in our daily-life products can be projected into individual health and eventually generational health effects really intrigued me to investigate this more extensively. As I was exploring relevant masters degrees to pursue, I came across the field of public health and was immediately drawn toward the realm of possibilities I could explore if I chose to take this up. Eventually, all my questions and inquisitiveness led me to pursue the Master of Public Health program in the University of Michigan, which, as I now enter my mid-20s, can say is easily the best decision I have ever made for myself!
Life in the United States, especially as an international student, wasn't always as smooth and wonderful as projected. Back in India, I considered myself to be privileged in many aspects and, in many ways, that is what got me to pursue my higher education here in the first place. I constantly acknowledge that aspect of my life and am grateful that I had chosen to couple that with pursuing an education in what I feel is the most underrated professional domain, especially at a time when the world was visibly in need of professionals from this field to thrive further. When I first told people about my admission into the MPH program, a majority of them had no idea what I was talking about. Cut to one and a half years later, I now see my family and friends proudly encouraging people to create pathways toward becoming public health professionals, and help create a world with holistic and equitable health solutions.
Like some of you sitting here tonight, I'm sure you can understand when I say that starting a life as an international student comes with its own set of challenges. From adjusting to the cultural shift and getting accustomed to living independently, to completing 60 credits, graduate certificates and internships, coupled with participation in other organizational activities, is a rather laborious way to test one's limits. Despite the plethora of responsibilities I took upon myself, I found myself to complete them with ease, and that was possible only as a result of the unconditional support I had received from the folks at the university and Michigan Public Health since Day 1.
As a member of the small, yet mighty cohort of Environmental Health Sciences, I was introduced to various aspects of the curriculum that helped prepare me to address any situation of environmental health concerns in the real world. As one of the perks of pursuing a professional degree, I was given the chance to explore all core aspects governing the basics of public health, as well as various concentrations within Environmental Health Sciences. I was motivated to explore more of what I had already learned due to constant inspiration from the exceptional faculty that I was surrounded by throughout my journey. My faculty advisor, Simone Charles, stood by me right from the beginning, guiding me through navigating my curriculum as well as life as an international student.
Additionally, my role as a part-time research assistant in the Environmental Epigenetics laboratory introduced me to my mentor and guide for life, Pini Perera, who not only taught me in research but also guided me through my future career prospects and academic goals, often by reflecting on her own journey. I was introduced to her through the chair of my department, Dana Dolinoy, who has been a constant source of inspiration and encouragement even before I came to the United States and has continuously motivated me to pursue all the opportunities that were presented to me.
Also, the support I have received from many of my professors helped give me the all-around experience of understanding ways of environmental health and safety, exposure and risk assessment, its respective health effects, with particular focus toward the disproportionality in the distribution of these health effects. I was able to translate these lessons in multiple ways, particularly through my capstone project, where I was given the opportunity to work with a team to help design educational materials to explain the effects of climate change on respiratory health in the Caribbean. I was also involved in a seminar in collaboration with the School of Environment and Sustainability, where we organized an event promoting climate education across all schools at the university. This interdisciplinary approach and collaboration was only possible due to the unconditional support I received from the Environmental Health Sciences department and the School of Public Health.
I cannot end this speech without expressing my sincere gratitude to my donors from NSF International. Because of your generous donations to the School of Public Health, students like me are given the opportunity to fulfill our dreams free of financial constraints. I know that I do not stand alone in my appreciation tonight. Every student seated at this dinner has been able to realize a dream through the scholarships that have been given throughout the School of Public Health. And the best part is, this is just the beginning of your impact as donors.
Public health is important because it finds multiple ways to solely capture the burdens faced by the community as a whole and strives to generate equitable health to everyone comprising that community. It is a field that amalgamates the contributions of researchers, health policy makers, epidemiologists, nutritionists and environmental health scientists to creating these health solutions. And as donors, your support is what provides the fuel to ignite the fire that public health needs to keep thriving. For that, I wholeheartedly thank you and hope to follow your footsteps into aiding the future generation in promoting the importance of public health across the community.
Lastly, to all my fellow students, congratulations, we did it! We have each worked immensely hard to navigate ourselves in our journeys and absorb the element of public health that is most suitable for us. Very soon, we will be walking across that stage knowing that we have been trained at one of the best schools of public health in this nation fully equipped to bring about the change we are all absolutely capable of.
Never stop dreaming. Never stop climbing. We've all made it this far, and I can't wait to see where we go next.
Go Blue!
---