Organ Donation: Public Awareness and Popular Media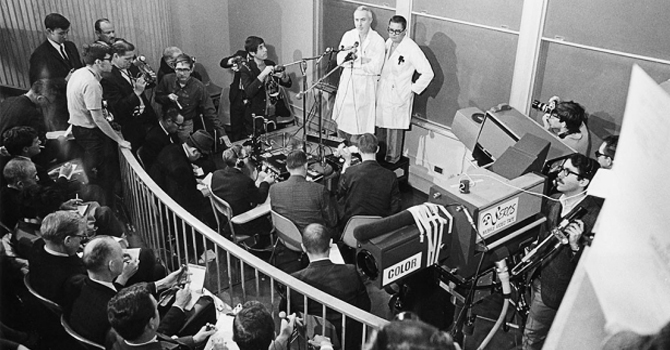 Kashvi Gupta
Master's Student in Global Health Epidemiology
This is the first article of a 2-part series. Read part 2, Organ Donation: Hesitations and Encouragements.
Fifty years ago, in January 1968, Dr. Norman Shumway performed the first adult heart transplant surgery in the United States. Shumway was born in Kalamazoo, Michigan, raised around Jackson, and briefly attended the University of Michigan Law School before being drafted into the army in 1943.
The surgery was performed at Stanford University in California, where Shumway was on faculty, and came just a month after the world's first heart transplant, performed in December 1967 by Christiaan Barnard 
in South Africa. (In the photo above, Dr. Shumway and cardiologist Donald C. Harrison speak to the media after the historic 1968 transplant surgery.)
Neither Barnard's nor Shumway's first patients survived more than a few weeks or months, due to multiple post-surgical complications and limited knowledge 
of the immune system's rejection processes. But rapid improvements in surgical techniques and the successful development of immunosuppressive drugs had, 
by the 1980s, brought survival rates (of five years or more post-surgery) to well over 50 percent.
When all major organs but the brain are functioning, society actually needed to redefine the very meaning of "life."
These landmark advances made it possible to retrieve an organ from a dead person's body and transplant it into another human being, extending their life, potentially for years to come. But with that landmark came a host of other questions. There is only a very small window of time in which an organ remains viable for transplant after the donor's death.
In 1968, a report by the Ad Hoc Committee of the Harvard Medical School put forward a definition of brain death that attempted to alleviate some of the burden "on patients who suffer permanent loss of intellect, on their families, on the hospitals, and on those in need of hospital beds already occupied by these comatose patients" and to provide new protocols in an age when "obsolete criteria for the definition of death can lead to controversy in obtaining organs for transplantation."
The "obsolete criteria" and seemingly utilitarian reference to occupied hospital beds were responses to medicine's increasing ability to keep a human body functioning well after brain death had occurred. When all major organs but the brain are functioning, society actually needed to redefine the very meaning of "life." This was the beginning of formal discussion in the US and the world around transplant and donor ethics.
As surgical successes increased, public 
awareness expanded, and social attitudes adjusted to the possibilities of organ donation, demand for transplant surgeries went up. In 1968, the Uniform Anatomical Gift Act was passed, securing standard regulation of organ donation across the US and establishing standards around the right to donate. In the 1970s, the department of motor vehicles (DMV) in many states began providing organ donation information and registration services and provided ways of indicating donor status on drivers' licenses.
Today, despite efforts by the medical 
community and transplant networks to educate the public about donation and brain death, perceptions of transplant surgeries 
and organ donation remain ambivalent.
Neither Bribery Nor Fame
Portrayals of brain death and organ donation in popular media are an important educational resource. The public rarely gets to see what happens behind the scenes as physicians 
and nurses work through layers of protocol 
to declare a person brain dead, or when they work with transplant coordinators to retrieve organs and allocate them to recipients. But these situations as portrayed in popular media do not always reflect the organ donation 
process accurately.
In reality, neither bribery nor fame can get a person an organ.
In the second season of ABC's political
drama series Designated Survivor, for example, the president's mother-in-law is shown to have used her position as Secretary of the Department of Defense to bump her husband's position on the transplant list. This emotional twist in the story is riveting, but its premise is false. No one can climb up the transplant list through bribery, blackmail, or any other coercive act.
In reality, neither bribery nor fame can get a person an organ. You simply have to wait your turn—"turn" defined not as first-come-first-served but by various algorithms that attempt to maximize an extremely limited resource. Donor and recipient lists are managed by the United Network for Organ Sharing (UNOS), a nonprofit headquartered in Virginia. UNOS works with the federal government to manage the nation's transplant system. The US is divided into 11 geographical regions, and available organs are usually offered within that region first, then to surrounding regions, and so on. Registered donor pools vary significantly between regions, with Alaska's 2016 registration rate at 88 percent of regional population, New Jersey's at 30 percent, and Michigan's at 57 percent (Donate Life America, 2017 Annual Update).
Why Such a Large Gap?
While 95 percent of Americans support organ donation (US Department of Health and Human Services), only 56 percent of Americans are registered as organ donors (Donate Life America, April 2018 Report). Why such a large gap?
Read more in part 2 of this article, Organ Donation: Hesitations and Encouragements.
About the Author

Dr. Kashvi Gupta graduated from medical school in India and is studying to become a cardiothoracic surgeon. She is pursuing an MPH in Global Health Epidemiology at Michigan Public Health and is a Gelman Global Scholar. This summer she worked as a research assistant at CIINT, a translational nutrition and health research institute based in San Jose, Costa Rica, studying the dietary patterns of a small population in the Guanacaste region. Her team's goal was to develop a diet score to show how nutrition affects the gut microbiome and may to be related to the development of colorectal cancer. Read more about Gupta's path to public health at We Are Michigan Public Health.
Photo of Shumway and Harrison courtesy of the Stanford Medical History Center.