The Warmth of Snow: Reflections on Hurricane Recovery Work in Texas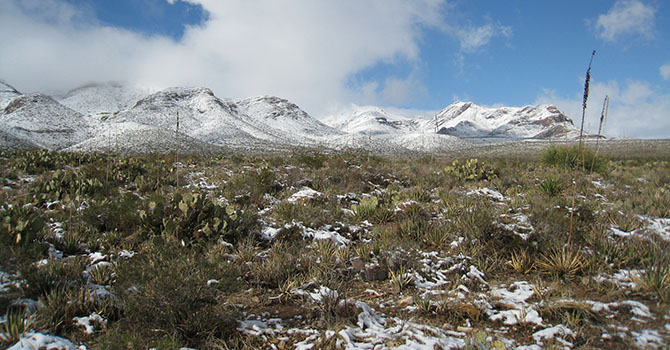 Dana Thomas
Director, Public Health Practice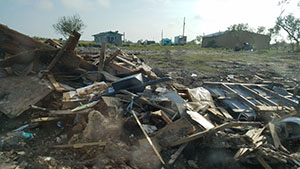 I have a love/hate relationship with snow. As someone who has spent most of her life in Michigan, snow is something I live with every winter. When it first falls, the genuine beauty it brings to the landscape is breathtaking, but after a few days, I'm usually ready for winter to be over.
But a recent trip to Texas changed my perspective.
I recently returned from a week in the Coastal Bend region of South Texas with a group of eight students participating in the Public Health in Action Team (PHAST) at Michigan Public Health.
PHAST began in 2005 as a student surge capacity team for local governmental public health organizations in Michigan. At that time, Hurricane Katrina was ravaging the Gulf Coast regions of Louisiana and Mississippi. Over the past 12 years, PHAST has responded to natural disaster recovery efforts in Louisiana, Mississippi, Kentucky, the US Virgin Islands, and, most recently, Texas.
This fall, the US experienced an unusual number of catastrophic natural weather events that ripped through communities, leaving devastation in their wake. The physical damage is estimated at $365 billion for hurricanes Harvey ($180 billion)—which impacted the Coastal Bend region of Texas—Irma ($100 billion), and Maria ($85 billion), yet the lasting toll is unmeasurable.
When disaster strikes, the visual images of destruction create a symphony of sympathy and anxiety. Disaster produces a desire to help among those not impacted.
I reached out to a former colleague for guidance. Dr. Melissa Valerio is currently an associate professor and campus dean for the UTHealth Houston School of Public Health in San Antonio. Dr. Valerio connected PHAST with three partner agencies that needed various levels of hurricane assistance in the Coastal Bend region.
The organizations—R.E.A.L., Inc.; Coastal Plains Community Center; and the South Texas Family Planning and Health Corporation—asked PHAST to work on processes for building preparedness capacity.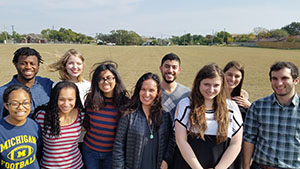 For one week, PHAST worked with the organizations to increase their knowledge and refine and update protocols for organizational emergency preparedness. These organizations provide direct services (transportation, mental health, and reproductive) to people in urban and rural communities extending over 11 counties, serving an estimated 800 consumers per day.
While the organizations were able to provide the needed services to their populations, they recognized that there was room for improvement in terms of their internal response to the hurricane. Two agencies had to shut down two clinics after the hurricane, and one served as a transit provider for those who needed to evacuate post-hurricane.
The students did an incredible job of raising emergency preparedness concerns for non-profit organizations. A few themes emerged across all agencies:
While they all functioned well during the crisis, communication between leadership and staff was not always clear, concise, and efficient.

Each of the agencies had different levels of emergency protocols. However, the protocols were insufficient to address the hurricane.

The agencies are struggling with managing their workload and the needs of their staff who also faced evacuation, displacement, and management of their own recovery due to the storm.

Although a sense of normalcy has returned (restoration of electrical power, open businesses, and repairs to homes), the residents are struggling psychologically.
On our third day in the field, the FEMA director announced that disasters are becoming normal and that the federal government will not be able to meet future needs for communities that have experienced a disaster. The burden is now on us—all of us, especially non-profit organizations— to fill the gap.
For non-profits that struggle to meet their missions on a daily basis, incorporating emergency preparedness may be too big of a burden. However, as we witnessed during our trip to Texas, these organizations are often the front-line responders for their communities.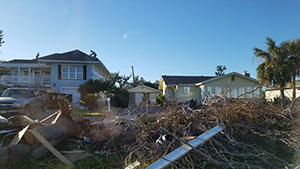 Hurricane Harvey was a warning for non-profits to build their capacity to be better prepared for disasters—this will not only make their operations more effective but also will allow them to better meet the needs of their communities in times of crisis.
It was fortuitous that PHAST was on the ground in Texas working to build the organizational capacity of these organizations. However, it became clear that the region is still struggling with the after effects of the storm beyond physical damage—the ongoing mental and financial toll.
On December 8, 2017, it snowed in South Texas, including the Coastal Bend region. Each time I mentioned the snow, the intense facial expressions changed and smiles erupted across everyone's faces. The sound of children playing and laughing in the snow warmed people's hearts and gave them a temporary respite from the brutal reality of rebuilding and struggling to meet daily needs.
We often focus on immediate response, but recovery from these events takes time, and the time needed may increase given the availability of resources and capacity. It is important that we think of disaster recovery as a long-term process.
That snow break gave people a chance to reset and strengthen themselves for the next few months. The joy that the snow brought melted the tension and anxiety. If only briefly, it reminded me that snow can also bring warmth.
Funding for this project was provided by the School of Public Health Annual Fund. Support students at Michigan Public Health.
Learn more about PHAST at Michigan Public Health.

Interested in public health practice?

Learn more here.
About the Author
Dana Thomas, MPH, is a lecturer and director of Public Health Practice at the University of Michigan School of Public Health. She has more than 10 years of experience training undergraduate and graduate students in community-based approaches to public health through experiential learning such as the Public Health Action Support Team (PHAST). Her work promotes community-academic partnerships and health equity for improved population health. She earned her MPH degree in Health Behavior and Health Education from Michigan Public Health in 2005.