Pesticide Exposure May Be a Risk Factor for Poor Sleep Health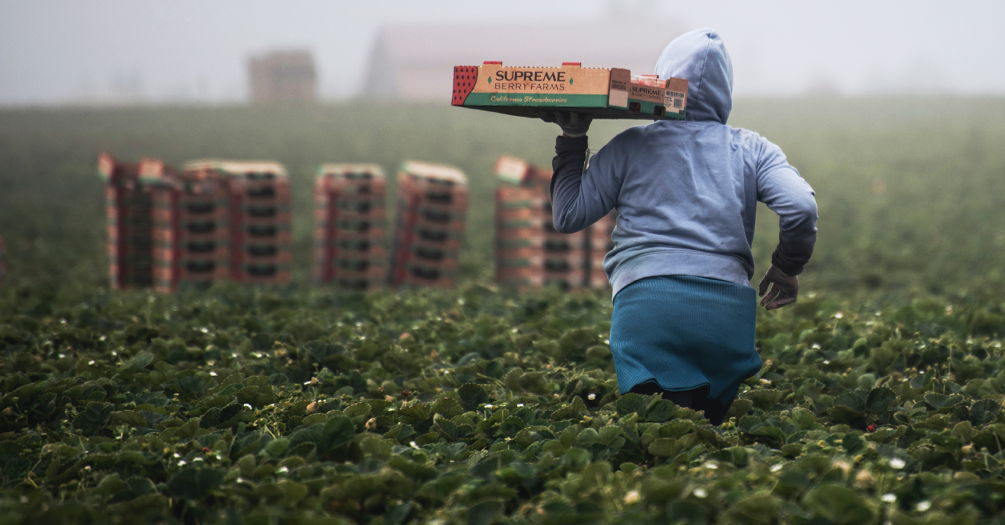 Astrid Zamora
PhD candidate in Nutritional Sciences
Growing up in the California Central Valley—otherwise known as America's Fruit and Salad Bowl, a rightfully earned moniker—I often woke up at five in the morning to say bye to my Abuela before she went off to work in the fields. I have vivid memories of my Abuela coming home from work, ripping off layers of clothing at the front door, and rubbing remedios on her skin to soothe the pain and burning sensation she felt throughout her body.
This pain was the result of long-term exposure to pesticides. At the time, I never understood why she was adamant about removing her work clothes at the door. As I grew older, I learned that her clothes were covered in pesticides, and she did not want to bring the chemicals into the home where her family lived. This personal experience, among others, inspired me to work hard to seek answers related to how and why environmental and social factors disproportionately impact the health of my Latinx community.
In addition to my Abuela's physical ailments, she regularly mentioned the breathing problems she experienced at night, which caused her to have trouble sleeping. Today, an extensive body of literature demonstrates that occupational exposure to pesticides is detrimental to human health, including sleep health.1,2 Unfortunately, most of this information did not exist or was not accessible to Abuela during her time as a farmworker. Understanding the risk factors associated with poor sleep is vital because short sleep duration (less than seven hours a night for adults) has been linked to mental health problems,3 metabolic disorders,4 and risk of death.5 Poor sleep health has been linked to environmental chemicals, such as air pollution.8 However, limited research has focused on studying the links between other chemicals, such as pesticides, and sleep health among non-occupationally exposed populations. Yet, these studies are needed given the high prevalence of pesticide use within US households. For example, one study reported that 80-90% of US households regularly use pesticides in the home.9 As a doctoral trainee, I have researched the links between pesticides and sleep health in non-occupationally exposed populations from Mexico and the United States—research that is personally and professionally important to me.
In a study conducted among mother-adolescent pairs from the Early Life Exposures in Mexico to ENvironmental Toxicants (ELEMENT) cohort, prenatal pesticide exposure was associated with later sleep timing among adolescent offspring.10 So what exactly does later sleep timing mean? We know from existing research that later sleep timing (i.e., later bedtime or wake-time) is related to circadian misalignment, meaning that a person's behavior is out of sync with their underlying circadian rhythm, which can ultimately lead to the development of cardiovascular diseases.11 Study findings also revealed that higher exposure to pesticides during gestation was linked to longer sleep duration in female offspring. Although longer sleep duration is generally beneficial, especially in growing adolescents, it can also be a marker of depression. This would align with other studies in Latin American adolescents, showing that exposure to pesticides is associated with depressive symptoms, likely explained by the interactive effects between pesticides and acetylcholine in the brain.12 Overall, these findings have substantial public health implications given Mexico's continued widespread use of regulated and unregulated pesticides.
In a separate exploratory study conducted using data from the National Health and Nutrition Examination Surveys, we found that among non-occupationally exposed adults, acute household pesticide exposure (i.e., using chemicals to kill pests inside the home) was associated with a higher probability of shorter sleep duration and trouble sleeping.13 Sex-specific analyses showed that these relationships were stronger in male adults compared to female adults.
Overall, these study findings may have stronger implications for socially disadvantaged populations that experience a higher burden of exposure to pesticides due to structural inequities such as poor housing. Ultimately, I hope these findings will inform policies that lead to the development of safer, non-toxic household pest control products to mitigate exposure across the life course and among marginalized communities.
The research studies mentioned above were supported by grants from the National Institute of Environmental Health Sciences (NIEHS). The contents of the research are solely the authors' responsibility and do not necessarily represent the official views of the NIEHS.
References
1. Zhao Y, Zhang M, Yu H, Li X, He W, Zhou Y. Survey of correlation between long term exposure to organophosphorus pesticides and sleep quality of peasants. Occup Health 2010;26:2051–3.
2. Baumert BO, Carnes MU, Hoppin JA, Jackson CL, Sandler DP, Freeman LB, Henneberger PK, Umbach DM, Shrestha S, Long S, et al. Sleep apnea and pesticide exposure in a study of US farmers. Sleep Health 2018;4:20–6.
3. Hestetun I, Svendsen MV, Oellingrath IM. Sleep problems and mental health among young Norwegian adolescents. Nord J Psychiatry Taylor & Francis; 2018;72:578–85.
4. Choi J-K, Kim M-Y, Kim J-K, Park J-K, Oh S-S, Koh S-B, Eom A. Association between Short Sleep Duration and High Incidence of Metabolic Syndrome in Midlife Women. Tohoku J Exp Med 2011;225:187–93.
5. Beydoun HA, Beydoun MA, Chen X, Chang JJ, Gamaldo AA, Eid SM, Zonderman AB. Sex and age differences in the associations between sleep behaviors and all-cause mortality in older adults: results from the National Health and Nutrition Examination Surveys. Sleep Med 2017;36:141–51.
6. Khubchandani J, Price JH. Short Sleep Duration in Working American Adults, 2010–2018. J Community Health 2020;45:219–27.
7. Morin CM, LeBlanc M, Daley M, Gregoire JP, Mérette C. Epidemiology of insomnia: Prevalence, self-help treatments, consultations, and determinants of help-seeking behaviors. Sleep Med 2006;7:123–30.
8. Bose S, Ross KR, Rosa MJ, Chiu Y-HM, Just A, Kloog I, Wilson A, Thompson J, Svensson K, Rojo MMT, et al. Prenatal particulate air pollution exposure and sleep disruption in preschoolers: Windows of susceptibility. Environ Int 2019;124:329–35.
9. Narayan S, Liew Z, Paul K, Lee P-C, Sinsheimer JS, Bronstein JM, Ritz B. Household organophosphorus pesticide use and Parkinson's disease. Int J Epidemiol 2013;42:1476–85.
10. Zamora AN, Watkins DJ, Peterson KE, Téllez-Rojo MM, Hu H, Meeker JD, Cantoral A, Mercado-García A, Jansen EC. Prenatal maternal pesticide exposure in relation to sleep health of offspring during adolescence. Environ Res 2022;204:111977.
11. Sűdy ÁR, Ella K, Bódizs R, Káldi K. Association of Social Jetlag With Sleep Quality and Autonomic Cardiac Control During Sleep in Young Healthy Men. Front Neurosci [Internet] 2019 [cited 2022 Jan 30];13. Available from: https://www.frontiersin.org/article/10.3389/fnins.2019.00950
12. Suarez-Lopez JR, Hood N, Suárez-Torres J, Gahagan S, Gunnar MR, López-Paredes D. Associations of acetylcholinesterase activity with depression and anxiety symptoms among adolescents growing up near pesticide spray sites. Int J Hyg Environ Health 2019;222:981–90.
13. Zamora AN, Watkins DJ, Peterson KE, Jansen EC. Association between pesticide exposure and sleep health among a representative sample of US adults: evidence from NHANES 2009–2014. BMC Public Health 2021;21:2199.
About the Author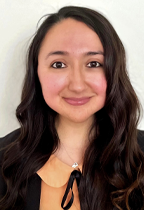 Astrid Zamora (she/her/ella) is a fourth-year PhD candidate in the Department of Nutritional Sciences at the University of Michigan School of Public Health. Her research interests include understanding the impact of environmental and dietary exposures during early life and reproductive life stages on sleep and cardiometabolic health outcomes in Latin American populations. Outside of research, she enjoys mentoring and learning from first-generation students, experimenting with coffee, and spending time with her partner and pup.
---
---