The Interprofessional Team: Training the Next Generation of Collaborative Health Professionals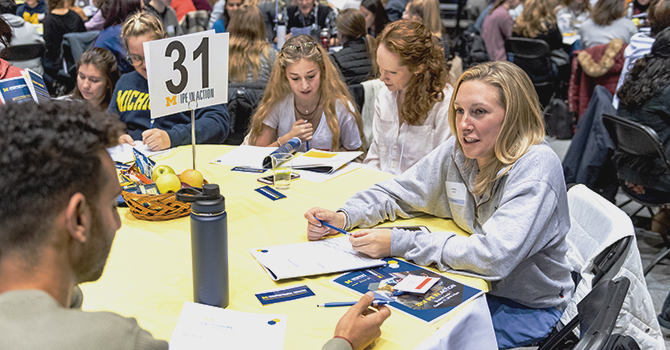 Olivia S. Anderson, MPH '09, PhD '13
Clinical Assistant Professor of Nutritional Sciences
Mary is a 62-year-old African American woman who lives in Michigan and presents a myriad of symptoms including Type 2 diabetes, glaucoma, high blood pressure, lower back pain, and depression. Mary takes over 15 medications to control and treat those symptoms. She repeatedly visits psychiatric emergency services due to chronic anxiety about an ex-boyfriend intending to harm her and about her only daughter abandoning her. Mary lives in subsidized housing, receives government funded food assistance, and does not have her driver's license, so she relies entirely on public transportation. She has recently connected with the local community mental health services run by the county.
Mary already depends on a variety of public health programs and policies to function in her daily life, and it is clear that she would benefit from a diverse team of health professionals working together to coordinate her care.
Formal education in health professions too often occurs in silos.
Mary's complex health profile is not unique in the US. This specific case was presented to over 1,200 health professions students at the University of Michigan last fall.1 The objective of the training activity was for students to engage in small, interprofessional teams and understand the role each discipline would play in ensuring Mary's well-being. This is an example of an innovative Interprofessional Education (IPE) exercise that Michigan Public Health students will now complete as part of the school's curriculum.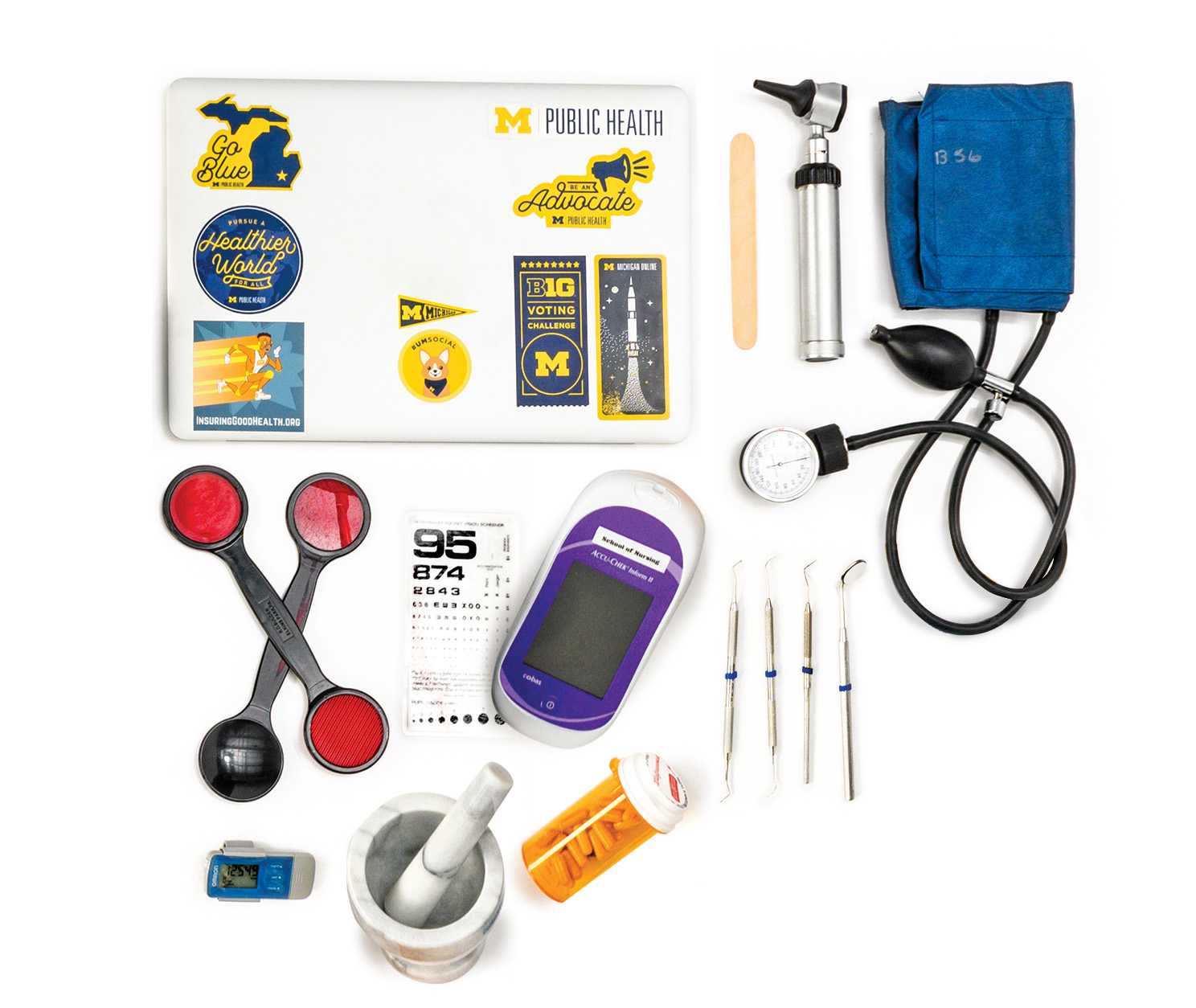 Interprofessional collaboration, teamwork, communication, and intercultural intelligence are vital skills for a public health practitioner. And for decades, the World Health Organization has identified the need for an interprofessional health care approach "to enable effective collaboration and improved health outcomes."2 But formal education in health professions—here and at many other institutions—too often occurs in silos.
Only recently have we seen significant momentum to include IPE formally as a required component in professional training across the health sciences. Since 2014, six health professional disciplines, including public health, have incorporated IPE into their accreditation standards.3 IPE as an accreditation requisite guarantees that health professional learners interact with at least one other health professional student to build collaborative skills across four competency domains. IPE faculty liaisons at Michigan are advocating for a fifth competency domain—intercultural intelligence. Regardless of accreditation requirements, most health professional schools at the university are integrating IPE activities into their curriculum.
In interprofessional practice, public health often provides the frameworks that allow interrelated health organizations to coexist.
Incorporating IPE into existing health science curricula has its challenges.4 Time, resources, and cost—including training faculty with IPE expertise—are commonly reported barriers to developing IPE opportunities for students. Non-clinical professions like public health are often not the focal point of IPE experiences. As a result, IPE scenarios default to examine care and treatment around individuals, ignoring the implications of certain external and population-wide factors. The Interprofessional Education Collaborative (IPEC)3—a national association representing a variety of health professional schools—was formed in 2009 as health professional organizations across the US recognized the absence of population health in health sciences training broadly. Dozens of educational institutions are now working collectively through the IPEC to revamp and institutionalize our vision for interprofessional training in ways that will ensure population health.
"By working together with other health professionals, public health leaders can learn about the needs of the population and ascertain best practices to meet those needs."

—Laura Power, Member of the IPE Executive Committee
In the context of interprofessional practice, the field of public health often provides the frameworks that allow interrelated health organizations to coexist—the policy, programs, analyses, and interventions that influence population health at all levels. On an interprofessional team, a public health practitioner might provide vital insight on clinical decision-making or might help address an unjust distribution of health care access and outcomes to improve care for multiple individuals.
The University of Michigan is a repository of IPE experience across campus.
As IPE is integrated into public health education, building competencies must extend into interprofessional practice as a continuum of learning. IPE should be integrated throughout public health curricula so students regularly interact and learn with peers in other health professions. And the continuum should extend into professional work life as continuing education opportunities that support the development of interprofessional skills for those already in practice settings.
The University of Michigan is a repository of IPE experience across campus. With ten health profession schools5 training over 5,000 students, our broad cultural shift toward collaboration and teamwork across health sciences can have a great impact on health care across the nation.
Working across health professions will improve population health.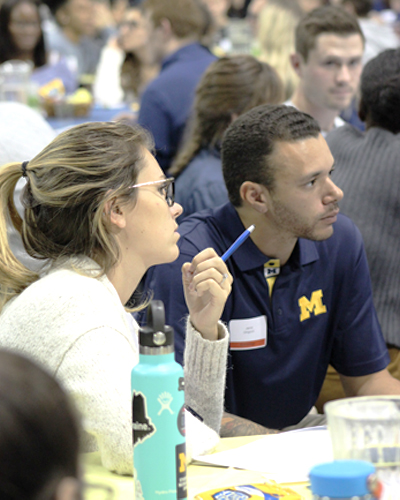 The Michigan Center for Interprofessional Education provides faculty training and supports IPE faculty allies. It endorses over twenty courses, modules, and events as student IPE learning experiences. The center supports four student organizations that emphasize IPE and practice, including the Health Policy Student Association, organized at the School of Public Health but open to all health professions students. The Region V Public Health Training Center, housed at the school, provides continuing education opportunities for public health practitioners, including a new module on interprofessional practice for population health.6
Working across health professions will improve population health. But public health practice goes well beyond collaboration in the health professions. Public health plays significant roles in law, engineering, social sciences, urban planning, and many other fields. IPE must evolve to include collaboration with students of professions outside the health sciences. Integration across a growing list of disciplines sets up public health to fulfill its basic mission—to promote the health, safety, and well-being of all humans and the environments we inhabit.
References
Case study developed by the Complex Care Management Program at the University of Michigan.

World Health Organization (WHO). 2010. Framework for Action on Interprofessional Education and Collaborative Practice. Geneva, Switzerland: WHO.

Interprofessional Education Collaborative (IPEC). 2016. Core Competencies for Interprofessional Collaborative Practice: 2016 Update. Washington, DC: IPEC.

Lee, C.A., Pais, K., Kelling, S. and Anderson, O.S., 2018. "A Scoping Review to Understand Simulation Used in Interprofessional Education." Journal of Interprofessional Education and Practice.

School of Dentistry, School of Kinesiology, Medical School, School of Nursing, College of Pharmacy, School of Public Health, School of Social Work, School of Nursing–Flint, College of Education, Health, and Human Services–Dearborn, College of Health Sciences–Flint.

The Interprofessional Practice for Population Health module is available online at mitrainingcenter.org/courses/ipphs1018.
ABOUT THE AUTHOR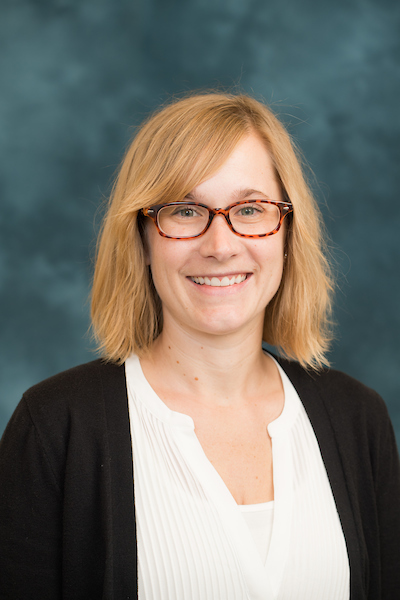 Dr. Liv Anderson is clinical assistant professor in the Department of Nutritional Sciences at the University of Michigan School of Public Health. Prior to her appointment in the Nutritional Sciences Department, Dr. Anderson worked as a research associate at UM's Center for Research on Learning and Teaching, where she focused on developing and assessing novel pedagogical techniques and program evaluation strategies. Her current research and practice focus on assessment and evaluation techniques at the micro- and macro-level, self-directed learning and metacognition skill-building in the public health curriculum, and implications of the public health discipline for interprofessional education, practice, and care. Dr. Anderson is a registered dietitian and earned an MPH in Human Nutrition and a PhD in Environmental Health Sciences the University of Michigan School of Public Health.
---
The photos above feature University of Michigan health professions students and faculty discussing a case study at an interprofessional foundations event at Crisler Center.