Group tours the Gordie Howe International Bridge site to explore health inequities in southwest Detroit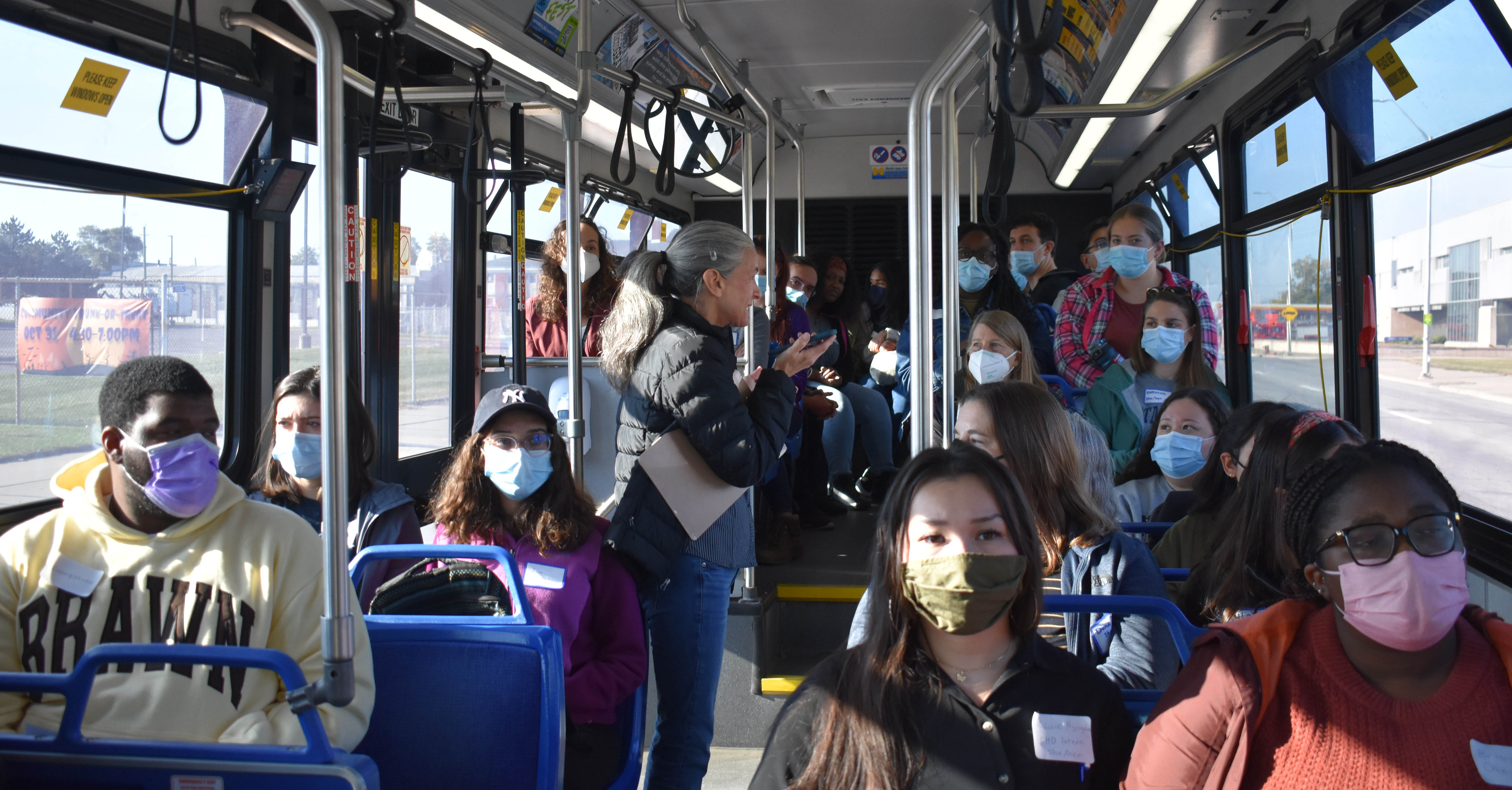 Alison Walding, Amy Schulz
Department of Health Behavior and Health Education, M-LEEaD Center, Center for Occupational Health and Safety Engineering
On October 22, 2022, 50 Detroit community residents, faculty, staff and students from the University of Michigan School of Public Health toured southwest Detroit to experience firsthand the ways that public policies and decision-making shape access to clean air for Detroit residents, with implications for health inequities. The tour of southwest Detroit highlighted the area's history, including that of the Delray community, home to successive waves of immigrants from Hungary, Malta, Mexico and many southern US states.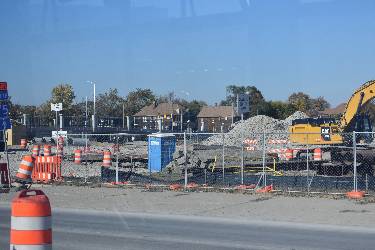 Also located in the area are multiple industrial sources of air pollutants, including the Marathon Oil Refinery, and other local land uses that draw heavy diesel truck traffic on residential streets, where they pass by homes, schools and health care facilities. In addition, I-75 passes through southwest Detroit en route to the Ambassador Bridge, bringing approximately 10,000 trucks per day carrying over $122 billion worth of imports and exports between the United States and Canada. Southwest Detroit is also the site of the Gordie Howe International Bridge (GHIB), currently under construction.
Together, these land uses benefit commerce and industry across the US and Canada. However, the human health costs associated with these land uses are disproportionately borne by residents of southwest Detroit, who experience high levels of diesel particulate from truck exhaust and associated health risks, including cardiovascular risk and rates of asthma that are nearly double those for the state of Michigan as a whole.
Featured speakers included:
Simone Sagovac, Community Organizer for Southwest Detroit Community Benefits Coalition
Cindy Gamboa, Community Organizer for Detroit Hispanic Development Corporation
Felix Valbuena, Chief Executive Officer for Community Health and Social Services
Stuart Batterman, professor of Environmental Health Sciences, Michigan Public Health
Amy J. Schulz, professor of Health Behavior and Health Education, Michigan Public Health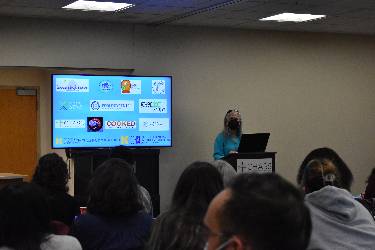 As part of the tour, participants considered land use decision-making in Michigan and questions about who benefits from and who is harmed by those land use decisions. They heard from community residents who have led efforts to reduce adverse health impacts associated with the proposed bridge. Those efforts, detailed in an article led by Michigan Public Health alumnae Natalie Sampson and community organizer Simone Sagovac, included the communities' request for a Health Impact Assessment (HIA) of the GHIB. The HIA was conducted in 2016-2018 by community residents in conjunction with researchers from University of Michigan-Dearborn and Michigan Public Health. Findings included a very strong sense of community among residents of the area in which the GHIB would be located, many of whom would be displaced by bridge construction, and disproportionate rates of asthma among residents living near heavily trafficked roads in the area. A second wave of the HIA is planned for 2023, and will include monitoring of changes in air pollution at the base of the bridge as well as interviews with community residents.
Communities experiencing disproportionate environmental exposures and associated health outcomes have long drawn attention to the role of racism in shaping those risks. More recently, public health researchers have begun to examine racism as a fundamental driver of racial inequities in health. As of September 2022, 256 declarations naming racism as a public health issue had been passed at the state, county and municipal level across 39 states. Those declarations importantly draw attention to structural racism—discrimination built into social, economic and environmental policies—as it drives persistent racial inequities across multiple health outcomes, including maternal, infant and COVID-19 mortality. These policies include those that shape access to clean air, including decisions about land uses that emit air pollutants and the communities in which they will be located. The use of explicitly anti-racist approaches to research, including community-based participatory research, is central to understanding and addressing the health implications of those decisions, and to public health efforts to promote health equity.
Sponsors for the tour include: Southwest Detroit Community Benefits Coalition, Detroit Hispanic Development Corporation, 48217 SWD, Eastside Community Network, Ecology Center, Green Door Initiative, Community Health and Social Services, We the People of Detroit, Cooked:Survival by Zip Code, Ford Foundation, M-LEEaD Center and the University of Michigan Center for Occupational Health and Safety Engineering.
About the Authors
Alison Walding is the project manager for Community Actions to Promote Healthy Environments (CAPHE) and for the Community Engagement Core of the M-LEEaD Center. She has previously worked at Michigan Medicine and her areas of interest include public health, community engagement, and public transportation.
Amy Schulz is a professor of Health Behavior and Health Education at the University of Michigan School of Public Health. She has a PhD in Sociology and an MPH from Michigan Public Health. Her areas of interest focus on environmental health equity and community partnerships with Detroit organizations to examine and intervene to address environmental factors and public health risks.
---